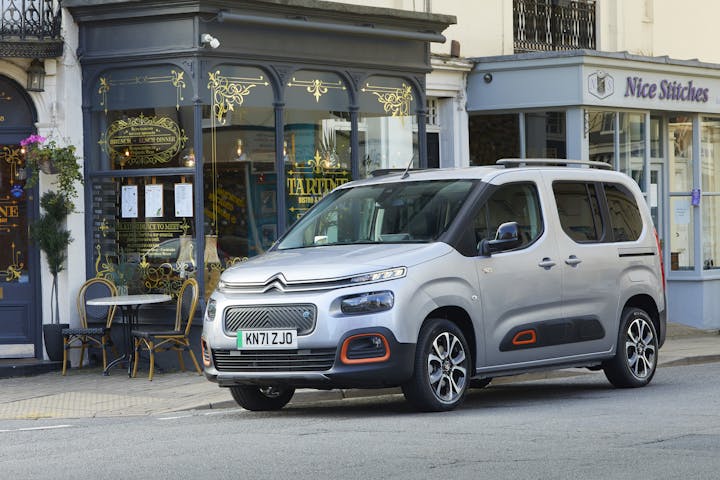 We currently do not have any deals available for the Citroen e-Berlingo, but sign up to our mailing list and we will send you details of our great electric vehicle leasing deals.
Subscribe
About the Citroen e-Berlingo
The Citroen e-Berlingo has the strapline "100% Electric. 200% Family." Aside from the estate car, the electric MPV is a somewhat neglected body style in the EV world, so the e-Berlingo really is a great option for the larger eco-conscious family.
As MPVs go, the e-Berlingo actually has a very aesthetically pleasing design. With a sleek frontend, slick cut-outs for the headlights and electric-blue accents throughout the exterior, the e-Berlingo embraces its green credentials without overstating it. It oozes with tech and all of the mod-cons expected from the latest EV.
As you'd expect, the inside is cavernous. Everything is designed to enhance cabin space and practicality. The rear parcel shelf can be put into two positions; the usual high position, and a medium position that splits the boot into two compartments - perfect for luggage management. But practicality doesn't come at the cost of comfort. Citroen has specifically designed the e-Berlingo to give passengers a first-class ride in as much comfort as possible. Excellent cabin sound-proofing, large amounts of natural light and spacious rear seats ensure passengers always have a great journey.
Charging the Citroen e-Berlingo
The Citroen e-Berlingo is offered with a 50kWh battery, and in two configurations: the e-Berlingo 'M' and 'XL'.
Both configurations have very similar WLTP ranges; 177 miles and 173 miles respectively. At DriveElectric however, we recommend a 'real world' range on all of our lease vehicles - just so there aren't any surprises when your shiny new car arrives. With that in mind, we'd recommend a more realistic range of 125 miles per charge for the 'M' model, and 120 miles for the 'XL' model.
The e-Berlingo utilises the standard European connectors: Type 2 and CCS. Via a standard 7kW wall-box charger, the 50kWh battery can be fully charged in 7 hours 15 minutes. Using a 175kW rapid charger the battery can be topped up form 10-80% in just 26 minutes.
Looking for a different manufacturer?