Introduction to V2G
It means Vehicle to Grid - V2G - and allows energy to be pushed back from the electric vehicle to the power grid.
So if you really think about it, an electric vehicle is essentially a very large battery on wheels - ok, that's a slight simplification but it is carrying around a store of electricity, of which most of the time it is sat unused on a driveway or in a work depot. Why can't this energy storage be put to better use?
Well, that's where the idea of vehicle to grid comes in.
Although still relatively rare in the UK, V2G charging equipment allows EV drivers to help balance the UK's electricity grid by providing energy from their vehicle batteries to the grid at times of peak demand and benefit from rewards based on the provision of grid services and energy trading revenue.
So you could charge your EV and save money on your energy bills. Sounds good, right?
It's all part of adding more 'smartness' into how we generate, use and store electricity now and in the future. The country is at the beginning or revolution in energy management - and the EV is a key element of smoothing out supply and demand of power.
Here at DriveElectric, our team has been heavily involved with charging trials in the past (Electric Nation and My Electric Avenue). These projects help electricity Network operators understand the impact EVs might have on our UK electricity grid as EV uptake increases.
Currently, there are a number of Vehicle to Grid charging trials running in the UK (or about to start) for CHADEMO-equipped EVs, such as the Nissan LEAF and Nissan E-NV200 van.
It isn't just about Vehicle to Grid either, there's a host of similar ideas and similar terms floating around the electric vehicle sector, let's take a look at some of the popular ones:
V2H - Vehicle to Home: The idea of taking electricity from an EV to power some or all of a home.
V2X - Vehicle to Everything: A catch-all term for transferring power out an electric vehicle for another purpose; to send electricity back to the grid, to power tools, to power a home etc.
V2B - Vehicle to Building: Using the electricity in the EV's battery to power all or something in a building.
You get the idea!
So the next question you probably have is why is this important? Why should I care about V2G or V2X?
Why is V2G or V2X important?
Now and in the future, the generation, storage and use of energy - and specifically - electricity is going to become ever more important.
Whether that's down to short-term issues caused by conflicts and wars, or long-term issues such as tackling climate change, the better we get at understanding and managing energy, the more efficient we'll be and the more cost effective it becomes - and that's at an individual or household level but also at a national level too.
The UK has successfully reduced its reliance on coal to generate electricity but we're still highly reliant on gas and if we're to remove fossil fuels from our energy generation then we need to find ways to reduce and then cut gas out of our energy generation as well.
So, Vehicle-to-everything technology gives the country or the household the ability to use some or all of the electricity in the vehicle's battery to power something - perhaps at a peak electricity demand period, thus stopping an emergency coal power station from being powered up, or to power something in a location too distant from a mains supply and stops a diesel generator from being used.
And when electricity demand isn't so high, i.e. overnight, the EV battery can be replenished at a lower cost and lower carbon cost.
CrowdCharge
Find out how CrowdCharge can help you optimise renewable energy for your EV
More electric car lease offers
£2,713.18 Initial rental (ex. VAT)
£3,255.81 Initial rental (inc. VAT)
48 Month term
5000 Annual mileage
Subject to status and conditions + arrangement fee
£301.

46
Business contract hire per month (ex. VAT)
£361.

76
Personal contract hire per month (inc. VAT)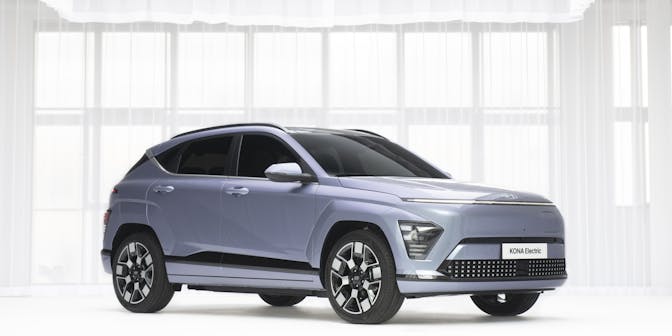 £1,951.79 Initial rental (ex. VAT)
£2,342.15 Initial rental (inc. VAT)
48 Month term
5000 Annual mileage
Subject to status and conditions + arrangement fee
£216.

87
Business contract hire per month (ex. VAT)
£260.

24
Personal contract hire per month (inc. VAT)
£2,728.44 Initial rental (ex. VAT)
£3,274.13 Initial rental (inc. VAT)
24 Month term
5000 Annual mileage
Subject to status and conditions + arrangement fee
£303.

16
Business contract hire per month (ex. VAT)
£363.

79
Personal contract hire per month (inc. VAT)