How much does it cost to get an electric charger installed at home?
Whether you already have an electric vehicle (EV) or you're looking to get one for the first time, home charging is an important factor to consider. To do so, you'll need a suitable home charger installed at your home. But what is the electric car charger installation cost? And how much does it cost to charge your electric car once your charger is installed?
In our helpful guide, we run through how much it costs to get an electric car charger at home, whether or not you can qualify for a grant, the average cost to charge a range of electric cars, and the best type of home charger to get.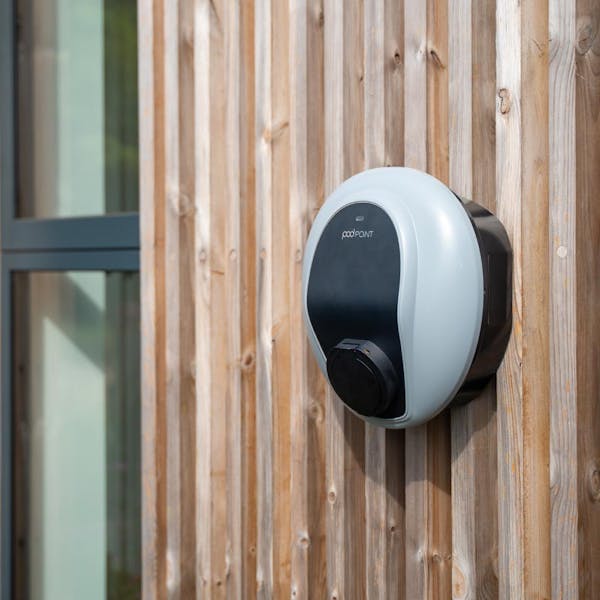 How much is a home charger for an electric car?
A home charge point typically costs between £800 to £1,500. This price depends on who installs it and the model you opt for.
In April 2022 the Electric Vehicle Homecharge Scheme (EVHS) which provided grants for home charger installation closed. However, the Office for Zero Emission Vehicles has announced that a similar scheme is available for people that live in flats or currently rent their home. Just like the previous scheme, the Government will contribute up to £350 of the cost for one chargepoint and its installation.
In a further stipulation, OZEV states that a qualifying electric vehicle must also have dedicated off-street parking at their property.
In summary, the grant is available for:
Homeowners who live in flats

People living in rental accommodation (flats and single-use properties)
In order to be eligible for the grant, you must:
Live in a rented property or own a flat

Have dedicated off-street parking

Own, lease or have use of an electric or plug-in hybrid vehicle eligible for the grant

Not have already claimed a grant (either the EV charge point grant or the previous EVHS grant for your EV
If you qualify for the new grant this will significantly bring the cost of installing a home charger point down.
How much power does an electric car charger use?
The power used by EVs is measured in kilowatts, which is the same unit your electricity is measured in. Electric car batteries have a capacity which typically ranges from around 17 kWh (kilowatt hours), like you'll see in the Smart ForTwo EQ, all the way up to 100kWh and beyond, as with the BMW iX. Typical battery sizes for EVs now range from around 50kWh to 80kWh.
To work out how long it takes to charge an EV from zero to 100%, all you have to do is divide the battery capacity by the speed of charging. Home charge points typically offer speeds of 7kW, although it's possible to get slower and faster ones. This gives you the amount of power a full charge consumes.
To calculate the cost of a full charge, simply multiply how much you pay for electricity by the capacity of your car's battery. Plenty of energy companies offer tariffs aimed at EV drivers which cost less, while more and more are able to deliver renewable energy to your home.
To give you an idea of how long and how much it costs to charge different electric cars, we've put together a handy table below. According to the Energy Saving Trust, the average cost of electricity per kW in the UK is £0.34, so we've based our calculations on that cost.
| Vehicle | Battery size | Full charge time | Cost of full charge | Real world range |
| --- | --- | --- | --- | --- |
| Nissan Leaf | 40kWh | 5 hours 43 minutes | £13.60 | 145 miles |
| Nissan e-NV200 | 40kWh | 5 hours 43 mins | £13.60 | 130 miles |
| MG 4 EV | 51kWh | 6 hours 50 mins | £17.34 | 185 miles |
| Kia Niro EV | 64kWh | 9 hours 9 mins | £21.76 | 235 miles |
| Mercedes EQC | 80kWh | 11 hours 26 mins | £27.20 | 230 miles |
| Tesla Model S | 100kWh | 14 hours 17 mins | £34.00 | 315 miles |
| BMW iX | 111.5kWh | 15 hours | £35.50 | 315 miles |
We've used the figure of 34p per kWh as a default value as this is the current UK price cap.
However it can cost substantially less (and more) depending on when and where you charge your electric vehicle. Rapid and ultra-rapid public chargers can cost significantly more than 34p per kWh, while charging at home, overnight, on a dedicated EV tariff can cost substantially less. For people with solar panels there's also the option to top up your vehicle's battery for free with the correct set up at home.
Our electric car lease specials...
£2,524.26 Initial rental (ex. VAT)
£3,029.11 Initial rental (inc. VAT)
48 Month term
5000 Annual mileage
Subject to status and conditions + arrangement fee
£280.

47
Business contract hire per month (ex. VAT)
£336.

57
Personal contract hire per month (inc. VAT)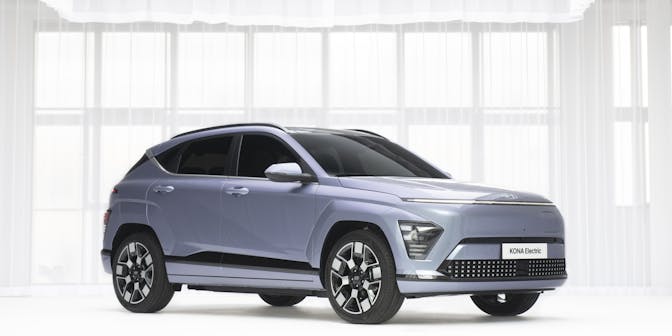 £2,067.67 Initial rental (ex. VAT)
£2,481.20 Initial rental (inc. VAT)
48 Month term
5000 Annual mileage
Subject to status and conditions + arrangement fee
£229.

74
Business contract hire per month (ex. VAT)
£275.

69
Personal contract hire per month (inc. VAT)
£2,676.21 Initial rental (ex. VAT)
£3,211.46 Initial rental (inc. VAT)
48 Month term
5000 Annual mileage
Subject to status and conditions + arrangement fee
£297.

36
Business contract hire per month (ex. VAT)
£356.

83
Personal contract hire per month (inc. VAT)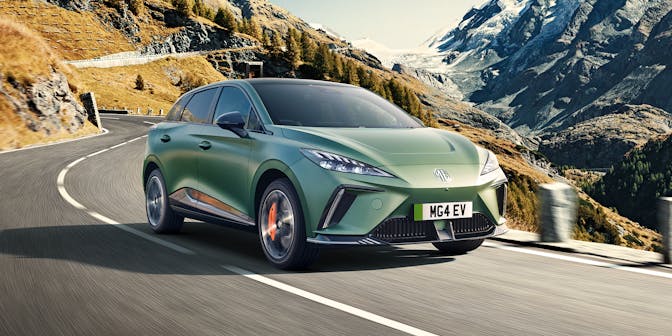 Can I charge my car through a regular plug socket?
It is possible to charge an EV by using a regular 3-pin plug and some new electric cars will come with a cable for you to do this. It's best to keep this option as a back-up though, rather than as your main method of charging.
Here at DriveElectric we do not recommend that you use a 3-pin plug cable as your primary method of keeping your electric car topped up with power. A dedicated, professionally installed 7kW home charger is our recommendation.
This is because charging your electric car like this is slow at 2.3kW and puts strain on a regular electric circuit, as it runs close to its 3kW maximum for a long time.
For example, it'll take more than 17 hours to fully charge a 40kWh battery like the one in the popular Nissan Leaf. A 62kWh Skoda Enyaq, meanwhile, will take almost 27 hours to charge from empty to full.
How to get an electric car charger at home
Arranging installation of a home charger is easy, and you can do it through either your energy provider or a specialist company. You can use Zap Map to find a charge point installer near you by entering your postcode and the brand of charger you'd like.
If you lease an electric car with us, this is something we can help you arrange.
What's the best home charger to get?
Home charge points are available in 3kW and 7kW forms, but 7kW chargers are most common. They come in a lot of different styles, whether you're after a futuristic design to be a feature of your driveway, or a small, subtle covering to hide your charge point inside something like a wood-effect box.
There are plenty of different brands you can choose between, while you should look out for the type of connector your car has and the features on offer with different chargers, such as compatibility with apps and other energy-saving devices in your home. You can also choose between different cable lengths to suit your needs, while companies like ChargePoint also offer 24/7 support.
What is a smart charger?
The UK government has introduced regulations which ensure that all EV charge points sold or installed in the country have smart charging functionality.
The first part of the Electric Vehicles (Smart Charge Points) Regulations 2021 came into force on 30th June 2022, whilst the second came into force on 30th December 2022. Together they aim to help manage increasing electricity demand and improve security protocols.
Come configured with a charging schedule to only charge EVs outside the following peak hours - 8am to 11am Saturday and Sunday & 4pm to 10pm Monday to Friday

Apply a random delay of up to 10 minutes at the start or end of a schedule or after a power interruption, to protect the grid from surges in demand

Have increased smart functionality

Have a tamper detection mechanism installed, recording any attempts to remove the front cover and notifying the charge-point's owner

Provide transparent and secure software updates - over the air.
Allowing you to charge up at times of the day when the demand for energy is low, means there's less strain on the electricity grid. You can program your charger to come on overnight to take advantage of the lower energy prices you get on your electricity tariff, while their safe, fast and easy nature makes them win-win all round.
What is Vehicle-to-Grid charging?
Vehicle-to-Grid, or V2G charging is where electric cars effectively act as power banks, returning energy to the electricity grid during peak times. Whereas smart charging helps the grid by managing the demand placed on it, V2G technology goes a step further by taking energy from car batteries to power both your home and the country's electricity network.
The concept is almost like having a huge decentralised power station across the UK. This will rely on renewable energy where cars are charged by a supplier offering it, while your car will still be fully charged when you need it to be. V2G technology is improving all the time and will become more accessible over the coming years.
To learn more about electric vehicles simply get in touch with our expert team today. And if you know which make and model you'd like to drive off in, fill out our online form for an instant quote on your next electric car lease.