When you take out one of our Porsche leasing deals, you'll step into a world of previously unimaginable electric motoring. Stuttgart's finest export is responsible for some of the most recognisable sports cars and luxury vehicles on the planet. Some manufacturers have struggled to make the switch to all-electric vehicles. Not Porsche.
The German giant's debut EV was the Taycan, which came out in 2019. An all-out performance car that utilised clean energy to go as fast as possible inside a luxurious cabin, this model is ideal for anyone that's environmentally conscious and looking to drive a premium sports car. Porsche is here to stay and its future EV offerings are set to be very welcome additions indeed.
All electric cars from Porsche
Estate
Up to 300 miles range
£8,332.79 Initial rental (ex. VAT)
£9,999.35 Initial rental (inc. VAT)
48 Month term
5000 Annual mileage
Subject to status and conditions + arrangement fee
From
£925.

87
per month (ex. VAT)
From
£1,111.

04
per month (inc. VAT)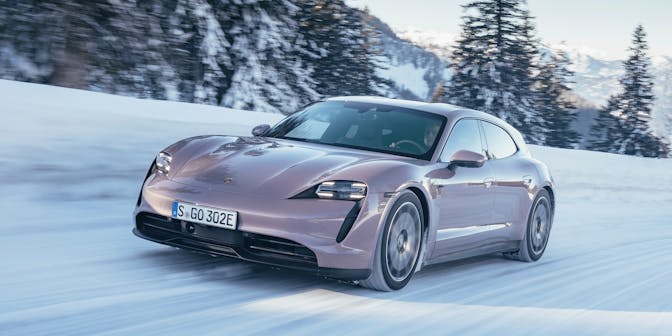 Coupe
Up to 320 miles range
£8,772.03 Initial rental (ex. VAT)
£10,526.43 Initial rental (inc. VAT)
48 Month term
5000 Annual mileage
Subject to status and conditions + arrangement fee
From
£974.

67
per month (ex. VAT)
From
£1,169.

60
per month (inc. VAT)
Estate
Up to 300 miles range
£9,050.87 Initial rental (ex. VAT)
£10,861.04 Initial rental (inc. VAT)
48 Month term
5000 Annual mileage
Subject to status and conditions + arrangement fee
From
£1,005.

65
per month (ex. VAT)
From
£1,206.

78
per month (inc. VAT)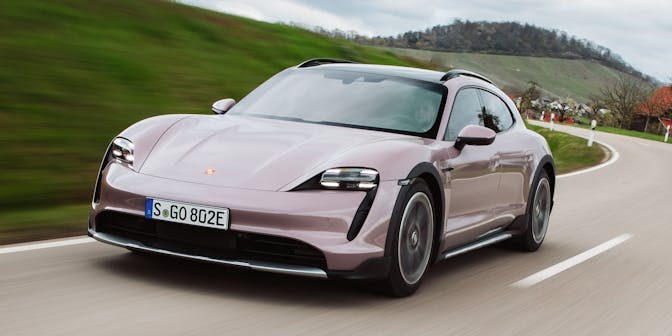 When you lease a Porsche EV from DriveElectric, you'll join us on our mission to lead the UK into a zero-emission motoring future. We've got a great selection of Porsche lease deals for you to choose between, putting you in the driver's seat of truly stunning vehicles. Whether you've been driving lease cars and EVs for many years or exploring these things for the first time, the rewards you get with electric Porsche leasing are incredibly exciting.
Boasting a rich motorsport heritage that's contributed to the development of a range of high-performance hybrid cars, the Taycan is Porsche's only fully-electric vehicle at present. There are plans to release a brand new all-electric SUV soon, however, along with a new Macan EV and the electric 718 sports car, which is set to debut in 2025. You still have several options to consider within the current range though, as you can choose a Porsche EV lease deal on a whole host of Taycan models.
The Taycan's release was a seismic moment for electric cars. This breath-taking sports car boasts jaw-dropping performance figures and a level of style and kerb appeal that arguably remains unmatched by any EV today. Technically a four-door saloon, the Taycan has Porsche's unmistakable design and comes in a range of options.
These options include the base model Taycan, the Taycan 4S and the Taycan Sport Turismo, as well as the Taycan 4 Cross Turismo, Taycan GTS and Taycan Turbo. If you're looking for an electric Porsche lease on the model with the most mind-boggling performance figures, don't miss the Taycan Turbo S, which generates 761PS and is capable of 0-62mph in just 2.8 seconds. That still has a range of around 270 to 290 miles, all with zero tailpipe emissions.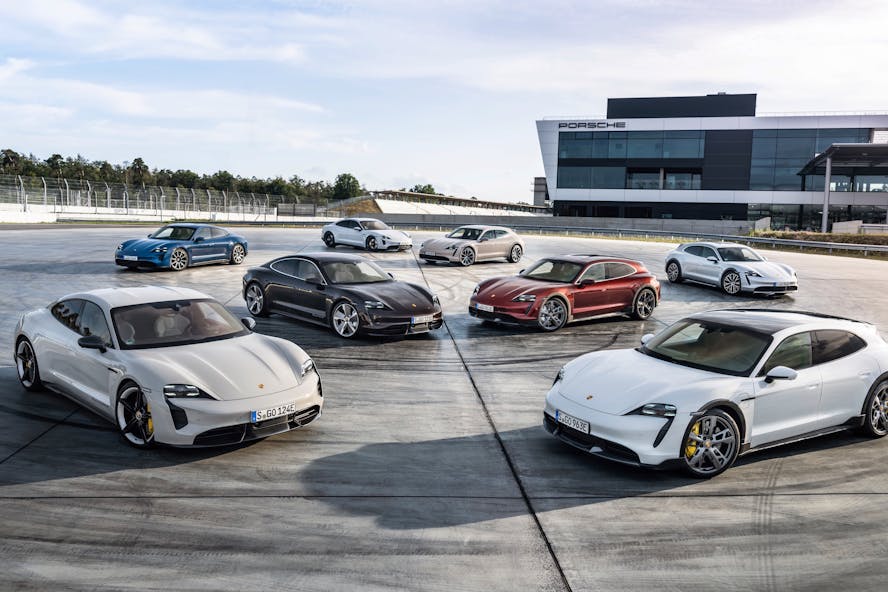 There are two battery options available across the Taycan model range. The Performance Battery is a 79kWh power pack that offers a range of 231 to 276 miles in the standard model, while the 93kWh Performance Battery Plus can cover 268 to 314 miles on a single charge. Both batteries can be charged from 5% to 80% in just over 20 minutes using a public rapid charger.
All of these figures are highly impressive when you consider the package they're wrapped up in. The entry-level Taycan develops 408PS and has a 0-62 of 5.4 seconds, reaching a top speed of 143mph. It's stunning inside the cabin too, with a luxurious feel, premium materials and plenty of space in the rear seats. If you don't want to compromise a single iota of style, performance and luxury, do not miss our Porsche electric leasing deals.
Benefits of Porsche leasing
Easy and convenient

Simply specify the length of your Porsche lease, pick a mileage and deposit, and then wait for your new car to be delivered.

Stay ahead of the curve

At the end of your contract, all you need to do is return your car and pick out one of our current Porsche lease deals to receive the latest new model with updated tech.

Road tax and warranty included

All of our Porsche lease cars include road tax for the full duration of your deal, while you'll also receive a full manufacturer warranty too.
Porsche Salary Sacrifice Scheme
Our hassle-free salary sacrifice scheme is available for the all-electric Porsche Taycan.
It enables you to smash your sustainability goals, while ensuring your workforce can enjoy the endless benefits of electric vehicles. Our Porsche Taycan salary sacrifice scheme gives your workers the chance to lease this breath-taking electric sports car as a perk of working for your business. And you can help us drive towards a more environmentally friendly future.
Your business can enjoy the following benefits:
Save up to 40% on the cost of a Porsche Taycan or other Porsche EV
Modular scheme to suit your business
Make it part of your carbon reduction strategy
Use it as an employee benefit to help keep and attract top talent
Our Porsche Taycan lease salary sacrifice scheme is created with business leaders in mind. It is easy, flexible and affordable, and helps you supercharge your company's environmental responsibility.
It also helps you achieve a more resilient workforce, make significant cost and carbon savings and become the top choice for attracting new talent. For your employees, it's a cost effective way to lease one of the best electric cars on the market.
Porsche electric car FAQs
Discover the full range of Porsche lease deals available at DriveElectric. You can give us a call to discuss our latest Porsche offers, or you can fill in a quick form to get an online quote right now.