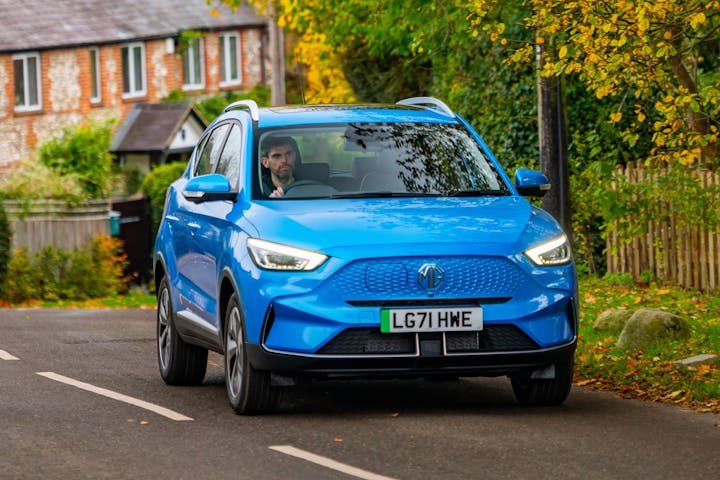 £2,067.67 Initial rental (ex. VAT)
£2,481.20 Initial rental (inc. VAT)
48 Month term
5000 Annual mileage
Offer expiry Monday, 18 December 2023
Subject to status and conditions + arrangement fee
£229.

74
Business contract hire per month (ex. VAT)
£275.

69
Personal contract hire per month (inc. VAT)
In Stock
£2,626.07 Initial rental (ex. VAT)
£3,151.29 Initial rental (inc. VAT)
48 Month term
5000 Annual mileage
Offer expiry Monday, 18 December 2023
Subject to status and conditions + arrangement fee
£291.

79
Business contract hire per month (ex. VAT)
£350.

14
Personal contract hire per month (inc. VAT)
In Stock
The British carmaker may be best known for its sportscar offerings of the 60s and 70s, but MG has undergone a revolution and you'd be wrong to write them off as an outdated brand. With huge investment since 2010, MG is a revitalised brand with some of the best value electric vehicles on offer today, including the MG ZS electric car lease choice.
The MG ZS is a family-orientated electric SUV lease option. This is demonstrated mostly by factors unseen to the naked eye. MG states that safety is at the core of the ZS, prioritising chassis design and battery pack placement to ensure maximum safety. Included is also 'MG Pilot' - an all-in-one safety package containing features such as adaptive cruise control and automatic braking.
Safety first doesn't result in a compromised interior. A modern touchscreen sits in the centre of the dash where all the typical mod-cons are controlled from. Well, not the only place they can be controlled from. Via the MG iSMART app, drivers can pre-start the climate control system as well as schedule when the battery can accept charge.
The MG ZS is offered with two battery options: a 49kWh pack, and a larger 68kWh option.
Opt for the standard 49kWh battery, and the MG ZS gains an official WLTP range of 199 miles. It's important to note that at DriveElectric we offer a 'real world' range figure on all of our lease vehicles so there are no surprises for customers. As such, we would recommend a more realistic figure of 165 miles per charge.
If a longer range vehicle suits better, then the MG ZS 68kWh option gives the MG ZS an official WLTP range of 273 miles. Although as mentioned, our 'real world' range puts the figure at a more reasonable 225 miles - which is still a great figure for the class.
As you'd expect, charging times vary slightly depending on the battery size, however, both variants utilise Type 2 and CCS connectors.
For the 49kWh battery pack, charging from a domestic 7kWh wall-box fully recharges the MG ZS in 8 hours. Utilise a 100kW+ rapid charger however, and a charge from 10-80% takes just under 45 minutes.
The 68kWh battery pack takes around 11 hours to fill from a 7kW domestic charger. However, a 10-80% charge via a 100lW+ rapid charger takes only 37 minutes.