Citroen e-Spacetourer electric lease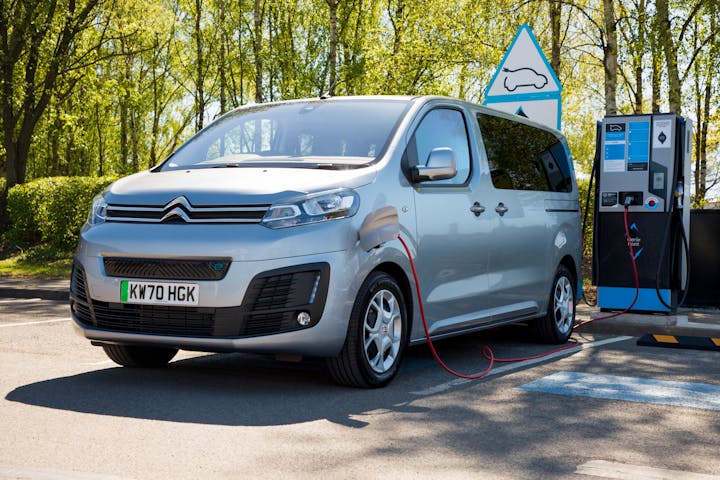 Choose your e-Spacetourer car lease
About the Citroen e-Spacetourer
The Citroen e-Spacetourer is for the largest of eco-conscious families. Boasting a configuration of up to 9 seats, this MPV is class-leading in terms of seats, offering about as much capacity available on the market today without committing to a fully-fledged minibus.
Based on the French automaker's Dispatch van, the e-Spacetourer actually has a lot of character. There's no getting away from the LCV-orientated looks, but as vans go, Citroen has done a great job in providing sleek lines and a well-designed front-end.
As expected, the inside is huge. This vehicle is designed to take lots of people on lots of long journeys. It's supremely comfortable for passengers and drive alike, with the latter benefiting from a whole suite of driver aides and technology. A 7" screen sits in the centre of the dash, providing satellite navigation as well as entertainment duties. Citroen's 'Mirror Screen' allows compatible phone apps to appear on the screen.
For a large family, the e-Spacetourer is one the of the best options on the market.
Charging the e-Spacetourer
The Citroen e-Spacetourer is offered with a 45kWh battery pack.
In terms of range, the WLTP figure for each variant is between 137-140 miles. At DriveElectric though, we always provide a 'real world' range too, just so our customers don't have any surprises when they're out on the road. With that in mind, we'd recommend a more realistic range of 110 miles for each model variant.
Charging the e-Spacetourer couldn't be simpler. Utilising the European standard Type 2 and CCS connectors, the Citroen can charge at home and on-the-go. Using a 7kW domestic wall-box, the battery can be fully charged in 7 hours 15 minutes. At a 100kW+ rapid charger, a 10-80% charge takes only 26 minutes.