All electric vans from Peugeot
About Peugeot electric vans
Peugeot's electric van range includes the Peugeot e-Expert electric van and the Peugeot e-Partner electric van. Both models offer zero tailpipe emissions and provide the same utility and flexibility as their diesel-powered siblings. At DriveElectric, you'll find a range of Peugeot lease deals covering each of these vans.
This means that there's a Peugeot electric van to suit most business' needs. Whether you're a sole trader, SME or a large organisation, by making the switch to electric motoring your business benefits from savings on running costs, maintenance, fuel and clean air zone charges. Find out more about how your business can save in our handy guide: Can businesses save money by switching to an electric van fleet?
Lease a Peugeot Van
Whether you're looking for a personal lease or a Peugeot business lease, we offer a great selection of Peugeot lease deals. UK infrastructure has never been better for electric motoring and with more and more businesses looking to be greener, now could be the time to switch to an electric vehicle.
You'll find plenty of Peugeot van leases to choose from at DriveElectric that make great sense for your business. The benefits are many and wide-ranging, and include the status you get when your business is seen to have switched to EVs. Fully-electric motoring is one of the keys to a greener, cleaner future, so you can look forward to boosting your reputation when you take out a Peugeot electric van lease with us.
One of the questions we're commonly asked by businesses thinking about going electric regards the range you can expect from an EV. The latest Peugeot vans are capable of travelling over 200 miles on a single charge, and with rapid charging functions to boost the battery pack in a short burst, there's no need to worry about finding a Peugeot van lease that offers enough range.
The Peugeot e-Partner Electric Van
If it's a small van your company needs, the Peugeot e-Partner is an excellent choice. The van was voted the 'Van of the Year 2022' at the Van and Commercial Vehicle Awards. With a fully electric power train, a payload of up to 800kg, and a real-world range of around 125 miles per charge, this vehicle allows you to make the switch to zero-emission motoring with zero compromises. You'll also save money on running costs compared to the combustion counterpart.
Simply check out our Peugeot van lease deals on these fantastic models and choose the option that makes the most sense for your business.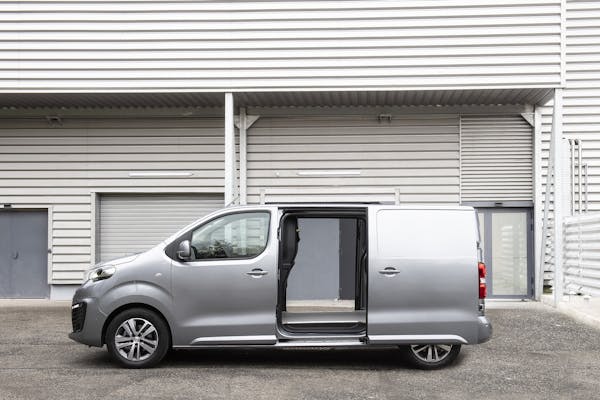 The Peugeot e-Expert Electric Van
The Peugeot E-Expert Lease option is the next size up from the e-Partner. It's a fully-electric van that's suitable for commercial drivers and is available in many configurations to match your business needs. You can enjoy a smooth, comfortable drive and like all electric vehicles, instant torque when you need it. You can read more about this electric van's features when you visit the model page.
View our range of Peugeot leases on the e-Expert and find your next electric van today, with DriveElectric.
Benefits of Peugeot van leasing for your business
Simple and risk-free

All you need to do is choose the duration of your Peugeot van lease, the mileage and the deposit. Once you reach the end of your contract, simply hand back the van with no further obligation.

Help you budget

In addition to road tax and a full manufacturer warranty, you can also include service and maintenance in your Peugeot van business lease. Not only does this help reduce risk, but it will also enable you to budget accurately.

Boost your reputation

By opting for green vehicles with zero tailpipe emissions to use as your van fleet, you can boost the reputation of your business amongst current and potential customers. As well as doing your bit for the environment. 
Peugeot electric van FAQs
Discover all the Peugeot van lease deals at DriveElectric. Simply give us a call to discuss our latest Peugeot offers or fill in our quick form to get an online quote in an instant.
Looking for a different manufacturer?