About Electric Vehicle FlexiHire
Affordable, low commitment access to electric vans and cars, made to flex with your business

Do you need flexible, fast access to electric cars or vans?
If you don't want to make a long term, multi-year commitment to electric vehicles, or if you are looking to rapidly increase the capacity of your EV fleet then our FlexiHire solution is for you.
Alternatively, you might be curious to see what the holistic benefits are in electric cars and vans and want to trial them against your existing fleet, our FlexiHire solution is perfect for that too.
With a minimum duration of just 3-months, our FlexiHire vehicles are perfect for getting your organisation up and running with electric power in no time.
The perfect electric van hire service from the original EV experts
FlexiHire is perfect for...
Trying electric cars and vans before you buy

Quickly increase your fleet capacity

Lower commitment vehicle solutions

Choose from a range of small, medium or large vans or cars to fit your needs

New and refurbished electric vehicle options

Reduce your organisation's carbon footprint
Enquire about FlexiHire
One of our business consultants will get in touch to discuss your requirements.
Thanks for your enquiry. One of the DriveElectric team will be in touch asap.
If you need to speak with someone urgently then please call 01628 899 727.
(Our office hours are Mon-Fri 8.30am-5.30pm)
Short-term and hassle free access to electric cars and vans
With easily extendable contracts, no early-termination fees and quick and easy set-up and delivery, our electric vans and cars provide practical and affordable, eco-friendly mobility solutions.
3+ months hire duration
Try an electric vehicle for 3 months or more with easily extendable contracts
Trial EVs in your fleet
trial electric cars or vans in your existing fleet and see the benefits for yourself
Tailored to you
Vans can be delivered with livery and accessories
Affordable FlexiHire electric cars and vans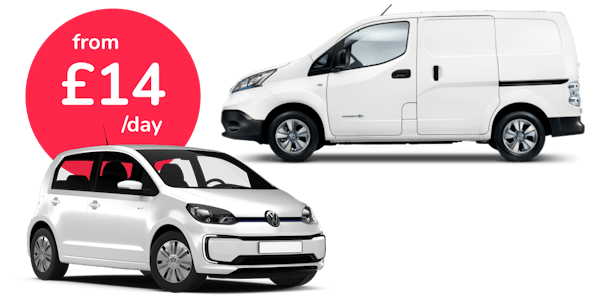 Our FlexiHire fleet is made up of a variety of new, nearly new and refurbished electric vans and electric cars. For an accurate quote then please get in touch using the form above.
Good to know: 20p per excess mile applies. Delivery and collection costs apply. All FlexiHire rental prices are subject to VAT and are based upon you covering the vehicle on your own fully comprehensive insurance. Vehicles subject to availability. Full terms & conditions.
Case Studies
We work in partnership with our fleet customers to keep their environmental and financial costs as low as possible
Get to know Flexihire EV rental in our EV rental Q&A
Hire a Tesla Model 3 from DriveElectric
We help UK businesses move into electric cars, whether that's a short term FlexiHire or a longer term business lease. Our expert EV Consultants can work with your business to recommend the best route into EVs.
Our team will also assist with expert advice about charging, vehicle range and more.