MINI MINI Electric electric lease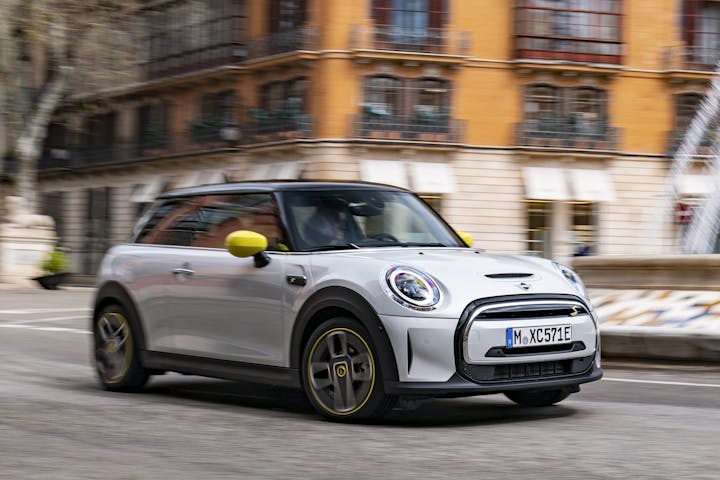 Based on the classic MINI hatchback design, the electric version is a popular sight on UK roads. Immediately apparent from its ICE powered siblings thanks to some iconic alloy wheel designs and other electric-only detailing.
Choose your MINI Electric car lease
£3,219.27 Initial rental (ex. VAT)
£3,863.12 Initial rental (inc. VAT)
48 Month term
5000 Annual mileage
Subject to status and conditions + arrangement fee
£357.

70
Business contract hire per month (ex. VAT)
£429.

24
Personal contract hire per month (inc. VAT)
£3,333.70 Initial rental (ex. VAT)
£4,000.44 Initial rental (inc. VAT)
48 Month term
5000 Annual mileage
Subject to status and conditions + arrangement fee
£370.

41
Business contract hire per month (ex. VAT)
£444.

49
Personal contract hire per month (inc. VAT)
The MINI is powered by a 32.6 kWh lithium-ion cell battery pack (useable battery of 28.9 kWh), achieving a real-world range of around 115 miles on a full charge. When you lease a MINI electric, you can reach 0-60 in around 7.5 seconds with a top speed of 94 mph.
The MINI Electric uses the Type 2 / CCS charging standard and will arrive with both charging cables (3-pin and type 2). The Mini Electric can be recharged using a wall box home charger in around 4 hours and 45 minutes, and when using a public rapid charger, you can expect to achieve 80% charge in around 30 min.
MINI Electric trims: What MINI Electric can you lease?
Features of the MINI electric
Looking for a MINI electric lease? This is what you need to know.
MINI has thought of every last detail when it comes to the MINI Electric. You'll find MINI Navigation for live traffic updates and details on any nearby charging stations. Plus, the digital dashboard displays all kinds of helpful information to assist you on the road. And even better, when it comes time to charge up you can track down the nearest charging station via the 8.8" high-resolution display.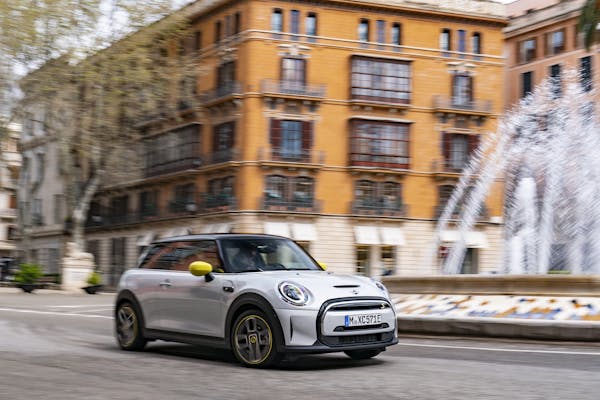 Regenerative braking
When you're driving the MINI Electric, you can recover plenty of energy and extend the range of the car through its regenerative braking. You can adjust the feature, but if you keep it at the highest level you'll get the best results when it comes to the energy of your battery.
This is also super useful when driving up steep hills as you can recover more energy on the way down.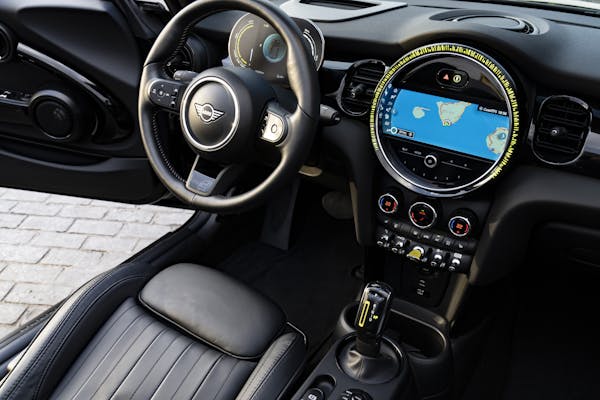 Green mode for even more eco-friendly driving
By using the MINI Electric Green Mode, you can accelerate more smoothly and anticipate the road ahead – all this again helps to extend your driving range. And if you're not using the AC or heating, you can switch to Green+ Mode to extend your range even further.
A heads-up display
We all know that driving can present many distractions and it's so important to keep your eyes on the road. Well, with the MINI Electric, you know that your eyes will firmly be on the road at all times, with the optional Heads-up Display which is available on the Level 3 trim. This projects key driving information – including your speed, warning signals and navigation prompts – directly onto the windscreen right in your eyeline.
A little help when it comes to parking
MINIs are perfect cars for squeezing into tight spaces, due to their small dimensions. But it still relies on your skill as a driver to do it. Fortunately, the MINI Electric offers a little help through its easy-to-use Rear-View Camera which is available with a MINI Electric Level 2 lease or a MINI Electric Level 3 lease. This works alongside the optional front and rear sensors to warn you when you're getting close to cars and objects when parking.  The Level 3 trim even automatically manoeuvres your car into tight spaces, stopping instantly if a hazard appears.
MINI Electric UK lease deals from DriveElectric
Looking for a MINI Electric lease? We've got everything you need at DriveElectric. If you want to lease a MINI Electric for personal or business use, we have a range of MINI Electric lease deals on the Level 1, Level 2 and Level 3 MINI Electric to suit your budget. You can get in touch with us to discuss your needs or simply view our full range of MINI Electric leases on our website.
And if you want a quote right now, just fill out our quick online form for an instant quote. In no time, you'll be driving away in your new MINI Electric and doing your bit for the planet at the same time.
You can browse all of the best MINI Electric UK lease deals right here at DriveElectric. Simply give us a call to discuss our latest MINI Electric car leases or fill out our quick form to get an instant online quote.