All electric cars from Audi
Those looking for Audi car leasing deals should consider the manufacturer's expanded all-electric range of premium vehicles.
All falling under the e-tron badge, the German carmaker has been adding to its initial line-up over recent years with the launch of models including the e-tron GT performance coupe, the Q4 e-tron SUV and the e-tron Sportback.
If you're looking for Audi personal leases, you'll be impressed by the offering from this high-quality manufacturer. Meanwhile, fleet managers looking for Audi business lease deals should talk to our specialist team who can support businesses and their staff in making the transition to driving electric.
Audi has a strong background in electric motoring, with the e-tron series launching in 2009. A few years later, the Audi R18 e-tron quattro recorded a hat-trick of victories in the prestigious 24 Hours of Le Mans motor race, between 2012 and 2014.
On the back of this, the German marque released the A3 Sportback e-tron in 2014. This was a plug-in hybrid, with the fully-electric e-tron SUV following five years later - a decade after the first e-tron concept was unveiled at the 2009 International Motor Show in Germany.
Whether you've been driving electric vehicles for many years or you're searching for your very first EV, we have an excellent selection of Audi lease deals to suit a range of budgets. Nowadays, you can't go wrong if you want to go electric with your next Audi lease.
UK infrastructure is better than ever when it comes to electric motoring, meaning now is the perfect time to plug in and go. Continue reading to find out more about the different models currently available as part of our all-electric Audi leasing options.
Audi car leasing choices with an 100% electric powertrain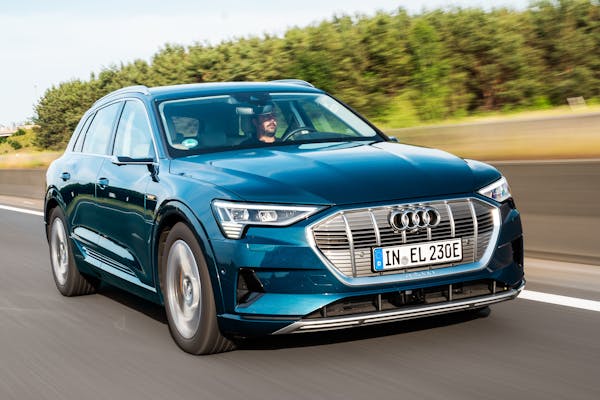 Audi E-Tron
The e-tron was Audi's first ever fully-electric SUV when it came out in 2019. This Audi car lease option keeps the traditional stylish feel we've come to expect from the German manufacturer, yet prepares you for the future of electric motoring with plenty of modern driving technology.
When you lease an Audi e-tron, you'll receive a car with a maximum range of up to 252 miles. Despite being a relatively large and heavy SUV, the e-tron can accelerate from 0 to 62mph in just 5.7 seconds, all while delivering a completely CO2-free experience behind the wheel.
As well as the performance figures and the luxurious feel you get inside the cabin, you'll be pleased to know there's plenty of space for the whole family in this car. The Audi e-tron boasts a storage volume of up to 1,725 litres with the rear seats folded down, while also offering a range of driver aids, 360-degree parking sensors, a rear-view camera and lane departure warning as standard.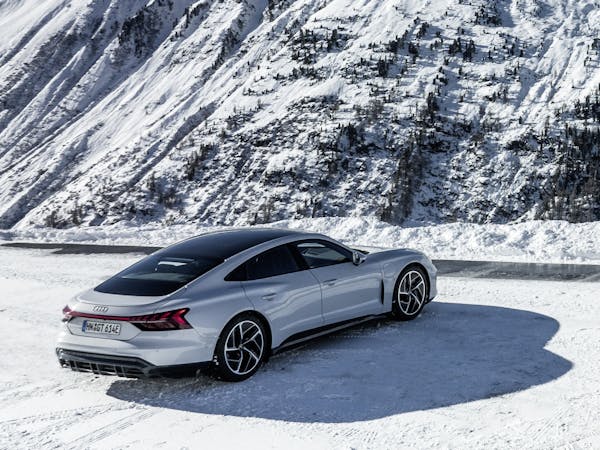 Audi E-Tron RS GT
If you're looking for an electric Audi lease from the carmaker's sports family, this is an ideal choice. With the wheelbase and presence of a gran turismo and unmistakable characteristics of an Audi RS, it is pure performance electrified.
Some of the headline figures you can expect when you take out an Audi lease on the RS e-tron GT include a 0-62 of just 3.3 seconds and a power delivery of up to 440 kW. That's all while achieving a range of up to 283 miles, with the car's rapid charging technology able to take the battery from 5% to 80% in just 23 minutes.
The RS e-tron GT has quattro all-wheel drive with torque vectoring, adaptive air suspension and all-wheel steering, which all helps to deliver a track-like experience. When you take out an Audi car lease on this model, passengers will be well looked after too, not just in terms of the luxurious finish, but also by the 12.3-inch colour display and array of driver and safety aids.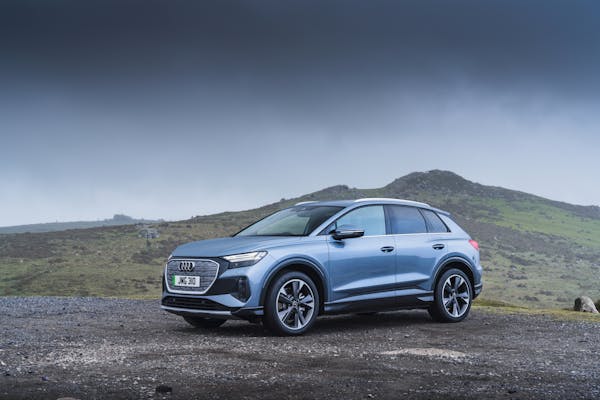 Audi Q4 E-Tron
When it comes to Audi lease options, this fully-electric all-rounder is a perfect fit for everyday life. It's the next evolution of Audi's electrification and with a flawless design, premium feel and impressive set of features, you'll truly feel the business behind the wheel of this SUV.
Offering a range of up to 314 miles and capable of boosting its battery from 5% to 80% in only 29 minutes, the Q4 e-tron provides you with a smooth and dynamic drive that can be adjusted via the choice of five different driving modes. You can also select your trim level to specify your preferred driving experience, styling and equipment level.
From the on-board technology to the stylish and spacious interior, you get a premium feel throughout when you choose one of our Audi leasing deals on this model. As well as the futuristic dashboard, modern touchscreen display, advanced multi-function steering wheel and Audi Virtual cockpit, you can also add optional extras such as a head-up display with augmented reality.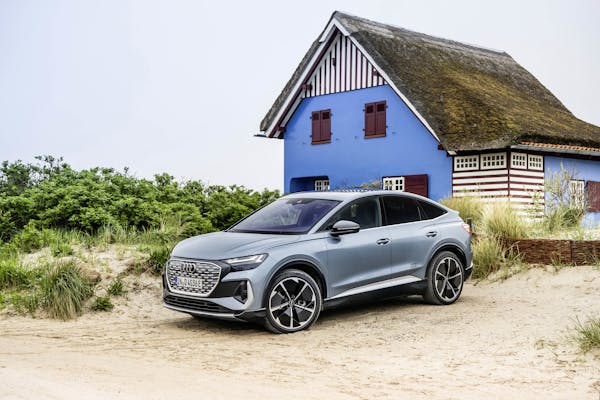 Audi Q4 E-Tron Sportback
The Sportback version of the Q4 e-tron is an exciting Audi car leasing option. Adding a dynamic flourish and sporty appearance, this full-electric compact SUV is strikingly elegant, innovative and functional, all at once.
Capable of charging from 5% to 80% in just 29 minutes, the Q4 e-tron Sportback also delivers a range of up to 320 miles. You can select between different trim levels when you take out one of our Audi car lease deals on this model, again allowing you to tailor your new EV to your taste.
Whichever trim you go for, you can look forward to a spacious, comfortable ride with the Q4 e-tron Sportback. There's up to 535 litres of luggage space, plenty of legroom and splashes of cutting edge technology throughout, including driver aids such as camera-based traffic sign recognition and pedestrian and cyclist detection as standard.
Benefits of leasing an Audi
Easy and convenient
After choosing the length of your Audi lease, mileage and deposit, simply wait for your new car to be delivered.
Stay ahead of the curve
When your contract finishes, you can hand back your car with no further obligation and select one of our latest Audi lease offers to get a new model with the latest tech.
Road tax and warranty included
Our Audi lease cars include road tax for the entire duration of your contract, while you'll also be covered by a full manufacturer warranty.
Audi electric car lease FAQs
Discover the Audi electric lease deals at DriveElectric. You can give us a call to discuss our latest offers, or you can fill in a quick form to get an online quote right now.