Jeep Avenger electric lease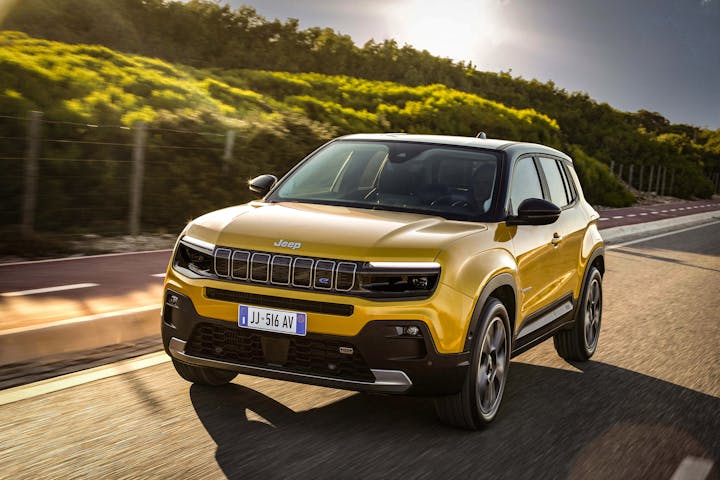 Named after the Marvel superhero collective? We're not so sure... but what we do know is the Avenger is the first pure electric model from Jeep to hit UK roads.
First UK deliveries expected by mid-2023
Choose your Avenger car lease
Jeep Avenger electric car lease
The Jeep Avenger is the first all-electric vehicle from the iconic American offroading brand to hit the UK.
Unveiled at the 2022 Paris Motor Show, the Avenger is expected to be the first of four Jeep badged electric vehicles to arrive before the end of 2025.
As the images clearly show, the Jeep Avenger is a compact SUV, very much in the mold of Stellantis stablemate the Peugeot e-2008, however the Avenger comes with the range of technology to boost its offroading credentials.
Jeep Avenger battery and power
For the Jeep Avenger, parent company Stellantis has developed a new 54kWh battery pack, as well as a new electric motor. Although the Avenger is a two-wheel drive vehicle, the new motor supplies 115kW of grunt to the front wheels, as well as 260 Nm of torque. This power, along with Jeep's new 'Selec-Terrain' driving system, should mean that the EV does offer some level of offroading capability. How good remains to be seen though.
The Selec-Terrain driving system will come with a choice of six driving options - usual EV fayre such as Eco, Sport and Normal are joined by more Jeep flavoured traction options Snow, Mud and Sand.
Back to the new battery pack, the 54kWh unit in WLTP conditions will take the Avenger around 250 miles on a full charge, so in real world conditions we're expecting a range just north of 200 miles.