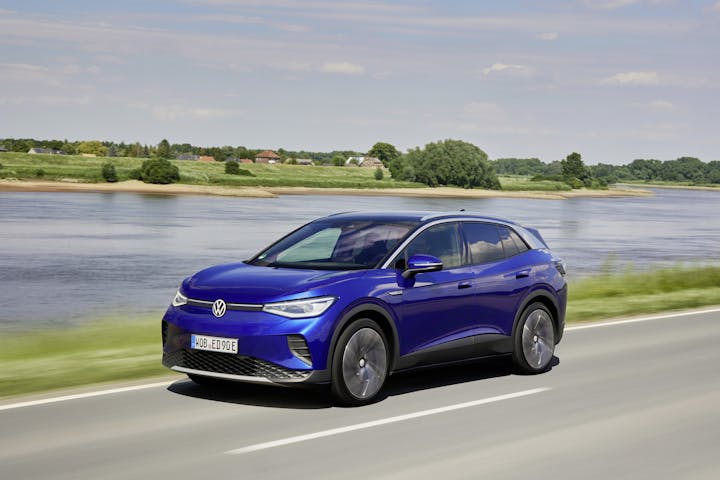 Choose your ID.4 car lease
About the Volkswagen ID.4 electric car lease
The Volkswagen ID.4 electric car lease balances price, performance and sustainability, following in the footsteps of the Volkswagen ID.3 electric hatchback the ID.4 is produced with a carbon-neutral balance, and if charged using clean energy it can remain carbon-neutral on the road too!
The ID.4 has a modern, sporty look from the outside but also benefits from a spacious roomy interior with an extra-long wheelbase, creating an "Open Space" just like in all of Volkswagen's other ID vehicles. It's a perfect lease choice for families and those looking for comfort and a little bit extra room for passengers. It also has plenty of boot space and the luggage compartment area measures up at 543-litre capacity which can be increased to 1,575 litres by folding down the rear seats down flat. This ground-breaking new EV from Volkswagen has been designed perfectly for both the driver and passengers whole experience.
Charging the Volkswagen ID.4
The ID4 is available in 3 battery size options, you can choose between 55 or 77kWh. There are also multiple trim levels to choose from giving you the choice of extra range, more power and budget-friendly. When you are charging at home on a 7kW wall charger, you should expect it to take 8 hours 3 minutes for the smaller battery and just over 12 hours for the larger option.
If you're on the go and need to top the ID.4 electric car up in a hurry, you can use a public rapid charger gaining around 100 miles of range in around 15 minutes (when plugged into a 100kw charger).
| Model | Battery size | Usable battery size | Real world range | WLTP range |
| --- | --- | --- | --- | --- |
| Volkswagen ID.4 Pure | 55 kWh | 52 kWh | 175 miles | 212 miles |
| Volkswagen ID.4 Pro Performance | 82 kWh | 77 kWh | 255 miles | 314 miles |
| Volkswagen ID.4 Pro | 82 kWh | 77 kWh | 255 miles | 314 miles |
| Volkswagen ID.4 GTX | 82 kWh | 77 kWh | 245 miles | 300 miles |