Tesla Model Y electric lease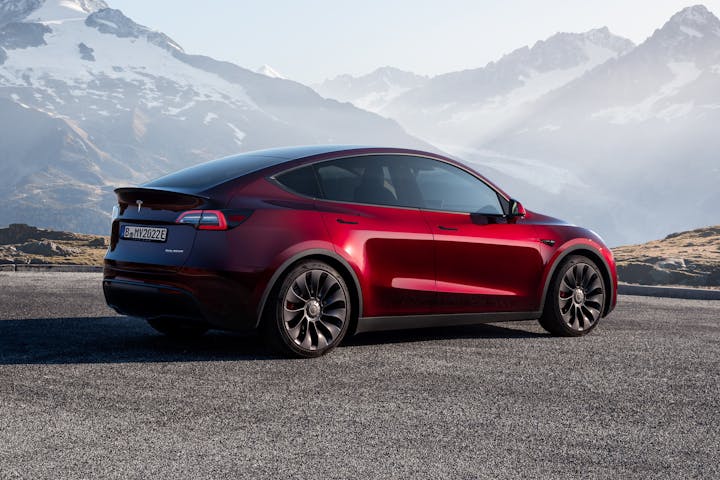 £3,520.29 Initial rental (ex. VAT)
£4,224.34 Initial rental (inc. VAT)
48 Month term
5000 Annual mileage
Offer expiry Monday, 18 December 2023
Subject to status and conditions + arrangement fee
£391.

14
Business contract hire per month (ex. VAT)
£469.

37
Personal contract hire per month (inc. VAT)
Special Offer
£4,073.63 Initial rental (ex. VAT)
£4,888.35 Initial rental (inc. VAT)
48 Month term
5000 Annual mileage
Offer expiry Monday, 18 December 2023
Subject to status and conditions + arrangement fee
£452.

63
Business contract hire per month (ex. VAT)
£543.

15
Personal contract hire per month (inc. VAT)
Special Offer
Choose your Model Y car lease
£4,113.32 Initial rental (ex. VAT)
£4,935.99 Initial rental (inc. VAT)
48 Month term
5000 Annual mileage
Subject to status and conditions + arrangement fee
£457.

04
Business contract hire per month (ex. VAT)
£548.

44
Personal contract hire per month (inc. VAT)
£4,986.16 Initial rental (ex. VAT)
£5,983.39 Initial rental (inc. VAT)
48 Month term
5000 Annual mileage
Subject to status and conditions + arrangement fee
£554.

02
Business contract hire per month (ex. VAT)
£664.

82
Personal contract hire per month (inc. VAT)
£5,688.80 Initial rental (ex. VAT)
£6,826.56 Initial rental (inc. VAT)
48 Month term
5000 Annual mileage
Subject to status and conditions + arrangement fee
£632.

09
Business contract hire per month (ex. VAT)
£758.

51
Personal contract hire per month (inc. VAT)
About the Tesla Model Y lease
The Tesla Model Y Long Range is the final edition to the S-3-X-Y lineup of electric vehicles from Tesla and follows on from the award-winning Tesla Model 3 electric car. The Model Y is an all-electric mid-size SUV designed with versatility and safety in mind, and like all Tesla vehicles, it has been designed to be the safest in its class.
So, what do you get when you lease a Tesla Model Y? The Model Y is an all-wheel-drive electric vehicle powered by two independent electric motors which digitally control the torque to both the front and rear wheels. This improves the traction, handling, and control of the vehicle, as well as the car's performance and drive in all weather conditions. If you are looking for an all-purpose car, then a Tesla Model Y lease might be the perfect option. The Model Y Long-Range can reach 0 – 60 mph in around 5 seconds, and the Model Y Performance is slightly quicker off the mark and reaches 0 – 60 in just 3.5 seconds!
Whether you're looking for a business or personal Tesla Model Y lease deal, DriveElectric can help you get behind the wheel of an all-new Tesla Model Y. Just configure your lease deal indication, complete the simple form and a member of the expert DriveElectric team will be in touch.
If you already have a RN number we can help with your Tesla finance...
If you have a Tesla RN number but haven't yet confirmed finance then DriveElectric can help.
We can quickly and easily confirm with Tesla your intention to lease a Tesla Model Y through DriveElectric and our funding partners. We can provide you with an affordable, price indication on your model. Simply submit your enquiry to us and make sure that when you speak to a member of the team you let them know about your Tesla RN.
How do you charge the Tesla Model Y?
Both the Tesla Model Y Long Range and Model Y Performance come fitted with an 82kWh (75kWh usable capacity) battery pack. So, if you're charging the Model Y at home on a standard 7kW wall box charger, you can expect it to take around 12 hours to fully recharge the car from 0 – 100%.
There's also a smaller battery Model Y available to lease, the Model Y RWD comes with a 57.5 kWh useable battery pack which will travel around 210 miles in the real world. With the smaller battery comes a lower price tag, which makes the Tesla Model Y RWD a great way into the Model Y range.
When you sign up to lease a Tesla Model Y, you'll enjoy the many benefits of owning a Tesla. All Tesla vehicles can charge super-fast when using a compatible public charging station. Tesla also has its own Supercharger network spread across the Motorways around the UK (and some of the rest of the world) for your convenience. In fact, the Model Y is capable of charging at speeds of up to 250 kW, this means you can top up 80% on the range of your car in just 25 mins when using a compatible charging station!
| Model | Battery size | Usable battery size | Real world range | WLTP range |
| --- | --- | --- | --- | --- |
| Tesla Model Y Long Range | 82 kWh | 75 kWh | 270 miles | 331 miles |
| Tesla Model Y Performance | 82 kWh | 75 kWh | 260 miles | 319 miles |
| Tesla Model Y RWD | 60 kWh | 57.5 kWh | 210 miles | 283 miles |
Tesla Model Y top features
When you lease a Tesla Model Y from DriveElectric, you'll benefit from the following features.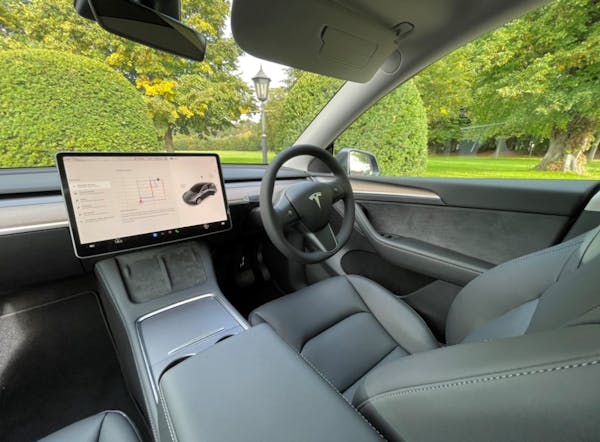 Great specification, as standard
The car features a panoramic glass roof and a spacious minimalistic design inside with the main focus on the single 15-inch horizontal touch screen where you can access all the car controls. The new electric car also features a keyless entry system, but instead connects to the driver's smartphone to both lock and unlock the car. You can also use the smartphone app for features like remote preconditioning, tracking the location and Summon (plus much more).
All of these features are available across all our Tesla Model Y leasing offers, so why not get your quote today?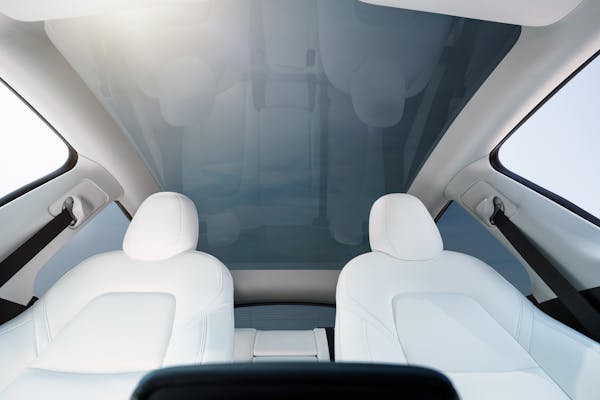 Room for everyone (and the dog!)
Inside the Model Y, there's enough space in the cabin to fit a 7-seat configuration seating seven adults (standard seat config is five people), so this new electric car can fit all the family in along with their luggage if needed. The versatility of the seating layout makes it easy to carry extra cargo as the second-row seats fold flat individually and with the addition of the front trunk, or 'Frunk' as some call it (great for storing your charging cables). More storage space is always a good thing. You'll benefit from all the storage you need when you lease a Tesla Model Y with Drive Electric.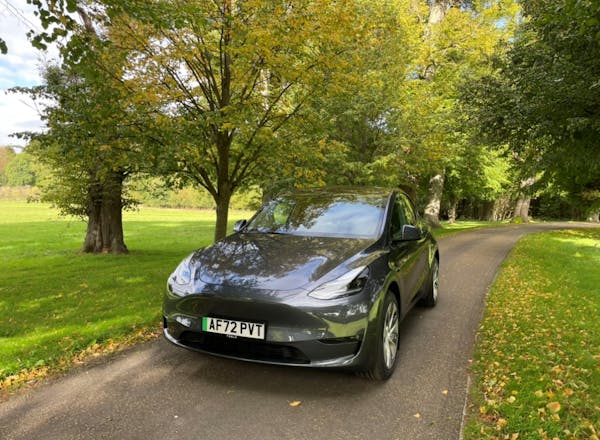 Genius-level tech
Tesla Model Y has Autopilot and Full Self-Driving capability, which is a level 2 advanced driver assistance system. Its eight external cameras, radar and 12 ultrasonic sensors provide an additional layer of safety that two eyes alone would not have. Tesla believes that the technology will improve the safety of not just the driver and passengers travelling in the car, but all drivers on the road.
You can also enable automatic navigation on autopilot for driving on city streets and motorways (this can be set at the start of each journey). It also has a 'Summon' feature, with the ability to come and find you by your GPS location when you are in a car park. These features are not all currently available in the UK, but you can add this to your Tesla Model Y lease deal, so when the technology is ready and approved your vehicle will be FSD ready.
*Full self-drive and Enhanced Autopilot are not standard features and are available to add on at an additional cost.
Tesla Model Y UK lease deals from DriveElectric
At DriveElectric, we have a wide range of Tesla Model Ys available for leasing. So, if you like the look of the Tesla Model Y, simply take a look at our UK Tesla Model Y lease deals and we can get you a quote today.
We offer Tesla Model Y leasing for both business and personal. If you're in the market for a new electric car, simply check out Tesla Model Y lease deals and get in touch with us today.
Watch our review of the Tesla Model Y