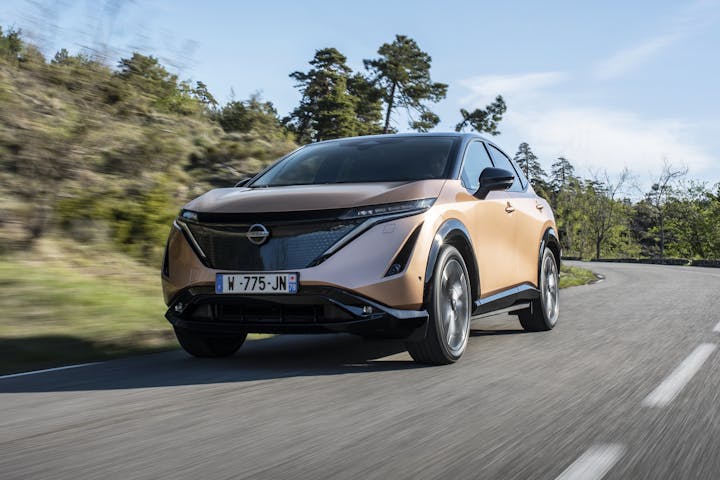 Revealed at the 2019 Toyko Motor Show, the Nissan Ariya is the long awaited sibling to the EV-pioneer, the Leaf.
It's taken Nissan over ten years to release its next proper EV following the continued success of its Leaf hatchback. But it is finally here and joins the burgeoning ranks of all-electric SUVs available.
With deliveries expected from the summer of 2022, it won't be long until we start seeing Ariyas on UK roads. It is quite a size as well, being nearer to the X-trail in proportions than the Qashqai.
One of the standard features is the Nissan 'shield' the name the Japanese carmaker has given to the closed grille at the front of the vehicle. There's no mistaking that this is a 100% battery powered vehicle.
Nissan Ariya battery and charging
Nissan is planning on offering two battery sizes in the Ariya; 63kWh and 87kWh. Both sizes significantly bigger than the 40kWh battery in the Leaf, and this is reflected in the projected real world ranges, where we are expecting the Ariya to travel between 205 - 275 miles on a full charge.
The engineers at Nissan have also ensured that the Ariya is comparable with other latest models in its ability to accept high power rapid charging, with the vehicle capable of accepting up to 130 kW DC. This means that on an ultra-rapid charger the Ariya can add between 160 - 200 miles of range in 35 minutes.
For launch Nissan is offering three main trim levels, with the entry-level Advance variant coming with goodies such as 19-inch alloys, 360-degree view monitor and two 12.3-inch screens.
Moving up to the mid-range Evolve, Nissan has added a panoramic sunroof, vented front seats and a Bose sound system. Topping out the line-up is Performance, which is only available in e-4ORCE grade (Nissan's name for AWD), and this adds more power, 20-inch alloys and blue Nappa leather upholstery.
Looking for a different manufacturer?