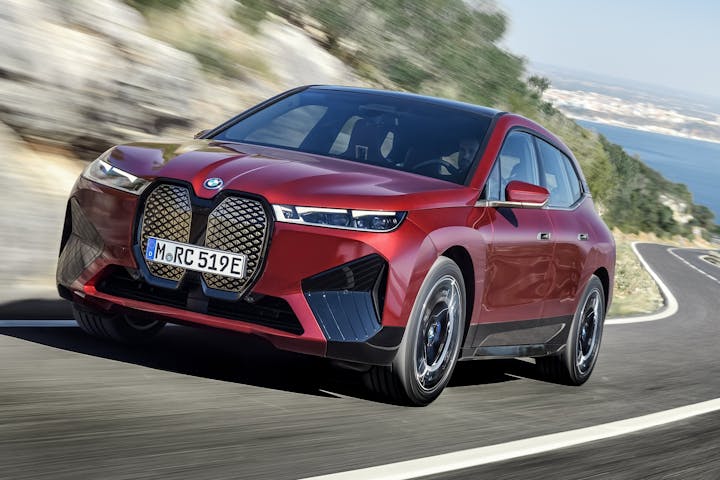 German SUV pedigree meets zero tailpipe emissions - this is the range-topping BMW iX
If it is big and bold you're looking for, you've come to the right place. The BMW iX sits at the pinnacle of the German brand's all electric SUV models. As you would expect from such a premium model, the iX is filled with all the latest technology BMW has to offer and also features one of the largest battery powertrains found on any production electric car in the world.
Determined to make a statement, the iX is the epitome of BMW X brand featuring some of the largest kidney grilles we've ever seen. Clearly the designers over in Germany have decided to push the boundaries of what a BMW should look like - and the iX as unashamedly aggressive and almost angry look to it. Thankfully from the side and rear the iX is a little less extreme and evokes the latest BMW X7.
This BMW iX Sport comes with a 105kWh lithium-ion battery and has been given a lengthy driving range of 391 miles WLTP, although at DriveElectric we recommend a more realistic 'real world' driving range of around 315 miles! (Further than the UK's longest motorway).
The vehicles range can be affected by many factors, including your personal driving style, weather conditions and vehicle load. The range of the vehicle can be prolonged by tailoring your driving style and using pre-conditioning features built into the car, i.e: warming up the cabin in winter while you are still plugged-in charging.  This gives you a warm car first thing in the morning without affecting the car's driving range.
| Battery size | Useable battery size | Real world range | WLTP range |
| --- | --- | --- | --- |
| 76.6 kWh | 71 kWh | 215 miles | 264 miles |
| 111.5 kWh | 105.2 kWh | 315 miles | 391 miles |
You can charge the BMW iX Sport simply by plugging it into a 7kW wall box charger at home, it should take around 15 hours to fully charge the car, this is the most common way of charging an electric vehicle. This vehicle is also capable of charging on an 11kW home charger, allowing you to top up faster at home in just over 11 hours. The smaller battery sized iX will take less time, around 7 hours for a full charge.
When you're on the road and looking to top up your battery in a hurry, you can plug-in to a public rapid charger gaining 80% charge in just 55 minutes (using a 100kW rapid charger).