Toyota is one of the oldest auto-manufacturers still producing vehicles today. The Japanese titan begun making cars in 1937 and has been producing industry-leading vehicles ever since, with their Toyota Corolla the best-selling car of all time across the globe.
All electric cars from Toyota
£3,760.23 Initial rental (ex. VAT)
£4,512.28 Initial rental (inc. VAT)
48 Month term
5000 Annual mileage
Subject to status and conditions + arrangement fee
From
£417.

80
per month (ex. VAT)
From
£501.

36
per month (inc. VAT)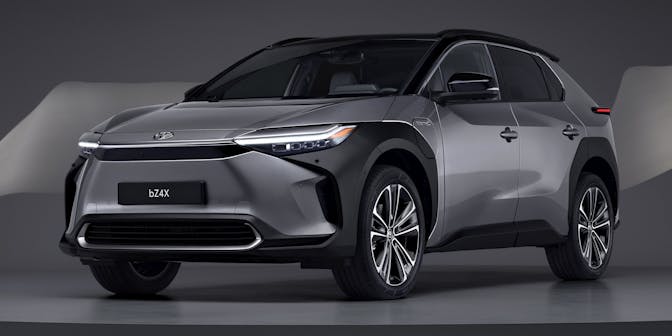 Leaders in bringing hybrid technology to the masses with the Prius and it's subsequent updates and generations, Toyota has - let's be fair - dragged its heels when it comes to pure electric vehicles.
But to rule them out of the competition would be a mistake, as their track record of developing and engineering high quality vehicles in significant volumes is incredibly impressive.
Still, at the moment Toyota has only a single all electric model available in the UK and that's the oddly named bZ4X. Name aside the EV shows a lot of promise of things to come from the Japanese carmaker.