One of the most iconic off-roading brands in the world is going electric
The classic American marque, famous for making tough and uncompromising 4x4s, has confirmed an all-electric Avenger model coming in 2023.
All electric cars from Jeep
£3,777.59 Initial rental (ex. VAT)
£4,533.11 Initial rental (inc. VAT)
48 Month term
5000 Annual mileage
Subject to status and conditions + arrangement fee
From
£419.

73
per month (ex. VAT)
From
£503.

68
per month (inc. VAT)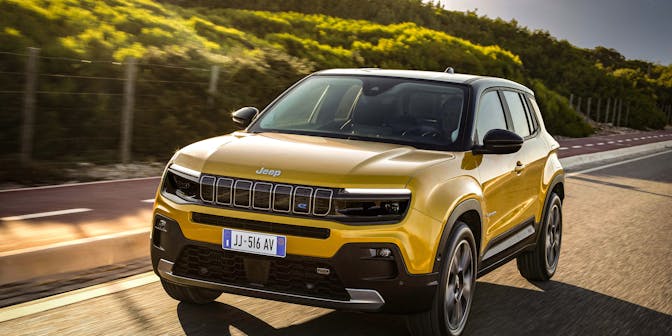 In a further sign of the automotive world going electric, iconic American marque Jeep is rolling out a fleet of all-electric models in its key markets and when you find that Jeep is now part of Stellantis Group this is probably no surprise. Jeep now rubs shoulders with the likes of Vauxhall, Fiat, Citroen and Peugeot, with brands regularly share the best technology between marques.
The first all electric Jeep to the hit the UK has been confirmed at the Avenger, which will be officially revealed in October 2022, before deliveries begin in 2023.