A new name to the UK car market, the Genesis brand is part of the wider Hyundai Motor Group, and is the luxury arm of the South Korean carmaker. It became an independent marque in November 2015 and you can now choose between a great selection of Genesis lease deals.
The Genesis G90 was the manufacturer's first standalone model, released in 2017. In the years since, the brand has gained a reputation for its technological innovation and now has a large range of models for you to select a Genesis lease from.
All electric cars from Genesis
£5,016.70 Initial rental (ex. VAT)
£6,020.04 Initial rental (inc. VAT)
48 Month term
5000 Annual mileage
Subject to status and conditions + arrangement fee
From
£557.

41
per month (ex. VAT)
From
£668.

89
per month (inc. VAT)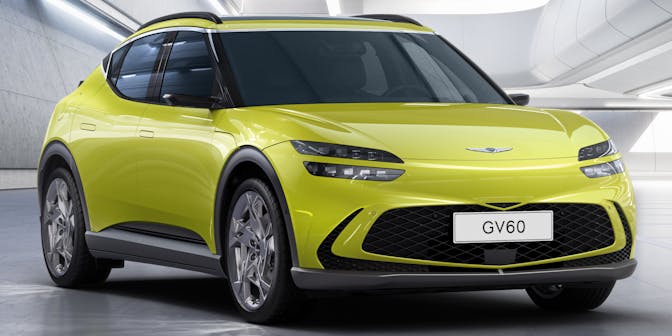 £6,716.81 Initial rental (ex. VAT)
£8,060.17 Initial rental (inc. VAT)
48 Month term
5000 Annual mileage
Subject to status and conditions + arrangement fee
From
£746.

31
per month (ex. VAT)
From
£895.

57
per month (inc. VAT)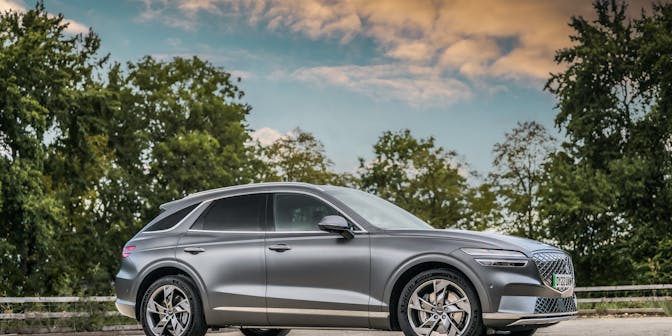 Saloon
Up to 310 miles range
£7,885.21 Initial rental (ex. VAT)
£9,462.25 Initial rental (inc. VAT)
48 Month term
5000 Annual mileage
Subject to status and conditions + arrangement fee
From
£876.

13
per month (ex. VAT)
From
£1,051.

36
per month (inc. VAT)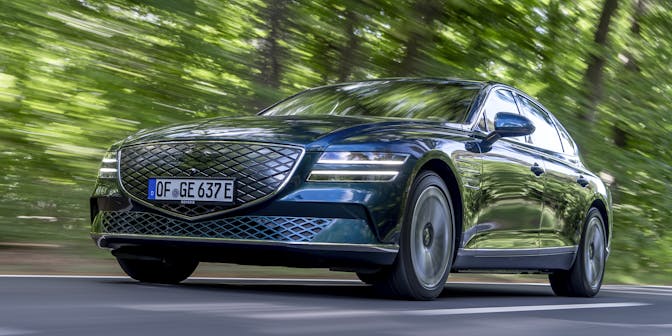 Originally available in its native South Korea and in the United States, the success of the brand has lead to an expansion of territories where the models are available. The UK saw its first Genesis vehicles hit the roads in 2022. As such, you can now shop the best Genesis lease offers around and look forward to taking delivery of a brand new car from this innovative manufacturer.
There are three Genesis models available in pure electric form - the GV60, the Electrified GV70 and range-topping saloon, the Electrified G80. We expect the GV60 to be the most popular in the UK. You can read more about each of these cars below, or check out our Genesis car lease deals now to pick out your next vehicle.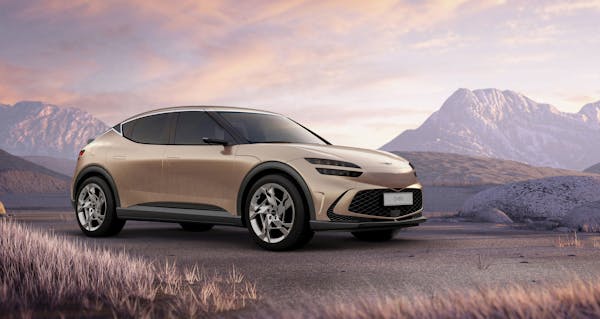 Genesis GV60
First released in 2021, the Genesis GV60 is an all-electric compact luxury crossover SUV. Sharing the same EV platform as the Hyundai Ioniq 5 and Kia EV6, it has quickly joined the likes of Lexus and Volvo as a premium alternative to similar models from the three big German brands Audi, BMW and Mercedes.
Super smart and technologically-orientated, the GV60 well and truly knows your face. Simply looking at the car can unlock the doors. It knows how to do premium comfort too, with electrically-adjusted front seats that are heated, ventilated and reclinable. The cabin is clean, concise and uncluttered.
In terms of performance, the Genesis GV60 has a 77.4kWH battery, which is capable of up to 321 miles on a single charge. Able to charge from 10% to 80% in less than 20 minutes, the battery delivers up to 490 PS of power. There are also boost and drift modes, allowing you to go from 0-62mph in just 4.0 seconds and really uncover the driving capabilities of this car.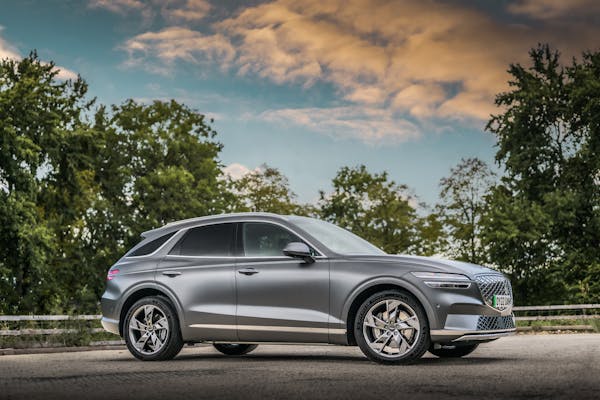 Genesis GV70
If you're searching for Hyundai Genesis lease deals, the Electrified GV70 will usually be the mid-range option in terms of price. This compact luxury crossover SUV is a little more expensive than the GV60 and cheaper than the Electrified G80 in terms of its on the road price, but there's nothing mid-range about this car when it comes to its capabilities, comfort and performance.
The all-electric version of the GV70 has an all-wheel drive, dual motor powertrain. Like the GV60, it has a 77.4kWh battery, which delivers 490 PS and can cover up to 283 miles on a single charge. The car's ultra-fast 800 V charging system means you can boost the battery from 10% to 80% in just 18 minutes, while the boost mode delivers a 0-60 of 4.2 seconds.
Sleek, athletic and elegant, the Electrified GV70 has been aerodynamically designed to increase performance. Inside the cabin, the 'beauty of white space' design ethos conveys a real sense of luxurious calm, while the advanced i-Pedal means you can accelerate, slow down and stop completely using just the one pedal.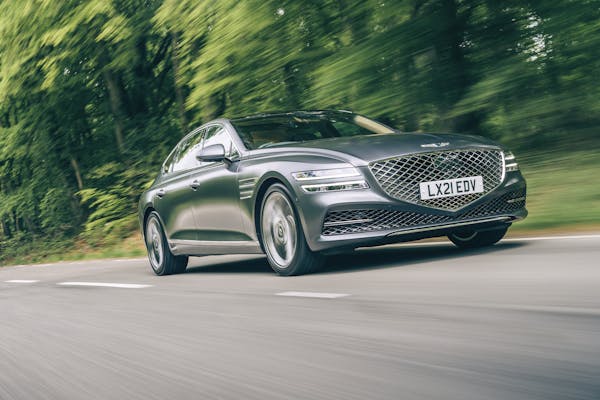 Genesis G80
Moving towards the top end of the Genesis car lease range, the Electrified G80 is an executive saloon that's making waves in a fiercely-contested segment of the market. Since debuting in 2021, it's been impressively taking on premium German brands.
Boasting an 87.2 kWh battery that produces a range of up to 323 miles, it only takes 22 minutes to charge up the power pack from 10% to 80%. The dual motors deliver an assured and confident driving experience, propelled by 370 PS of power that produces a 0-62 of 4.9 seconds.
It offers elegant and graceful looks from the outside, and has innovative features such as solar cells on the roof enabling it to cover larger distances while also demonstrating the forward-thinking nature of the Genesis brand.
Benefits of Genesis leasing
Easy and convenient

Simply choose the length of your Genesis lease, mileage and deposit, and wait for your new car to arrive.

Stay ahead of the curve

When your contract comes to an end, all you need to do is hand back your car and choose one of our current Genesis lease deals to take delivery of a brand new model with the latest tech.

Road tax and warranty included

Our Genesis lease cars include road tax for the full duration of your contract, while you'll also receive a comprehensive manufacturer warranty too.
You can browse all of the best Genesis lease deals available right now at DriveElectric. Simply give us a call to discuss our latest Genesis offers or fill in our quick form to get an online quote in an instant.