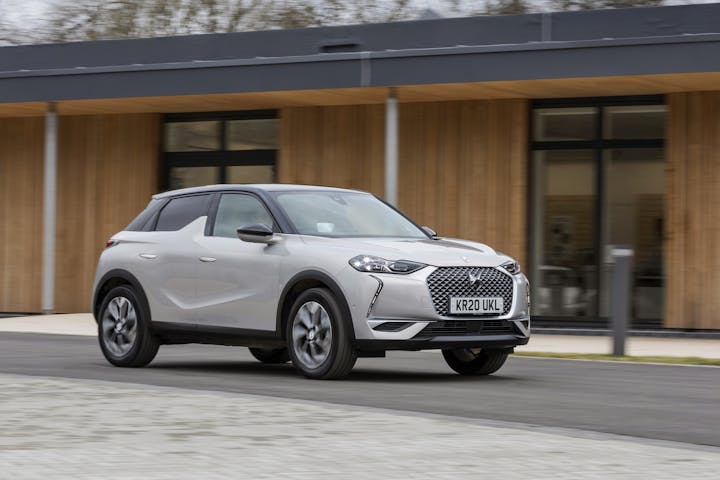 Find out why the DS 3 E-Tense Crossback is a great electric car lease option
Choose your DS-3 Crossback car lease
£2,668 Initial rental (inc. VAT)
48 Month term
5000 Annual mileage
Subject to status and conditions + arrangement fee
£2,223 Initial rental (ex. VAT)
48 Month term
5000 Annual mileage
Subject to status and conditions + arrangement fee
£296
Personal contract hire per month (inc. VAT)
£247
Business contract hire per month (ex. VAT)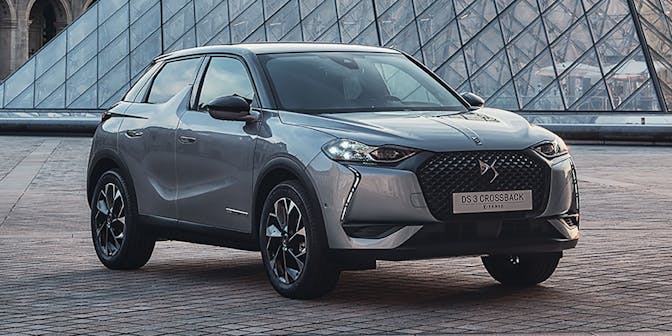 £4,147 Initial rental (inc. VAT)
48 Month term
5000 Annual mileage
Subject to status and conditions + arrangement fee
£3,456 Initial rental (ex. VAT)
48 Month term
5000 Annual mileage
Subject to status and conditions + arrangement fee
£461
Personal contract hire per month (inc. VAT)
£384
Business contract hire per month (ex. VAT)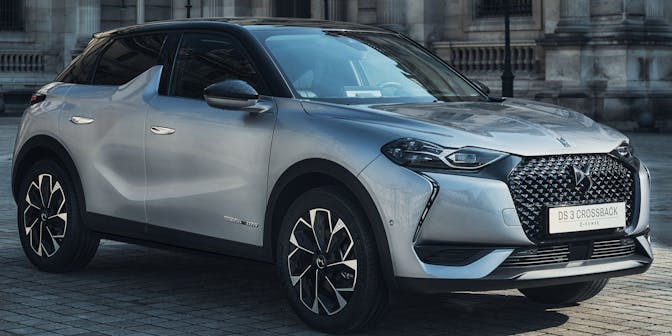 £4,460 Initial rental (inc. VAT)
48 Month term
5000 Annual mileage
Subject to status and conditions + arrangement fee
£3,717 Initial rental (ex. VAT)
48 Month term
5000 Annual mileage
Subject to status and conditions + arrangement fee
£496
Personal contract hire per month (inc. VAT)
£413
Business contract hire per month (ex. VAT)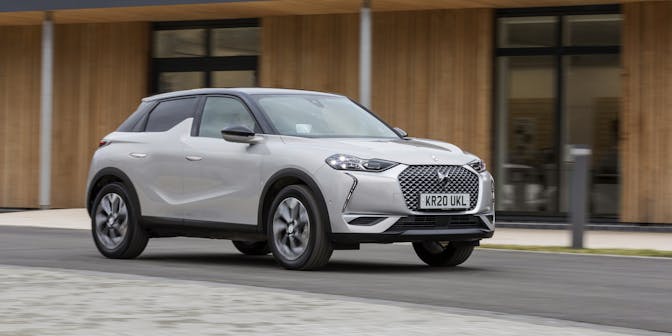 About the DS 3 Crossback lease deal
Here at DriveElectric we love the DS 3 Crossback E-Tense electric car, one of the most affordable lease deals, bucketloads of kerb appeal and plenty of tech. Job done.
Deriving its name from the popular hatchback produced by Citroen's premium 'DS' division, the DS3 Crossback E-Tense retains its exclusive feel and packages it up into the increasingly popular SUV body style.
Being the first vehicle from DS Automobiles with a 100% electric powertrain, DS set out to impress the electric vehicle community with their EV debut. As such, the luxury compact SUV combines the latest technology along with comfort and a distinctive style.
DS manages to retain all of the core DNA that makes their cars so brilliant drive, whilst harnessing the power and refinement that an all-electric powertrain offers drivers. The overall package is a culmination of well thought-out design choices, a roomy interior and plenty of range to get you home.
Charging the DS 3 Crossback E-Tense
The DS3 E-Tense's 50kW battery grants the car a very respectable 199 miles of range (WLTP) - more than enough for most families. This will easily accommodate the school run, commuting and a trip to the supermarket. Even when the battery does need a top-up, the DS 3 fills its electricity reserve with haste.
Using a 100kW rapid charger, the DS 3 can be charged from 10% - 80% battery in just 30 minutes. Just enough time to grab an overpriced sandwich from the services and strap the kids back in their car-seats.
At home, using a standard 7kWh wall-box charger will fully charge the battery in 7 hours 30 minutes. This is often done overnight, whilst energy prices are lower and the National Grid may have a surplus of electricity.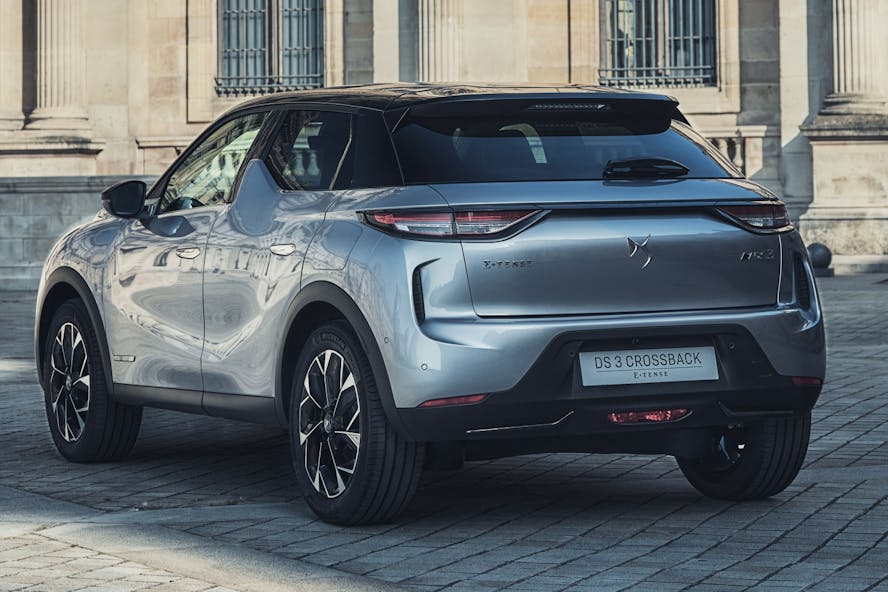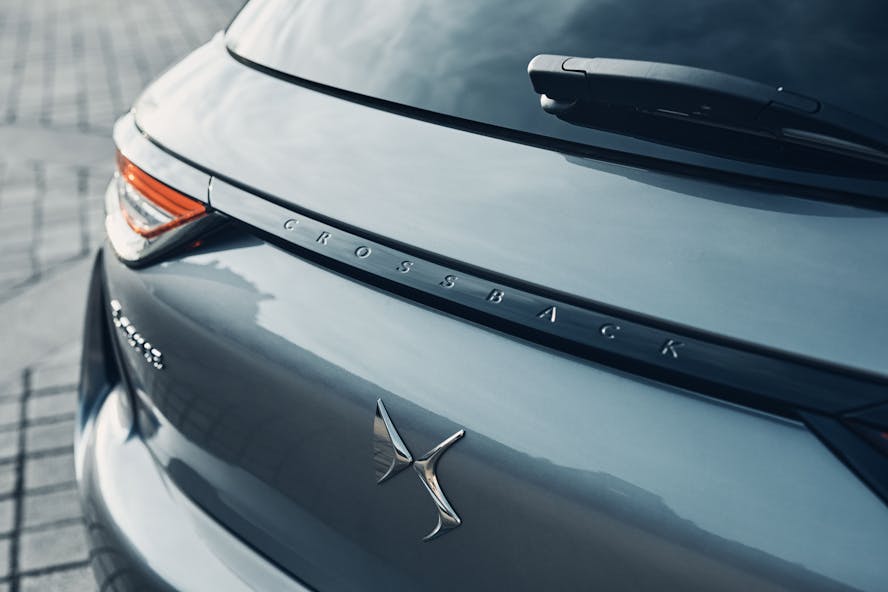 DS 3 Crossback Trim levels
The core DS-3 E-Tense range consists of three trim levels but being a premium carmaker you'll find excellent levels of luxury across the range. Starting the range is the Montmartre trim which comes with 17-inch alloys, keyless start and a 7-inch touchscreen infotainment console. Moving up to our favourite trim is Bastille, which adds rear parking sensors, auto air conditioning and MADRID 17-inch alloys. Above the Bastille comes the Rivoli which sees 18-inch alloys, LED headlights, black Basalt grained leather.
DS 3 Crossback E-Tense Road Test
We get behind the wheel of the DS-3 Crossback E-Tense to see what the fuss is all about...
DS 3 Crossback Review
Looking for a different manufacturer?