Nissan Townstar L1 electric lease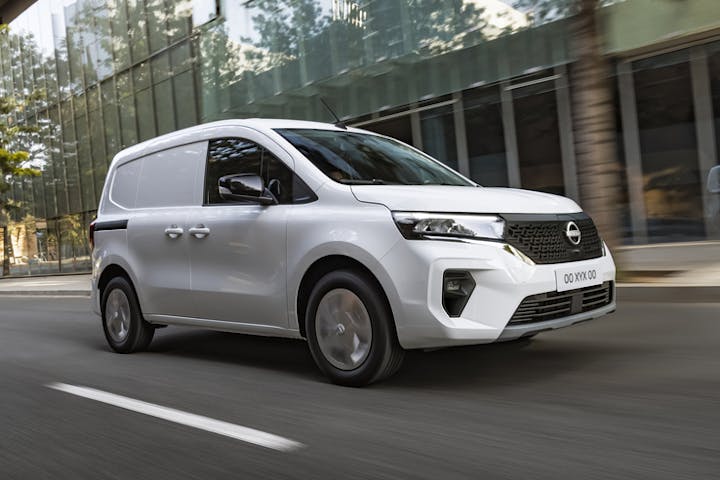 Nissan's replacement for the e-NV200, the Townstar features lots of the latest EV tech, wrapped up in useful small van package
Choose your Townstar L1 van lease
Nissan Townstar electric lease
Being the successor to the brilliant and hugely successful Nissan e-NV200 isn't an easy thing to have to do but Nissan has managed to make a latest generation electric van that builds on the foundations made by the e-NV200.
Where this new model really excels is bringing lots of smart tech into Nissan's small van for the first time, this includes features such as ProPILOT Assist system and Intelligent Around View Monitor which provides the driver with more tools and information to keep them and the vehicle out of harm's way. It comes with adaptive cruise control, Blind Spot Warning, Intelligent Emergency Braking and Parking assistance built in.
Other nice bits of kit on the new electric van include Apple Carplay and Android Auto compatibility, 3 x USB charging points and plenty of clever storage areas in the front cabin for drinks, pens, pads etc.
London Congestion Charge

(small annual registration charge)
Nissan Townstar battery & charging
Power is provided by a 45kWh (useable) battery unit, connected to a 122hp electric motor, and the WLTP figure given for range is 183 miles. However, under real world driving condition, here at DriveElectric would expect the Townstar to travel around 100-130 miles on a full charge and when the van is partially/fully loaded and being used as a work vehicle. The electric motor is connected up to the front wheels which will help with weight distribution when carrying a load in the rear space. And as with all electric vehicles, there's no gears to contend with, so acceleration is nice and smooth, perfect for urban travel.
Charging connectors on the Nissan Townstar are Type 2 / CCS, which is the most common connector type in the UK, so you can easily plug-in at home, at work, on at a public charging location. One word of warning however, the entry-level electric van spec Visia doesn't come with rapid DC charger capability. A DC onboard charger comes in the higher spec models - Acenta and Tekna. Therefore, if you're planning on utilising any public charging station then opt for the Acenta or Tekna trims.
Speaking of the rapid charging performance of the Townstar Acenta or Tekna, it can accept DC power up to 80kW which means going from 0% to 80% battery capacity takes 42 minutes.
At DriveElectric, we always advise that the best way to charge up electric vehicles is when they're not in use - so overnight usually, whether that's at home or at the workplace - leaving the public charging network for when an unusually long distance is needed to be travelled.
The Townstar is available in two body sizes, this the L1 or SWB is the smaller of the two versions available, but still features a good amount of load space.
Nissan Townstar L1 / SWB vital statistics
Looking for a different manufacturer?