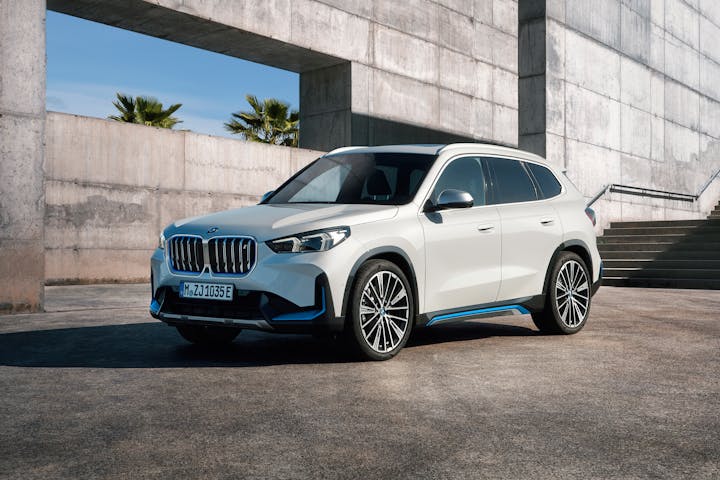 The BMW iX1 is BMW's premier compact-SUV. Combining a high-performance drivetrain and all-wheel drive, the iX1 delivers competent off-road ability without compromising on the luxury.
We currently do not have any deals available for the BMW iX1, but sign up to our mailing list and we will send you details of our great electric vehicle leasing deals.
Subscribe
The BMW iX1 is the German automaker's entry-level into the 'X' range. However, 'entry level' doesn't equate to a spartan interior and inferior tech. It's still a BMW, and their entry level is still a very high barrier of entry.
Being an SUV, the driver and occupants are afforded a taller ride height and a commanding road presence. Each axle is fitted with its own electric motor. Not only does this give the iX1 all-wheel drive, but BMW has focussed on putting the 'sport' back into SUV, with the motors making a combined 313hp.
Overall, the BMW iX1 offers a premium SUV experience for a relatively modest price tag.
The battery and range of the BMW iX1
Fitted with a sizeable 64.7kWh battery pack, the BMW iX1 is granted a WLTP range of around 272 miles. Out on the open road, it's unlikely to achieve the upper echelons of that figure. However, at DriveElectric we use an exclusive 'range disc' that indicates more useful figures for every EV - from what you're likely to achieve in summer as opposed to winter, and a combined 'real world' average. Regardless, the BMW iX1 has plenty of range for nearly all journeys.
Even when the battery does get low, it's quick and easy to recharge. Thanks to rapid 130kW DC charging, a 10-80% charge takes only 30 minutes. Just enough time to pop into the services, grab a coffee or do a weekly shop.
There's even clever battery pre-heating. Simply switch it on as you approach a rapid charger and it'll significantly reduce the charge time (compared to an EV without the tech.) The BMW App even lets drivers control the charging remotely using a smartphone.
As you'd expect from a premium brand such as BMW, the cabin of the iX1 is luxurious and full of tech.
The large curved display is comprised of two main screens. A 10.7-inch control display serves as a digital instrument cluster, displaying vital driver info. A slightly smaller 10.25-inch screen displays all of the infotainment details, such as Apple CarPlay/Android Auto and BMW Maps. Throughout the cabin there's ambient mood lighting which can be set via the central display screen with a 'floating' armrest that houses the gear selection and volume controls.
Premium adaptive 'M' suspension keeps the ride supple on-road and sure-footed off-road, with great steering feedback and handling.
Overall, the BMW iX3 is a very nice place to be.
Looking for a different manufacturer?