In 2008 Tesla released its first car, the completely electric Roadster. DriveElectric funded the first UK Roadster and that is where our road into electric vehicles started, since then we have been at the forefront of Tesla lease deals.
Tesla has gone on to thoroughly disrupt the auto industry, with the Tesla Model 3 (which can be leased at DriveElectric) outselling traditional brands. The numerous high-performance electric vehicles Tesla has available to lease, combined with its worldwide network of superchargers, have put them miles ahead of their competitors with their on-the-go charging unrivalled.
If you are looking for a Tesla business lease or a personal lease, then look no further. We have a large range of Tesla leasing offers, whether that is for the Model Y, Model S, Model X or Model 3. We are sure you will find a Tesla model that will satisfy all your electric vehicle needs.
Tesla lease special offers
All electric cars from Tesla
Lease a Tesla
Whether you're a dedicated EV driver or thinking about going electric for the first time, you can't go wrong with a Tesla lease. UK infrastructure is better than ever, and we have many years of experience helping our clients lease Tesla models that are right for them.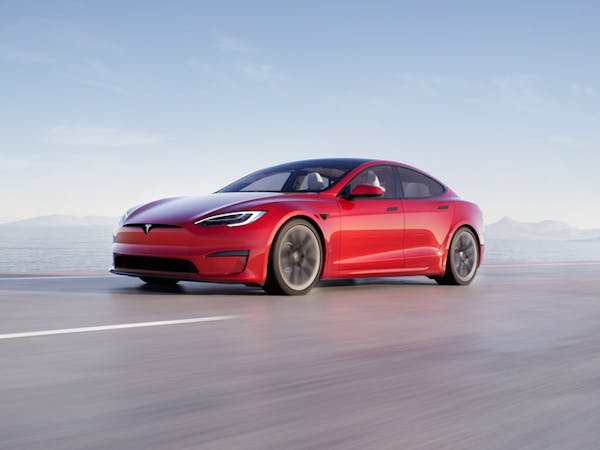 Tesla Model S
There are two options when it comes to the Model S: the standard version and the Plaid version. The Plaid model is a popular option among people looking to lease a Tesla that boasts supercar specs when it comes to speed, while the standard version offers a touch more range.
The Model S is built for range, endurance, and speed, and it has the lowest drag coefficient of any car on Earth to help it with this. The standard model has a 0-60 of 3.1 seconds, a 405-mile range and can recharge up to 200 miles in just 15 minutes at the Superchargers you gain access to when you lease a Tesla in the UK.
The 1,020-horsepower, tri-motor all-wheel drive Plaid version, meanwhile, can go from 0-60mph in just 1.99 seconds and has a top speed of 200mph, while still retaining a range of 396 miles. Both options are packed with great features such as Tesla Vision, as well as advanced self-driving capabilities, a 17-inch touchscreen display and yoke steering.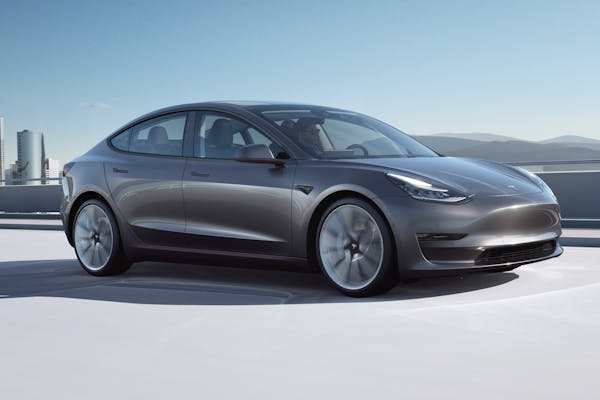 Tesla Model 3
For many people, Tesla leasing starts with the Model 3. The most affordable model the carmaker currently produces in terms of its on-the-road cost, this is a popular choice if you're looking for your first Tesla. The lease price depends on the spec and contract terms you go for, but even in its base form, this is a hi-tech car bursting with luxurious features.
The Model 3 comes with dual motor all-wheel drive, which propels it from 0-60mph in just 3.1 seconds. It has a top speed of 162mph and a range of up to 374 miles. And you can also use a Supercharger to boost the range by up to 172 miles in only 15 minutes when you have a Tesla on lease.
From the 15-inch touchscreen display to the expansive glass roof, the Model 3 is also brimming with modern safety features. Technological highlights include the Tesla Vision system to prevent collisions and help you park, while impact protection and a very low risk of rollover are among the advanced design features.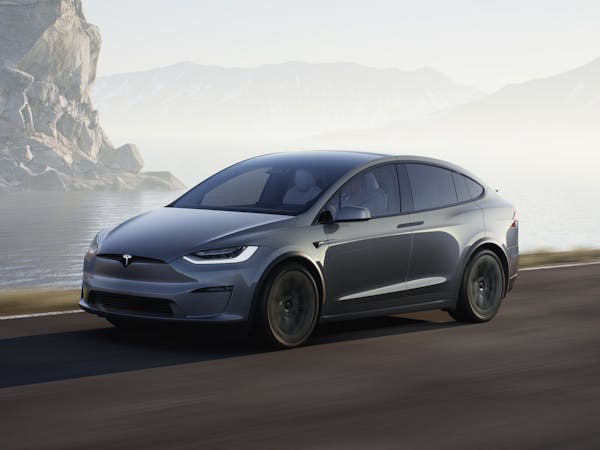 Tesla Model X
If you're searching for Tesla leases for SUVs rather than saloons, the Model X could be for you. Like the Model S, there's a standard and Plaid option, with the Plaid version sacrificing a touch of range for an extra burst of acceleration and top speed.
Despite its large size, the Plaid model is capable of going from 0-60mph in just 2.5 seconds. This supercar performance is down to its tri-motor all-wheel drive platform, which produces 1,020 hp and features torque vectoring and carbon fibre-sleeved rotors. It still achieves a 333-mile range – that can be boosted by up to 175 miles in 15 minutes – thanks to it having the lowest drag coefficient of any SUV on the planet.
The standard version can cover up to 348 miles on a single charge, while still going from 0-60 in just 3.8 seconds with a top speed of 155mph. From the falcon wing doors to the epic sound system, tilting 17-inch touchscreen and yoke steering, the Model X is as convenient as it is futuristic, with more than 2,600 litres of storage space and the ability to tow up to 2,300kg.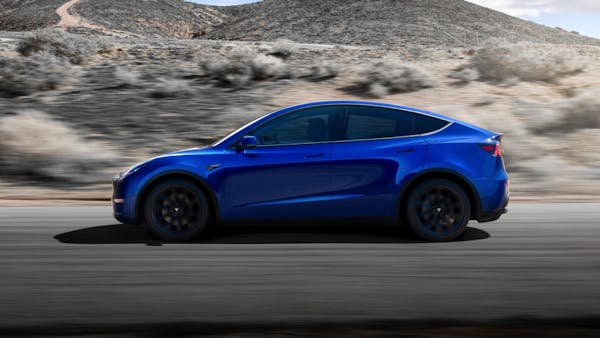 Tesla Model Y
Slightly smaller in size than the Model X, Tesla's Model Y currently comes in three options. There's the standard model, which is rear-wheel drive, or the Long Range and Performance versions, which are both dual motor all-wheel drive. Whichever of these Tesla lease options you go for, you can be confident you're getting a car that's been designed with safety and versatility front and centre.
The standard model has a range of 267 miles and goes from 0-60 in 6.6 seconds, while the Long Range version can cover up to 331 miles on a single charge, reaching 60mph in 4.8 seconds. The Performance model brings down the 0-60 to just 3.5 seconds, while still offering a range of 319 miles.
The Model Y aims to be the safest car in its class, with a rigid structure, low centre of gravity and large crumple zones. There's comfortable seating for five adults, versatile storage and seating options, and plenty of onboard technology including Tesla Vision and a thoroughly modern infotainment system.
Benefits of leasing a Tesla
Easy and convenient
Simply choose the length of your Tesla lease, mileage and deposit, then wait for your car to be delivered.
Stay ahead of the curve
At the end of your contract, you can simply hand the car back, with no further obligation and search our latest Tesla lease deals to get a brand-new model with the most up-to-date tech.
Road tax and warranty included
Our Tesla lease offers include road tax for the duration of your contract, while you'll be covered by a full manufacturer warranty too.
If you already have a Tesla RN number, we can help...
If you have a Tesla RN number but haven't yet confirmed finance, then DriveElectric can help.
We can quickly and easily confirm with Tesla your intention to lease your new Tesla vehicle through DriveElectric and our funding partners.
DriveElectric can provide you with an affordable, price indication on your Tesla model choice, submit your enquiry to us and make sure that when you speak to a member of the team you let them know about your Tesla RN!
Tesla Salary Sacrifice Scheme
Our hassle-free salary sacrifice scheme is available across all our Tesla models.
As an employer, you can work towards your sustainability goals, whilst enabling your workforce to lease a Tesla for an affordable price as a perk of working for your business. They can choose salary sacrifice for a Tesla Model Y, Model 3, Model X or Model S. You will also help us drive towards a more environmentally friendly future.
For your employees, they can save up to 40% on a Tesla. The salary sacrifice cost of a Tesla Model 3 lease for example, is taken from their pre-tax salary. This reduces the tax they need to pay each month and helps save money across the term of the lease.
Our Tesla salary sacrifice scheme is created with business leaders in mind. It is easy, flexible and affordable, and helps you supercharge your company's environmental responsibility.
For your business, you'll benefit from:
Modular scheme to suit your business

Make it part of your carbon reduction strategy

Use it as an employee benefit to help keep and attract top talent
By offering salary sacrifice for Tesla EVs, you will help build a more resilient workforce, make significant cost and carbon savings and become the top choice for attracting new talent. For your employees, it's a cost effective way to lease a Tesla.
Still got questions about leasing a Tesla? Check out our handy guide, Tesla: Your questions answered
We answer some of the most frequently asked questions from our customers about Tesla vehicles, helping you get to grips with arguably the most exciting electric vehicle (EV) manufacturer out there.