Mercedes-Benz isn't just one of the biggest players in the domestic car market. The German giant has been providing businesses with reliable workhorses for decades. Now, the iconic brand is electrifying its most popular commercial vehicles, meaning you can go all-electric with a Mercedes van lease.
All electric vans from Mercedes-Benz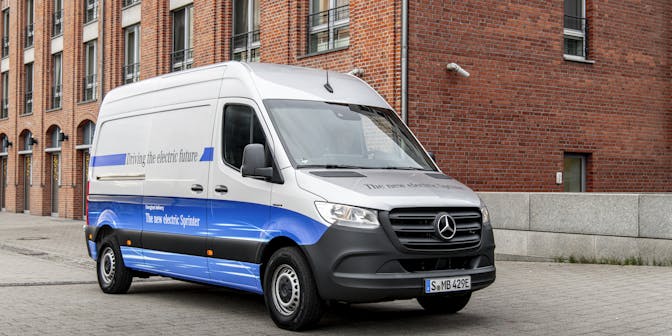 Mercedes isn't merely dabbling in electrified powertrains. There are just as many options for eco vans as there are traditionally-powered versions. As of the beginning of 2023, the German automaker offers a full line-up of small, medium and large all-electric vans, so check out our Mercedes van lease deals to pick out your latest vehicle now.
Lease a Mercedes-Benz van
There are Mercedes vans to suit all kinds of businesses, while it's possible to tailor the specifications of a brand new commercial vehicle to suit your needs. This means you can take out a Mercedes van lease hire agreement on the perfect vehicle for your business.
DriveElectric's Mercedes van leasing is ideal for businesses that want to move towards a cleaner, greener and more environmentally-friendly future. Whether you run one vehicle or one thousand, the reputational benefits associated with operating an all-electric fleet are huge.
Being seen to be green is a big deal, but going electric is also a smart step for your bottom line. EVs are cheaper to run and maintain, while charging costs are substantially lower than filling up with petrol or diesel. You can also make large savings on things like clean air zone charges when you have a Mercedes electric van lease with us.
EVs are constantly developing and offer better range than ever. This is something we're often asked about, but with larger, more efficient batteries and better infrastructure than ever for charging on the go, now is the best time there's ever been for electric motoring. So check out our latest offers and pick out your Mercedes van business lease from our current deals.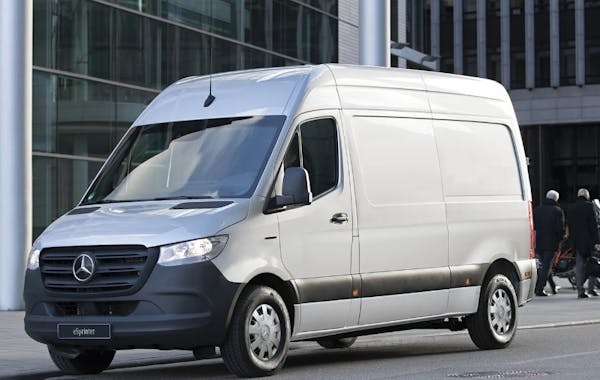 Mercedes e-Sprinter
The Mercedes Sprinter is a class-leading van that's making waves in electric form. With a combined WLTP range of 82-95 miles and rapid charging capability, the eSprinter has a 55 kWh battery that can be charged from zero to full in eight hours using a standard wall box charger. Offering a payload of 731kg, the eSprinter is 593cm long, 269cm tall and weighs 3,500kg.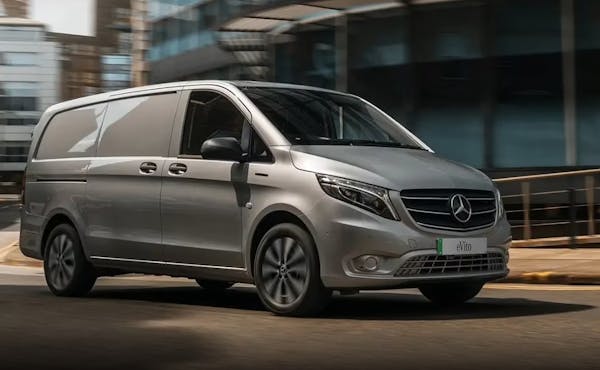 Mercedes-Benz eVito
Shorter, smaller and lighter than the eSprinter, the eVito is 514cm long, 191cm tall and weighs 3,200kg. It's more nimble than its larger sibling and surprisingly agile, but actually has a greater payload of 807kg. The eVito offers a superb range of up to 162 miles in panel form, while this increases to a whopping 221 miles if you go for the Tourer version with rear windows.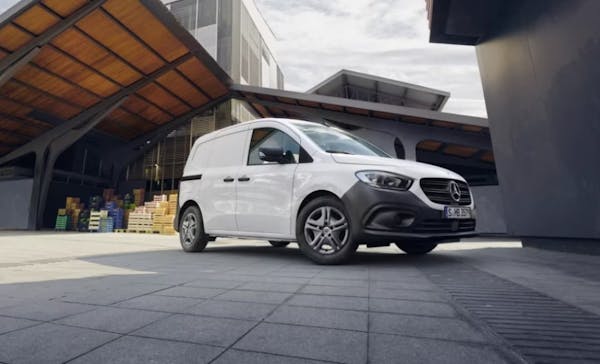 Mercedes eCitan
Completing the Mercedes electric van line-up is the eCitan. This is a smaller panel van suitable for those who don't need quite as much room for cargo. Boasting an all-electric range of up to 176 miles, you can top up the battery to 80% in just 35 minutes.
Benefits of Mercedes-Benz van leasing for your business
Simple and risk free

Simply choose the duration of your Mercedes-Benz van lease, along with your mileage and deposit. At the end of your contract, all you need to do is hand back the van with no further obligation.

Help you budget

As well as road tax and a full manufacturer warranty, you can also add a service and maintenance package to your Mercedes-Benz van business lease. This will help you to budget accurately and also reduce risk.

Boost your reputation

Running a van fleet with green vehicles that produce zero tailpipe emissions will boost the reputation of your business among current and potential customers. You'll also do your bit for the environment. 
Mercedes-Benz electric van FAQs
Discover all the Mercedes-Benz van lease deals at DriveElectric. Simply give us a call to discuss our latest Mercedes-Benz offers or fill in our quick form to get an online quote in an instant.