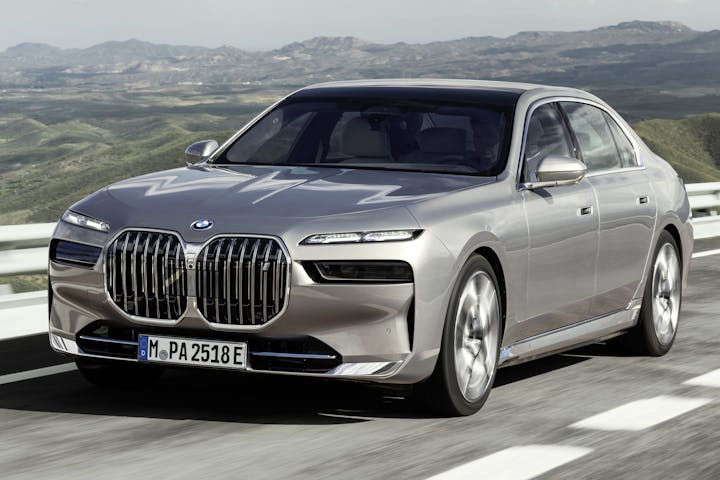 Give a warm hallo to the BMW 7 Series - for the first time available in a pure 100% electric model.
About the BMW i7 electric lease
Coming to the UK from late 2022, the i7 saloon is the all-electric version of the German carmaker's next generation 7 Series model. As with any 7 Series model, there's been a lot of fanfare over it and lots of new shiny kit BMW is keen to point out.
We're delighted to see an all-electric version of the flagship saloon launching at the same time as ICE varieties.
So what can we expect with the BMW i7 xDrive60? To start with it has grown and now measures in at a pretty huge 5,391mm in length, that's 130mm longer than the previous iteration. It is also wider and higher than the old 7 Series, so passengers can look forward to increased headroom and wider seats!
Specific to the i7 will be additional design accents to denote its all-electric status, this includes the use of the i logo on its kidney grille and a smattering of i Blue on the rear apron and side skirts.
BMW i7 battery and charging
The new BMW i7 xDrive60 features a 101.7 kWh battery system, with the Germans keen to point out that no rear-earth metals are used in its production.
Performance is swift, with the large saloon capable of going from a standstill to 62mph in just 4.7 seconds, on its way to an electronically limited top speed of 149mph.
The charging unit in the vehicle allows AC charging at a rate of up to 11 kW, while DC power can be taken on board at a rate of up to 195 kW. So plugging into an ultra-rapid public charger could mean adding around 100 miles to vehicle range in around 15 minutes.