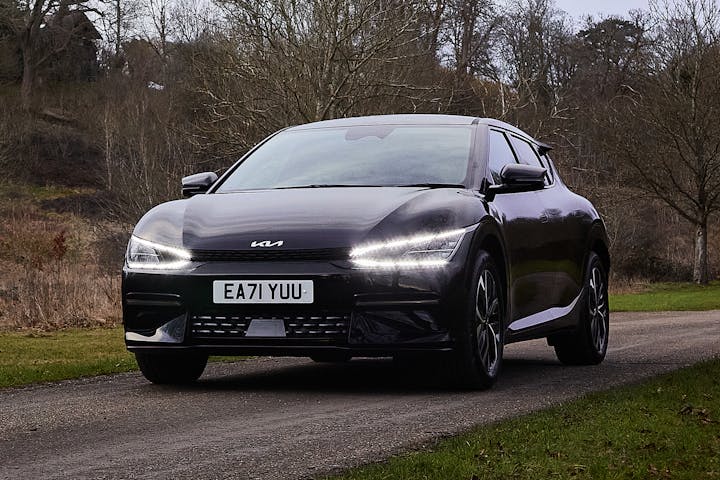 £3,931 Initial rental (inc. VAT)
48 Month term
5000 Annual mileage
Subject to status and conditions + arrangement fee
£437
Personal contract hire per month (inc. VAT)
£3,276 Initial rental (ex. VAT)
48 Month term
5000 Annual mileage
Subject to status and conditions + arrangement fee
£364
Business contract hire per month (ex. VAT)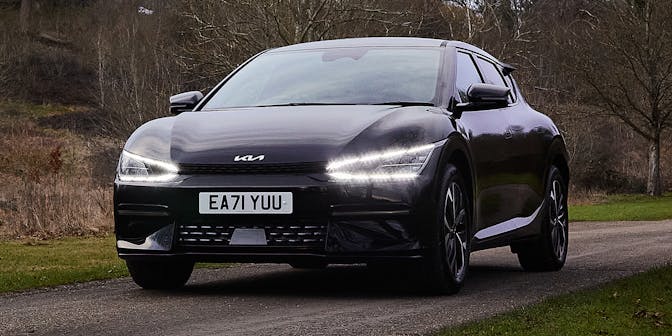 £4,363 Initial rental (inc. VAT)
48 Month term
5000 Annual mileage
Subject to status and conditions + arrangement fee
£485
Personal contract hire per month (inc. VAT)
£3,636 Initial rental (ex. VAT)
48 Month term
5000 Annual mileage
Subject to status and conditions + arrangement fee
£404
Business contract hire per month (ex. VAT)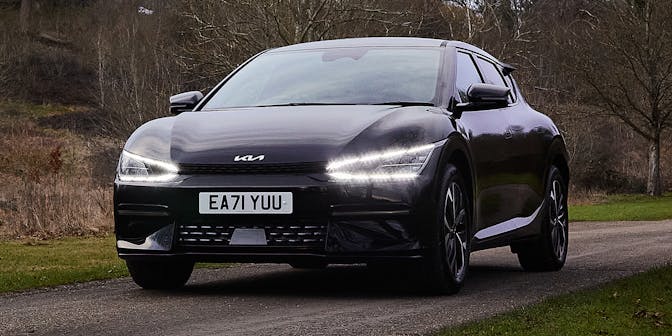 £4,255 Initial rental (inc. VAT)
48 Month term
5000 Annual mileage
Subject to status and conditions + arrangement fee
£473
Personal contract hire per month (inc. VAT)
£3,546 Initial rental (ex. VAT)
48 Month term
5000 Annual mileage
Subject to status and conditions + arrangement fee
£394
Business contract hire per month (ex. VAT)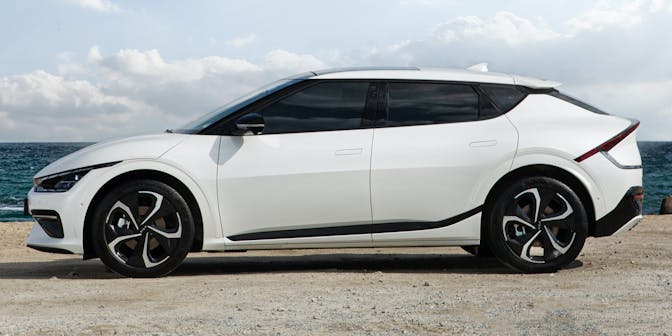 Kia's EV6 has become an electrified jewel in the Korean automaker's crown. It resonated with EV drivers across the UK upon its release, and went on to become a critical darling at the WhatCar? Awards 2022, taking home the prestigious Car of the Year Award.
With cutting edge technology, rapid charging and outstanding performance, the EV6 is an aggressively-styled compact SUV that's difficult not to be bowled over by.
It's rewarding to drive, with handling feeling sporty whilst keeping the ride comfortable. Kia has obviously put serious time and money into research and development for the EV6 as it's an incredibly refined machine. Built on the newly introduced Electric-Global Modular Platform (E-GMP) allows Kia to keep manufacturing costs down and still produce an outstanding car.
Offered with a 77kWh battery, Kia's engineers have managed to make the cell incredibly efficient, resulting in a driving range far above its kWh figure would indicate. The upshot is a WLTP range of 314 miles, an astonishingly good mileage that should leave the term 'range anxiety' as a distant memory. According to our own in-house testing, we arrived at a more realistic figure of 255 mile range from a single charge - however this is still a class-leading figure.
To fully recharge the clever battery from 0-100% via an at-home 7kW wall-box charger takes just under 12 hours. This may seem like a large amount of time, however it's key to remember that charging up to 80% will still grant the EV6 a realistic range of over 200 miles.
In fact, at a 250kW fast-charging station, the Kia will charge up to 80% from flat in only 18 minutes. Kia has partnered with charging station provider IONITY too, offering discounts to Kia driver at their stations across the UK.
How many child car seats can you fit in an EV6?
We teamed up with child seat brand Multimac to see whether it was possible to fit one of their child seats in the Kia EV6
Mulitmac x DriveElectric
Looking for a different manufacturer?