DriveElectric Plus
Manage your EV fleet, access real data, and reduce your EV fleet's carbon emissions by 25% compared to alternative Smart Charging solutions with DriveElectric Plus.
Call the team on 01628 899727 today.
What is DriveElectric Plus?
Bringing EVs into your fleet is key for getting on the road to Net Zero. But DriveElectric Plus is what will take you the rest of the way.
Advanced digital tools to maximise your EV fleet's potential
We've got a simple, yet powerful, set of digital tools to help transition more of your vehicles over to electric-power and then optimise your fleet's efficiency.
Our DriveElectric Plus solution acts as a Smart charging solution - so it charges when the cost of electricity is cheapest. But what sets our solution apart is the Carbon saving which is also made - which can be 25% lower compared to alternative smart charging options on the market.
With AI-powered charging and our DriveElectric app, it empowers your drivers to easily manage their vehicle's charging needs, this in turn provides you with all the detail you need to run your EV fleet in your simple-to-use dashboard.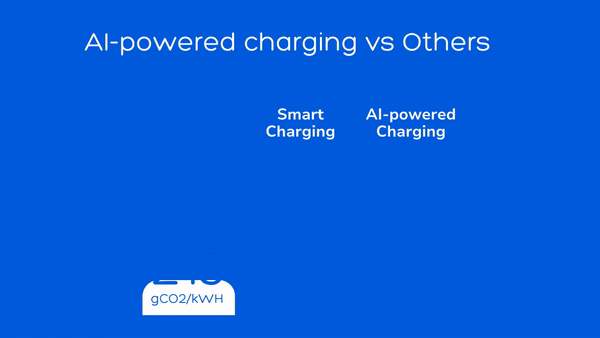 Carbon saving and low cost
With DriveElectric Plus enabled you can expect your charging carbon emissions to fall by 25% compared to other Smart Charging options. This is because our technology not only charges when the electricity is cheaper but it also hunts for when the carbon density is lowest.
This means you get all the benefits of lower-cost smart charging with the added benefit of much lower carbon emissions.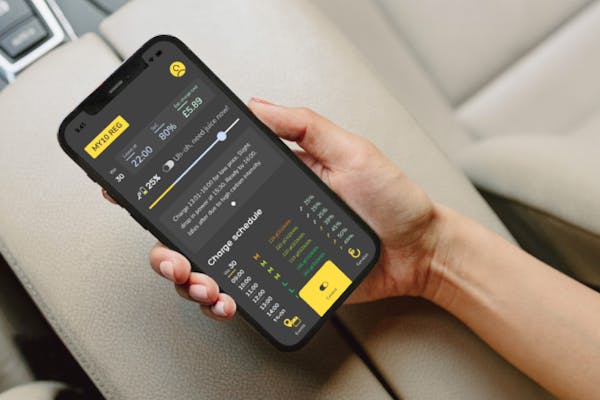 Our super-useful Driver App
The DriveElectric App for fleet drivers provides a set of tools to help them make better EV charging decisions.
Quickly set and record journeys
Manage mileage & expenses
Set a charging schedule
The driver app and decision maker dashboard provides a complete picture of EV fleet charging performance - helping you to optimise your fleet's efficiency and drive down costs and emissions.
Drivers set minimum daily charge requirements and diarise specific one-off journey events to ensure they have the right amount of charge at the right time, safe in the knowledge that their EV will charged with the cheapest, greenest energy according to their energy tariff.  Alternatively there is always an over-ride facility, for those times when the driver just needs immediate energy.
Want to know how DriveElectric Plus can work for your business?
Contact our friendly team today to see how controlling and measuring your journey to Net Zero is made simple.
Thanks for your enquiry. One of the DriveElectric team will be in touch asap.
If you need to speak with someone urgently then please call 01628 899 727.
(Our office hours are Mon-Fri 8.30am-5.30pm)
Track and inform with your smart dashboard
Keeping track of your in-life EV fleet activity is key for ensuring the rollout is running as smoothly as it should be. Not just that, but it's also extremely important for you to be able to monitor your progress so that you can adjust where needed for optimum peace of mind.
From your carbon assets and how 'green' your business truly is, to gaining a full view on your cost base - think of our dashboard as that one-stop destination for all your EV fleet needs.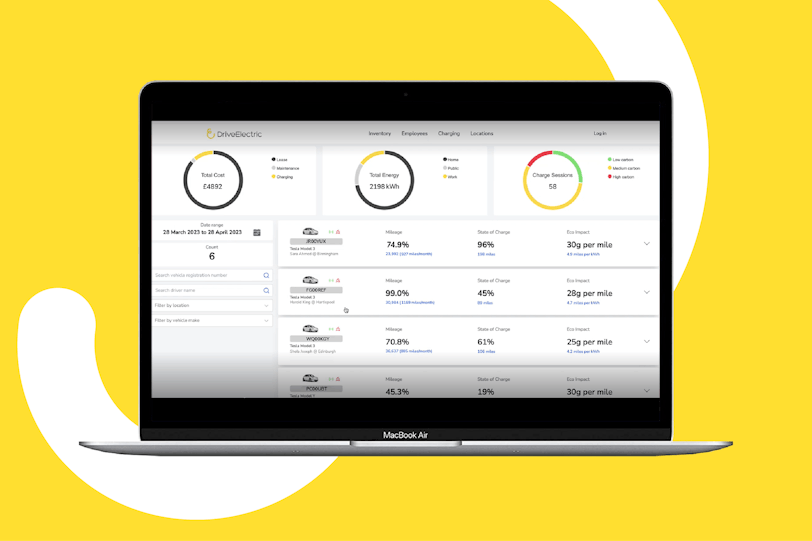 As pioneers in the EV industry, we appreciate that managing multiple EVs can feel like a time-consuming task for already tied-up business leaders. Perhaps it's even the one thing stopping you from taking your first steps towards reaching Net Zero.
Sure, admin is an unavoidable task to tackle. But with DriveElectric Plus, we can help you make it as hassle-free as possible - so you can crack on with the things that enable business growth.
The DriveElectric Plus difference
Evidence-based savings - Reduce your EV fleet's carbon and energy costs by as much as 30%.

EV Charging management - Save valuable time via our driver app, built to simplify your driver's charging needs.

Hassle-free expensing - Use our realistic cost of journey measurement for seamless reimbursements on business expenses. You can also compare HMRC rates with a fair value estimate calculation.

Expert support - Easily get in touch with our driver experience team and browse handy resources from our knowledge base, all from the app.

Easy-to-use decision maker dashboard - Super-simple dashboard for you to see the whole of your EV fleet and all charging activity. Quickly see and understand charging costs and carbon emissions, one vehicle at a time or see the complete picture.

Funder access for your fleet needs - when it comes to adding more EVs to your fleet, we've got the widest range of new and used EVs as well as access to trusted funders.

Flexibility as standard - we've helped UK businesses for nearly 30 years so we know you need your suppliers to be flexible. We can provide EVs for one-month and up to 8 years. Our team are experts in working with you to find the right EV for the job.