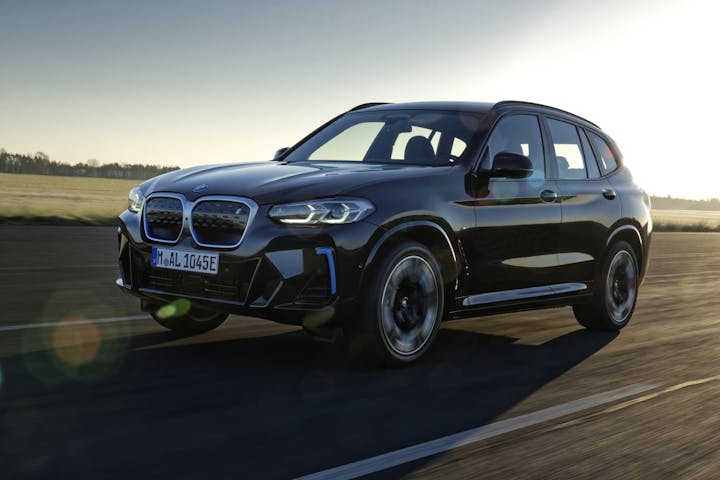 £3,938.87 Initial rental (ex. VAT)
£4,726.64 Initial rental (inc. VAT)
48 Month term
5000 Annual mileage
Offer expiry Monday, 18 December 2023
Subject to status and conditions + arrangement fee
£437.

65
Business contract hire per month (ex. VAT)
£525.

18
Personal contract hire per month (inc. VAT)
Special Offer
£4,156.71 Initial rental (ex. VAT)
£4,988.06 Initial rental (inc. VAT)
48 Month term
5000 Annual mileage
Offer expiry Monday, 18 December 2023
Subject to status and conditions + arrangement fee
£461.

86
Business contract hire per month (ex. VAT)
£554.

23
Personal contract hire per month (inc. VAT)
Special Offer
£5,587.88 Initial rental (ex. VAT)
£6,705.45 Initial rental (inc. VAT)
48 Month term
5000 Annual mileage
Offer expiry Monday, 18 December 2023
Subject to status and conditions + arrangement fee
£620.

88
Business contract hire per month (ex. VAT)
£745.

05
Personal contract hire per month (inc. VAT)
Special Offer
Choose your iX3 car lease
£5,471.28 Initial rental (ex. VAT)
£6,565.53 Initial rental (inc. VAT)
48 Month term
5000 Annual mileage
Subject to status and conditions + arrangement fee
£607.

92
Business contract hire per month (ex. VAT)
£729.

50
Personal contract hire per month (inc. VAT)
£5,743.61 Initial rental (ex. VAT)
£6,892.33 Initial rental (inc. VAT)
48 Month term
5000 Annual mileage
Subject to status and conditions + arrangement fee
£638.

18
Business contract hire per month (ex. VAT)
£765.

81
Personal contract hire per month (inc. VAT)
About leasing the BMW iX3
The more affordable all-electric X model from the premium German manufacturer.
The BMW iX3 takes the X series models we all know into the electric era. The new all electric iX3 follows on from the manufacturer's i3 and i8 electric and plug-in hybrid models, and has an eye-catching design with BMW i blue accents inside and out. If this sounds like something you'd like then why not check out our BMW iX3 lease deals below.
The iX3 is filled with BMW's latest technology and gives us a feel of what else we have to look forward to from their future in electrification. It's the first 100% electric Sports Activity Vehicle from the manufacturer and is a great BMW electric car lease choice for both business and personal lease customers.
The BMW iX3 a 75kWh lithium ion battery and has been given an official driving range of 286 miles WLTP, we recommend a 'real world' driving range of around 225 miles which should be more than satisfactory to cover most UK journeys without the need to stop and recharge.
The vehicle's range can be prolonged by tailoring your driving style and using pre-conditioning features built into the car, i.e: warming up the cabin in winter while you are still plugged-in charging.  This gives you a warm car first thing in the morning without affecting the car's driving range. 
As it becoming the norm with most carmakers the BMW comes with a CCS/Type 2 charging port, which means it is compatible with most public charging points.
You can charge the BMW iX3 simply by plugging it into a 7kW wall box charger at home, it should take around 11 hours to fully charge the car.
When you're on the road and looking to top up your battery in a hurry, you can plug-in to a public rapid charger gaining 80% charge in just 30 minutes (using a 100kW rapid charger).
Aside from its generous battery and healthy driving range this new iX3 electric car has an excellent specification and features a panoramic glass sunroof, Parking Assistant and BMW connected Drive. The BMW iX3 also has Driving Assistant Professional which provides many functions that work to enhance the safety of your drive including lane-keeping assistant and active cruise control. If you like the sound of these specifications then why not check out our BMW iX3 lease offers below.
The BMW iX3 has aerodynamic wheels and adaptive suspension, 3 drive modes (Eco Pro, Comfort and Sport) and levels of regenerative braking which adjust the driving style of vehicle and can enhance the performance as well as stretching out the vehicle's range capability. The 5th Generation BMW eDrive technology delivers instant performance and torque and enables the iX3 to reach 0 to 62 mph in around 6.8 seconds and a top speed of 112mph.