Tesla Model 3 electric lease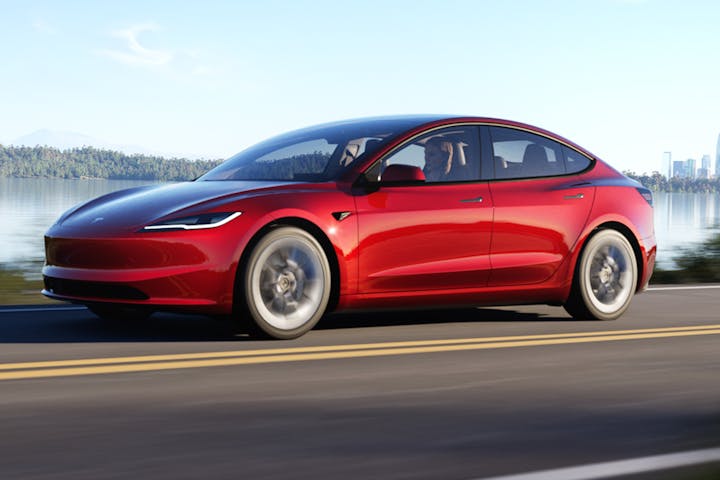 One of the world's most popular electric cars, and the UK's second most popular model full stop during 2021.
We are so excited here at DriveElectric to offer you the chance to lease a Tesla Model 3. Whether you're after a personal contract hire or a Tesla Model 3 business lease, our rich history with this ground-breaking manufacturer makes us the perfect choice for your next Model 3 lease.
£3,567.21 Initial rental (ex. VAT)
£4,280.66 Initial rental (inc. VAT)
48 Month term
5000 Annual mileage
Offer expiry Monday, 18 December 2023
Subject to status and conditions + arrangement fee
£396.

36
Business contract hire per month (ex. VAT)
£475.

63
Personal contract hire per month (inc. VAT)
Special Offer
Choose your Model 3 car lease
Tesla RN number?
If you have a Tesla RN number but haven't yet confirmed finance, then DriveElectric can help. We can quickly and easily confirm with Tesla your intention to lease your new Tesla vehicle, through DriveElectric and our funding partners. We can provide you with an affordable, price indication on your model, submit your enquiry to us and make sure that when you speak to a member of the team you let them know about your Tesla RN.
Trial a Model 3 in your business
If you don't want to make a long term, multi-year commitment, or if you are looking to rapidly increase the capacity of your EV fleet then our FlexiHire solution is for you
Try our FlexiHire service to trial this groundbreaking EV. With a minimum duration of just 3-months, our FlexiHire vehicles are perfect for getting your fleet up and running with electric power in no time.
How do you charge the Tesla Model 3?
When you lease a Tesla Model 3 in the UK, you get full access to the Tesla app, which you can use to charge up your car using Tesla's market-leading Supercharger network. There are more than 500 Tesla Superchargers across the UK and Ireland, and with the Model 3 being capable of high-speed charging you can boost your range at one of these chargers up to 172 miles in just 15 minutes. Once you lease your Tesla Model 3, if you're travelling further afield, there are over 20,000 Superchargers placed along convenient routes around the world.

Having signed up for your Tesla Model 3 lease, charging at home is simple. If you have a charger installed, just plug it into a 7kw home wall charger. You can then expect your Model 3 electric car to fully recharge in nine to 12 hours depending on the model and battery size.
| Model | Battery size | Usable battery size | Real world range | WLTP range |
| --- | --- | --- | --- | --- |
| Tesla Model 3 | 60 kWh | 57.5 kWh | 235 miles | 305 miles |
| Tesla Model 3 Long Range | 82 kWh | 75 kWh | 300 miles | 374 miles |
| Tesla Model 3 Performance | 82 kWh | 75 kWh | 285 miles | 185 miles |
Tesla Model 3 top features
All the Tesla models have an incredible feature set. When you take advantage of one of our UK Tesla Model 3 lease deals, you'll benefit from the following features: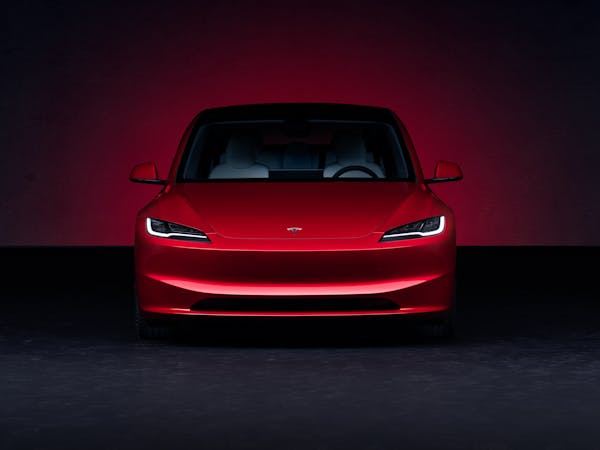 High Spec
You can look forward to driving a high-spec car when you choose one of our Tesla Model 3 lease deals in the UK. Even so, the Model 3 is one of the most affordable Teslas you can buy. There's no compromise on build quality or style though, or on the excellent range of equipment, you get as standard.  
The finish is outstanding both inside and out. From steering wheel-mounted controls to Bluetooth connectivity, satellite navigation and a premium audio system, the Model 3 also comes with a superb 15" touchscreen. Centrally located on the dash, this is the hub that gives you access to your infotainment system, as well as things like Dog Mode and charging. You can also control charging through the Tesla app for added convenience.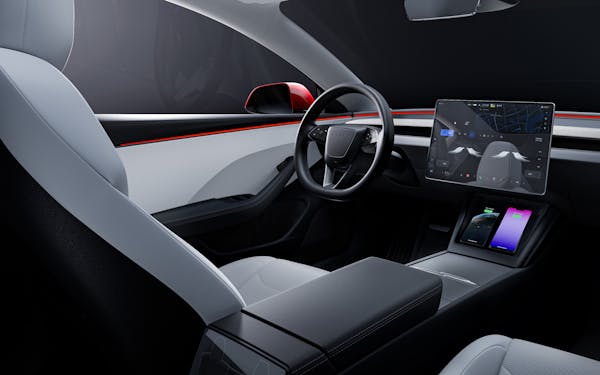 Top Tech
There's much more technology to look forward to than just your infotainment system when you lease a Tesla Model 3. The perks start before you climb into the cabin, thanks to the keyless entry and remote climate control, which you can set up through the app. Twelve-way power-adjustable heated front seats allow you to find your perfect position, while you can customise different driver profiles to ensure you're always sitting comfortably. 
Once you set off, front, rear and side cameras provide you with a 360º view of the road. A clever radar system keeps an eye on potential hazards up to 160 metres ahead, while there are 12 ultrasonic sensors to detect other vehicles and pedestrians which may become a danger. 
Better still, over-the-air software updates mean your Model 3 is always bang up to date with the latest tech and features. As such, your Tesla Autopilot system will always have the latest functionality, which includes the ability to steer, brake and accelerate for you to avoid a collision.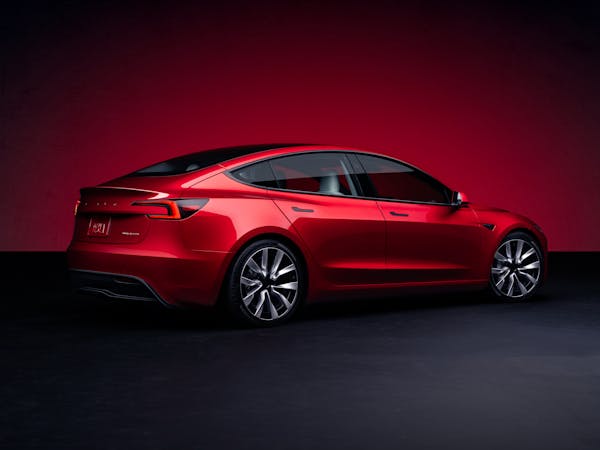 Great to drive
If driving pleasure is important to you when you lease a Tesla Model 3, you'll love the feel and handling of the Model 3 Long Range, enhanced by the dual-motor all-wheel drive. It's nippy too, with a 0-60 of just 5.3 seconds for the standard model, and 4.2 seconds for the long-range model, and if you have an even greater need for speed, you may prefer the Model 3 Performance at 3.1 seconds! 
Hitting top speeds of up to 160 mph may be far from legal on public roads, but there's plenty of power available under your foot at all speeds when leasing a Tesla Model 3. If you need even more speed and acceleration and want to drive the top-of-the-line model in this range, don't miss our Tesla Model 3 Performance lease deals.
Tesla Model 3 UK lease deals from DriveElectric
Whether you've been happily taking out Tesla lease deals for many years or this is your first foray into electric motoring, DriveElectric is here for you on your journey to a more sustainable future.  
Give us a call today to chat about our latest Tesla Model 3 lease deals or visit our Tesla FAQ page for lots more information on this innovative carmaker. We'll be happy to run through our Tesla Model 3 lease plans and well as explaining all the Tesla Model 3 lease costs. And if you're happy with your Tesla Model 3 lease deal, this fantastic car could soon be yours to enjoy. Get in touch with us today at DriveElectric.
Watch our Tesla Model 3 quick start guide
A walk-through of useful tips, perfect if you're considering leasing a Tesla Model 3.
Henry talks you through all you need to know about this exciting electric car before you pick yours up from Tesla. This video covers some useful hints and tips as well as a look at the Model 3's 
main features.