Vauxhall Mokka-e electric lease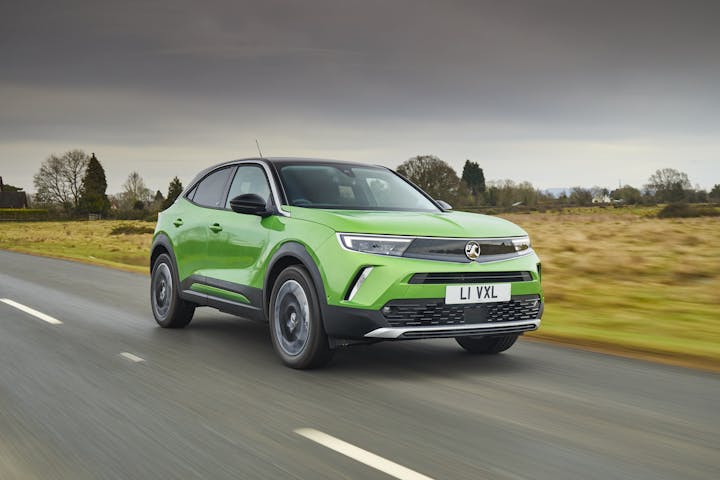 £4,488.51 Initial rental (ex. VAT)
£5,386.21 Initial rental (inc. VAT)
48 Month term
5000 Annual mileage
Offer expiry Monday, 18 December 2023
Subject to status and conditions + arrangement fee
£498.

72
Business contract hire per month (ex. VAT)
£598.

47
Personal contract hire per month (inc. VAT)
Special Offer
Choose your Mokka-e car lease
£4,262.54 Initial rental (ex. VAT)
£5,115.05 Initial rental (inc. VAT)
48 Month term
5000 Annual mileage
Subject to status and conditions + arrangement fee
£473.

62
Business contract hire per month (ex. VAT)
£568.

34
Personal contract hire per month (inc. VAT)
£4,401.72 Initial rental (ex. VAT)
£5,282.07 Initial rental (inc. VAT)
48 Month term
5000 Annual mileage
Subject to status and conditions + arrangement fee
£489.

08
Business contract hire per month (ex. VAT)
£586.

90
Personal contract hire per month (inc. VAT)
£4,572.00 Initial rental (ex. VAT)
£5,486.40 Initial rental (inc. VAT)
48 Month term
5000 Annual mileage
Subject to status and conditions + arrangement fee
£508.

00
Business contract hire per month (ex. VAT)
£609.

60
Personal contract hire per month (inc. VAT)
About the Vauxhall Mokka-E Lease
The  Vauxhall Mokka-E has arrived with a 100% electric powertrain and is available to lease now with DriveElectric. The Electric SUV Lease option from Vauxhall follows on from the recent all-electric Corsa-E lease introduced in 2020 and is a great affordable lease choice for both business and personal customers. The EV is very similar in looks to the internal combustion engine (ICE) version of the Mokka, with a couple of distinctive features to tell the models apart. Vauxhall has also added plenty of new technology, comfort and safety features to the car ensuring your zero-emissions drive is as smooth and comfortable as possible.
How long does it take to charge the Vauxhall Mokka-e electric car?
Charging the Mokka-E electric car is simple! Most people will plug in at home using a 7kWh home wall box charger, you can expect it to take around 7 hours to complete a full charge. The car is also capable of charging at speeds of up to 100kW, So, if you are on the road and need to top up the range you can plug into a public rapid charger and be topped up to 80% charge in just 30 minutes (these found at service stations, car parks and various other outlets).
| Model | Battery size | Usable battery size | Real world range | WLTP range |
| --- | --- | --- | --- | --- |
| Vauxhall Mokka-e | 50 kWh | 45 kWh | 155 miles | 200 miles |
This stylish electric car comes with a 45kWh lithium-ion battery which gives the car an official WLTP range of 200 miles per charge. we would advise the vehicle will achieve a more realistic 'real world' range of around 155 miles to a charge, making this electric car ideal for everyday journeys and some longer trips too. The Vauxhall Mokka-e lease option is capable of 3 drive modes; normal, sport, and eco. This allows you to tailor your drive to your preferred style, with the potential to extend the range of your vehicle when driving in eco mode too.