London Congestion Charge
Electric and Plug-in Hybrid cars or vans qualify for a 100% discount on the Congestion Charge but you must apply for the discount.
All you need to know about Electric vehicles and the London Congestion Charge
Please be aware that as the keeper of the leased vehicle, it is your responsibility to apply for the Ultra-low emission discount. DriveElectric is unable to apply on behalf of our customers.
How to apply for the Congestion Charge discount
You can apply for the discount online by setting up a London Road User Charging account.
Having an account means you can:
Manage and easily renew your discount online
Set up CC Auto Pay for up to 5 vehicles so you can pay the Congestion Charge at a lower rate
Make faster payments by storing your contact, vehicle and payment details
Allow up to 5 people access to your London Road User Charging account
Business account users can apply for CC Auto Pay but also have the option of Fleet Auto Pay, an automated payment service for companies with a fleet of 6 or more vehicles

Documents you need to provide
The following documents must be provided to show you're entitled to the discount:
V5C vehicle registration certificate (logbook) issued by the DVLA
If your vehicle is a 'plug-in hybrid' you will also need to supply a conformity certificate, unless you are registering a Mitsubishi Outlander PHEV.
You can upload images of these documents as part of your online application, or you can send copies by post or email later on.
Cost to apply for discount
You have to pay £10 to register each vehicle for the discount.
This will need to be renewed every year.
Important to remember; until you receive confirmation that your application is successful, you should continue to pay the daily Congestion Charge in full for travel within the charging zone.
Confirmation of success can take up to 10 working days. Not paying during this time will results in penalties.
Renewing your Discount
TFL will notify you when your discount is due to expire. You will be able to renew your discount online once you have received this notification.
For DriveElectric customers, should you have any questions please contact your Account Manager directly or email customerservice@drive-electric.co.uk
About the London Congestion Charge
The Congestion Charge is in operation everyday except for the period from Christmas Day to New Year's Day bank holiday.
Operating hours

7:00am to 6:00pm (Mon-Fri)

12:00pm to 6:00pm (Sat-Sun)

Price

for non-exempt/discount vehicles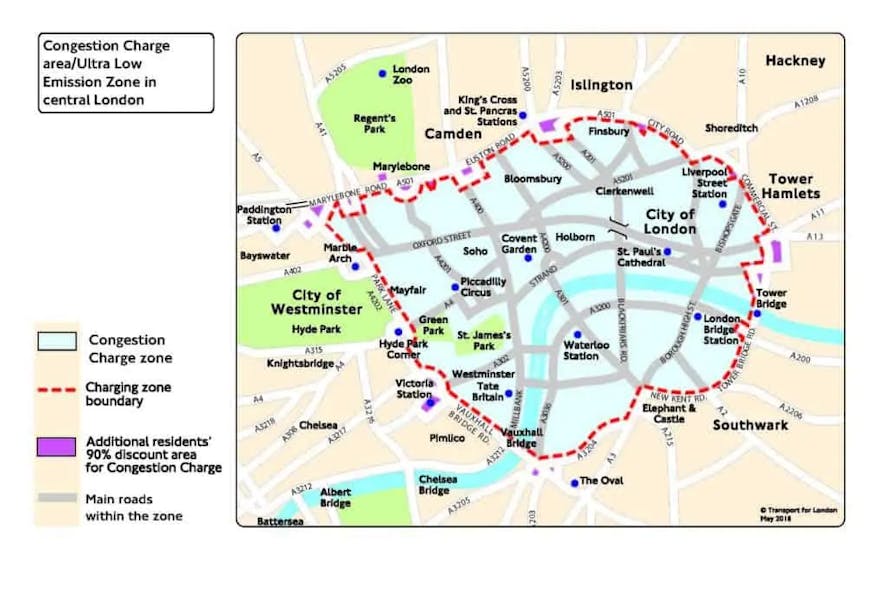 London Congestion Charge Penalties
As you would expect, the Congestion Charge is monitored and enforced by a wide network of cameras and TfL will issue a PCN (Penalty Charge Notice) for any non-exempt vehicles entering into the zone;
unless your non-exempt vehicle is set up for auto pay with Tfl
you've paid the daily charge in advance (or on the same day)
of paid £17.50 by midnight of the 3rd day after travelling into the zone
A standard PCN issued is for £160, reduced to £80 if paid within 14 days of the charge being issued. After 28 days the charge increases to £240 and beyond that TfL may instruct bailiffs and/or enforcement agents to recover the charge.
Therefore, our advice to our customers is to ensure that your electric vehicle is registered with TfL as an exempt vehicle and not to travel into the zone before your vehicle is registered.
Our electric car lease special offers
£2,524.26 Initial rental (ex. VAT)
£3,029.11 Initial rental (inc. VAT)
48 Month term
5000 Annual mileage
Subject to status and conditions + arrangement fee
£280.

47
Business contract hire per month (ex. VAT)
£336.

57
Personal contract hire per month (inc. VAT)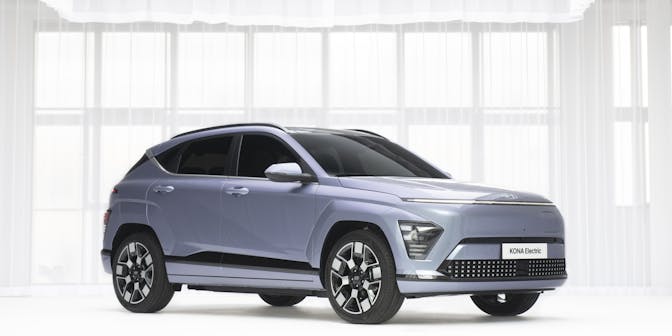 £2,067.67 Initial rental (ex. VAT)
£2,481.20 Initial rental (inc. VAT)
48 Month term
5000 Annual mileage
Subject to status and conditions + arrangement fee
£229.

74
Business contract hire per month (ex. VAT)
£275.

69
Personal contract hire per month (inc. VAT)
£2,676.21 Initial rental (ex. VAT)
£3,211.46 Initial rental (inc. VAT)
48 Month term
5000 Annual mileage
Subject to status and conditions + arrangement fee
£297.

36
Business contract hire per month (ex. VAT)
£356.

83
Personal contract hire per month (inc. VAT)