How long does it take to charge an electric car
There are lots of benefits that come with driving an electric vehicle (EV), but as we speak to drivers about EVs every day we do understand that many people still have concerns about making the switch from petrol or diesel. Even with well-established car brands such as Mini and Vauxhall now entering the market alongside electric car innovators Tesla.
According to motoring research organisation, the RAC Foundation, around one in five job adverts require the applicant to be able to drive. With more than 15 million people regularly driving to work in England and Wales, and light vans accounting for more than 50 billion vehicle miles each year, plenty of people rely on their car or van for work.
So it's not surprising that one of the biggest issues on people's minds usually revolves around how long it takes to charge an electric car. If you are on the road a lot or using your car or van for work you might think that charging times or charging rate mean an electric vehicle just isn't for you.
But you may be surprised to learn that charging up might not take anywhere near as long as you think.
How fast can you charge an electric car?
Put simply the time it will take to charge will depend on the size of your car's battery and the speed of the charger you're plugging into.  Illustrated in the image below, using the Nissan LEAF and a home charger as an example.
There are different speeds of chargers depending on whether you're at home, in the workplace or using a public network. And in our experience it's charging at home (usually overnight) which is the most convenient way to keep your EV topped up with electrons.
But if speed is your thing, or you need to add a few more miles of range, then charging from a rapid or ultra-rapid public charging unit can add a significant amount of vehicle range in a surprisingly short amount of time - depending on EV model you're driving.
If you knew that you could put more than 30 miles into your car battery in just 10 minutes, (or 70 miles in 10 minutes if you have a Tesla hooked up to a supercharger), would that change your opinion on whether an electric vehicle is suitable for your job or busy life?
Although public rapid charging can be utilised on longer journeys, the majority of EV drivers will find that for their day-to-day driving it's enough to plug in overnight at home, so your car charges while you're sleeping. Car charging is just like plugging in your mobile phone, but the plug is a bit bigger, and the car isn't on your bedside table!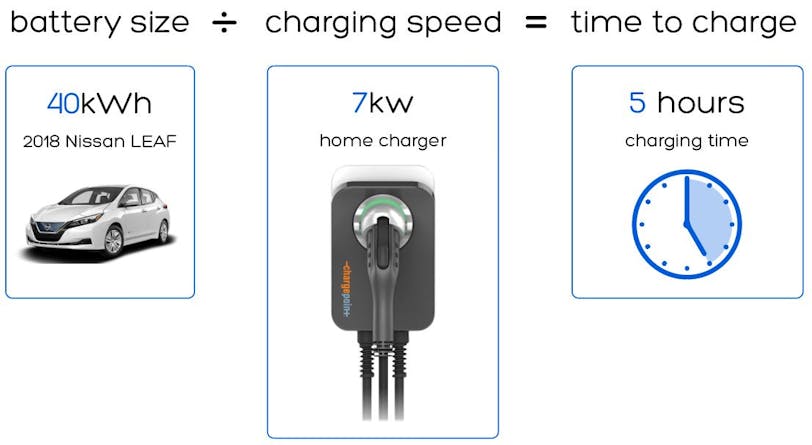 Electric cars are available in a variety of battery sizes to suit different driving needs.  In terms of charging; the bigger the battery in your car, the longer it's going to take to fully charge. The current Nissan LEAF has a 40kWh battery, whereas the Jaguar I-Pace has a larger 90kWh battery, and as a result, the I-Pace will take longer to charge to its full capacity as it has a bigger battery to fill.
Difference in charge times for the LEAF and I-PACE:

Battery size

Home charger 7kW

(100% charge)

Rapid charger 40kW

(10 - 80% charge)

Nissan Leaf

40kWh

5 hours

40 minutes

Jaguar I-Pace

90kWh

13 hours

1 hour 15 minutes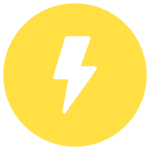 Slow Charging
3 - 6 kW
New electric cars in 2023 usually get delivered with a single 'type 2' cable. This is used to connect the EV to a dedicated EV charger, whether at home, at work at a destination. You end to keep this with the EV on your travels and it supplies a Fast charge (see below).
Historically some electric cars were also provided with a 3-pin plug charging cable, meaning your EV could be charged from a standard domestic socket. The 3-pin plug cable will charge your car at a maximum speed of 3kW, this is also sometimes called 'slow charging'. Using this cable a Nissan LEAF with a 40kWh battery would take just over 13 hours to charge from flat to full.
We recommend that a 3-pin plug cable should only be used when no other charging option is practicable, given the length of time to charge an EV. They are handy for topping up your charge when visiting friends and family who don't have a home charger installed.
We don't recommend using a 3-pin cable as a long-term charging solution.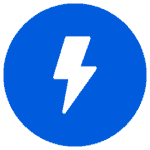 Fast Charging
7 - 22 kW
'Fast charging' refers to chargers that can deliver between 7 and 22kW of charge per hour. 7kW fast charging can take place at home on an electric vehicle charge point and on some public charging units too.
Installing an electric car charge point at home that offers 7kW of power will cut your charging time by half or more compared to using the 3-pin plug charging cable for a 'slow charge'. A home charger will restore your 40kWh Nissan LEAF's battery from empty to full in around 5 hours. This type of charging is ideal for plugging in overnight and is suitable for homes with off-street parking, 50% of the UK are fortunate enough to have off street-parking.
Meanwhile, higher-powered 22kW chargers can be found out and about in supermarket and shopping centre car parks and can typically provide a full charge in 2 hours for a Nissan LEAF, although this can be longer depending on battery capacity.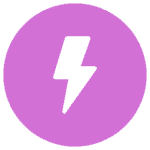 Rapid & Ultra-rapid charging
40+ kW
If home charging isn't an option or you're travelling a bit further afield and need a boost 'rapid chargers' are what you need. Unlike other public charging points you won't need your own cable to connect to a rapid charger, they are hardwired in, and due to the amount of power, the charging units require you won't find a rapid charger in a domestic setting.
At a rapid charger, you can top up your car from empty to 80% full in just 30 minutes. In the UK most rapid chargers operate at 50kW, however, there are a growing number of rapid chargers capable of delivering 125kW of power and even higher. Just remember that each vehicle model will have a maximum level of charge that it can accept, our website contains a Max Fastcharge data point when lets you know.
As with any rule, there are always exceptions, so if you are a Tesla driver you'll have access to Tesla's faster 'supercharging' network. Superchargers can charge a car at up to 250kW, delivering 200 miles of charge in just half an hour. Oh, and Tesla just added Netflix to their cars' infotainment screens – so you can watch your favourite shows while you charge.
If you're driving for business and attending a meeting or delivering a sales presentation, rapid or superchargers should give you more than enough juice to continue your journey back home or onto your next pitch, without impacting your day or eating into your schedule.
It's worth noting that rapid charging is more expensive than charging at home. You pay for the convenience of the service, like buying your lunch rather than making it at home. This said, even when rapid charging you are still making significant fuel savings compared to filling up in a petrol or diesel car.
Charging speeds in summary
To sum up, it could take anything between 30 minutes and 15 hours or more to fully charge an electric car or van.
This depends on how much energy you need, and the speed of the charging point you use, giving you lots of flexibility and convenience to suit your needs for different journeys. The table below shows how many miles different speeds of charger can add to your car battery in 15 minutes, 30 minutes, 45 minutes or an hour.
Miles added to battery range per 15 minutes at various charging speeds:
3kW

Slow (3-pin  plug)

7kW

Fast (home charger)

50kW

Rapid (Motorways etc.)

120kW

Ultra-rapid

15 minutes

3 miles

6 miles

45 miles

105 miles

30 minutes

5 miles

12 miles

90 miles

120 miles

45 minutes

8 miles

18 miles

130 miles

315 miles

1 hour

11 miles

25 miles

175 miles

420 miles
How do I charge my electric car at home?
On average, 80% of people do charge their electric cars at home overnight.
Home charging is the most convenient and cost-effective way to charge. To charge an EV at home, all you need is a professionally installed home charging point. From time to time some manufacturers also offer to install a charging point free of charge when you buy one of their electric cars. Your home charging point will be installed on an exterior wall of your house or in your garage. Once your charger is installed you are good to go. Some home chargers also allow solar panels to be connected, now or in the future, to charge up your EV just by catching the sunshine!
It's also possible to use a 3-pin charging cable to charge at home, but this is best kept as a backup (i.e: when visiting friends or family who don't have a home charger) and isn't advisable for using on a long-term basis.  As we mentioned before, this cable provides a 'slow charge', half the speed of a 7kW home charge point. So it's much more efficient to have a home charger installed.
For further savings when home charging you might want to consider choosing an EV-friendly electricity tariff that offers cheap overnight electricity, there are a number of these tariffs available now. To make the most of off-peak energy prices you can set your car to charge at certain times. This means you can plug in as soon as you get home, but your car won't start charging until the time you choose. So you won't have to get out of bed at midnight to plug in when your cheap overnight tariff kicks in!
There are several ways you can set up a charging schedule for your car. One option is to use the car manufacturers app in some cases, if you don't have an app for your car you can change the car's charging settings though it's dashboard touchscreen instead, or alternatively with a smart charger you can set your charging preferences though your charge point app. Oh, the possibilities.
How do I charge at public electric car charging points?
There are tens of thousands of electric car public charging points in the UK, and the network is growing all the time. If you're planning a longer trip and you will need to use public charging you can use the zap-map app to plan your route to include some charging stops to suit you. And keep checking the map, as many new chargers are being installed each week.
When you pull up to a public charger, payment and access will depend on who the provider is, with a range of UK-wide networks and regional operators offering charging. You may need your own cable or an RFID card for some, while you'll need an app to access the charging point for others. You can check ahead on Zap Map to find out if you need any apps or subscriptions, or to find pay as you go chargers which are becoming more prevalent.
Top public charging tips from the DriveElectric team:
Find networks you like
We recommend finding a network or two to use that have good coverage in your area or along the route you're travelling. Remember to check the type, speed and number of chargers in each location you're planning to use. At DriveElectric we're big fans of Osprey and Instavolt networks, but there's now lots of choice.
Get organised
By downloading charging apps and creating logins in advance of longer journeys to save time when you are travelling.
Have a practice
For your own peace of mind it's also a good idea to have a practice on a public charger before you start your first long-distance journey. You won't be surprised to know that the first time you use a public charging network it is natural to feel anxious about it.
Plan ahead
Plan your charging stops, it's sensible to stopping for a charge before you desperately need one – topping up along the way means that if there's a queue at the first charger you stop at, you'll still have plenty of miles left to carry on to the next charger along your route. It is also worth having a Plan B as well in case of problems with your preferred charger.
In the same way that you wouldn't wait until your phone battery runs out before charging it up, when you are on the move it's a good idea to top up your EV as and when you can (if you are not comfortably within range of your home charger).
If you don't have off-street charging and therefore don't have a home charger. Top up charging could be a cost-effective alternative to rapid charging. Top-up charging is when you plug in every time you park up, whether you're popping to the supermarket, going to the gym or leaving your car in the car park while you're at work.
If you want to read more about charging up your car, why not read our Guide to EV Charging, where you can also find a searchable map of the UK's public charging points.
Our electric car lease special offers
£2,524.26 Initial rental (ex. VAT)
£3,029.11 Initial rental (inc. VAT)
48 Month term
5000 Annual mileage
Subject to status and conditions + arrangement fee
£280.

47
Business contract hire per month (ex. VAT)
£336.

57
Personal contract hire per month (inc. VAT)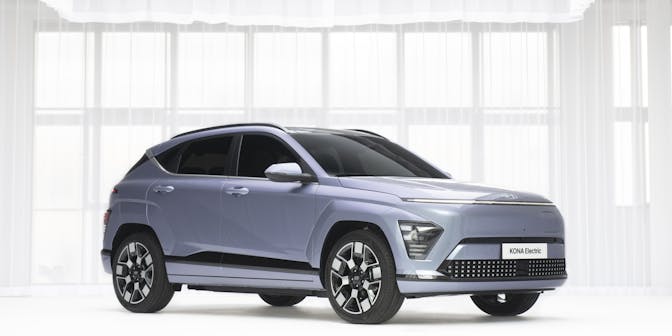 £2,067.67 Initial rental (ex. VAT)
£2,481.20 Initial rental (inc. VAT)
48 Month term
5000 Annual mileage
Subject to status and conditions + arrangement fee
£229.

74
Business contract hire per month (ex. VAT)
£275.

69
Personal contract hire per month (inc. VAT)
£2,676.21 Initial rental (ex. VAT)
£3,211.46 Initial rental (inc. VAT)
48 Month term
5000 Annual mileage
Subject to status and conditions + arrangement fee
£297.

36
Business contract hire per month (ex. VAT)
£356.

83
Personal contract hire per month (inc. VAT)