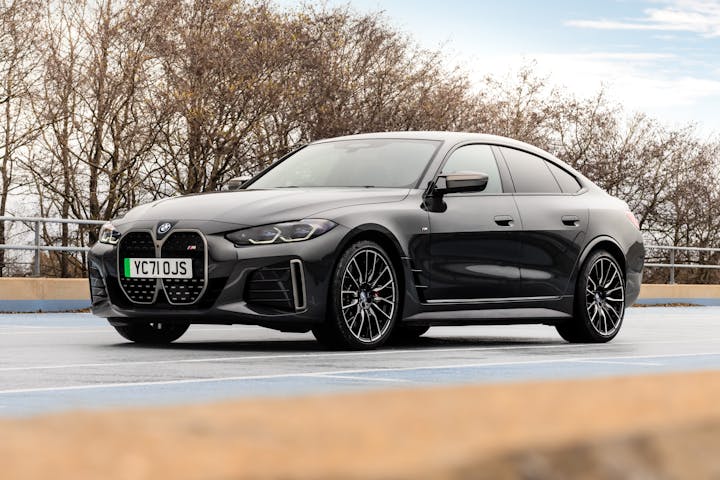 Meet BMW's all-electric saloon gunning for the Tesla Model 3. Featuring classic BMW saloon proportions, driver focused cockpit and sensational performance, the i4 is the all-electric BMW you've been waiting for...
Meet the all-electric version of the BMW 4 Series Gran Coupe, a delightful mix of German performance pedigree and zero tailpipe emission driving. It is a car which further cements the fact that there's not a lot that a conventional ICE powered car can do that an EV can not.
If you want a real driver's car, incredible performance figures and superb handling, then the i4 ticks all these boxes. And it is premium you want but not in an SUV shape, then the BMW i4 ticks this box as well. Yes, you're looking at stiff competition to Tesla.
So if you're in the market for a zero tailpipe emissions German saloon - which not only has the environmental credentials, but also tremendous performance then why not lease a BMW i4 through us?
Range and battery for the BMW i4
The BMW i4 has launched with two options, the eDrive40 and the super-sporty M50. Both feature the same large capacity battery, with a useable 80.7 kWh of power.
Real world range is similar for both variants, the M50 suffering slightly due to the increase in performance, so you can expect around 270 miles for the M50 and 290 miles for the eDrive40. That's more than plenty for most journeys.
If it is performance that you're after then the i4 M50 does not disappointment, capable of hitting a top speed of 140mph, it does the classic 0-62mph sprint in just 3.9 seconds. The cheaper eDrive40 is far from a slouch either, capable of 0-62mph in 5.7 seconds and a top speed of 118 mph.
The engineers at BMW have also ensured that fast-charging has been taken care of, so if you do need a top up on a long trip then the model can accept up to 200kW of DC power, which means you'll add about 80% battery capacity in around the half an hour mark. Just enough time for you to grab a drink and a bite to eat.
It's spacious inside, with 5 seats and 5 doors. The cockpit generally is typical BMW, which is to say it's driver-focussed as well as functional. The i4 interior also features the very latest tech, so expect lots of sweeping digital screens and touchscreen controls.
The eDrive40 Sport variant is the rear wheel drive option. It comes with all of the bells-and-whistles that the more premium models come with, plus it's far less intimidating than the savage M50 all-wheel drive iteration. It's a great choice, with an impressive range housed in a full on driver's car.
Our BMW i4 M50 road test
We've taken the high performance M50 out for a spin...