Volkswagen is a trusted and favoured brand, so it's no wonder that so many people are looking for a Volkswagen lease deal, but have you considered their electric range for your next leasing option?
Whether it's a super-efficient city car like the e-Up, a practical and family friendly ID.3 or the larger SUV of the ID.4, there's a VW electric model for you. And if you're after something truly special than the ID Buzz is for you.
All electric cars from Volkswagen
Volkswagen is an iconic brand with a name that translates as 'the people's car', so it's no wonder that so many people are looking for VW lease deals. But have you considered their electric range for your next leasing option?
The German manufacturer is one of the most historic car brands around, tracing its history all the way back to 1937. Yet like most carmakers now, Volkswagen is firmly looking to the future, and has focused much of its recent efforts and resources on producing some of the best electric vehicles around.
From the super-efficient e-Up city car to the reinvention of one of the world's most popular cars with the e-Golf, Volkswagen lease deals on EVs have been in high demand for several years now.
The new breed of EVs you'll find in the ID range include the practical and family-friendly ID.3 and the larger ID.4 SUV, meaning there's a VW electric car for everyone. Perhaps you're only interested in the game-changing ID. Buzz, but whatever you're looking for, don't miss our exciting Volkswagen lease deals.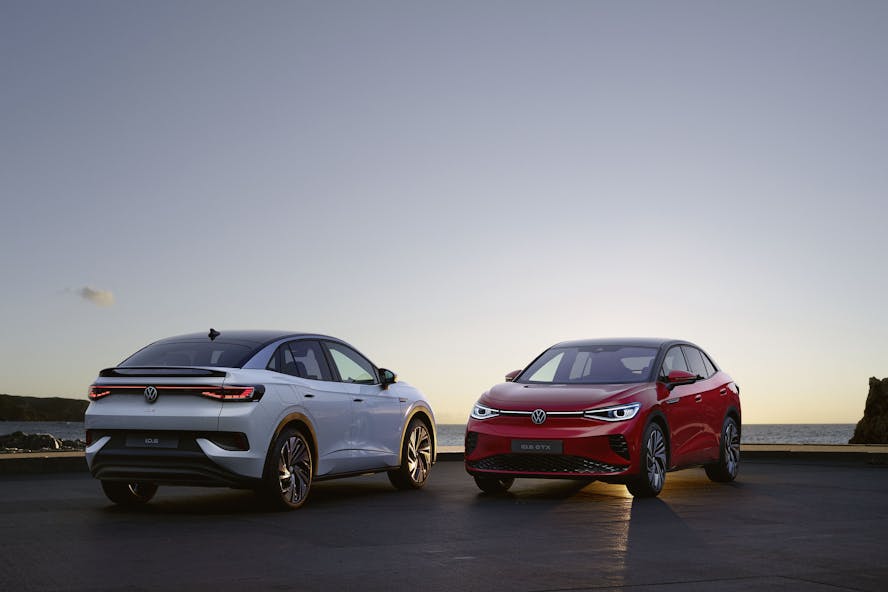 Volkswagen electric car lease deals
The first fully-electric car produced by VW was a T2 Electric Transporter Van back in 1970, which travelled around 70 kilometres (43 miles) per charge. A lot has changed since then, with the number of fully-electric Volkswagen leasing options increasing.
More recently, Volkswagen electric car lease options have included the e-UP and the new iD family of electric vehicles, which mark a new era for the carmaker. First came the Golf-like ID.3 hatchback and this model was quickly joined by the likes of the ID.4 and ID.5 in the range. And with the incredible ID. Buzz taking things to a whole new level, there's much to love across the all-electric VW range.
DriveElectric provides competitive Volkswagen electric car lease offers for both personal and business car leasing, so keep an eye out for our best deals on models including the: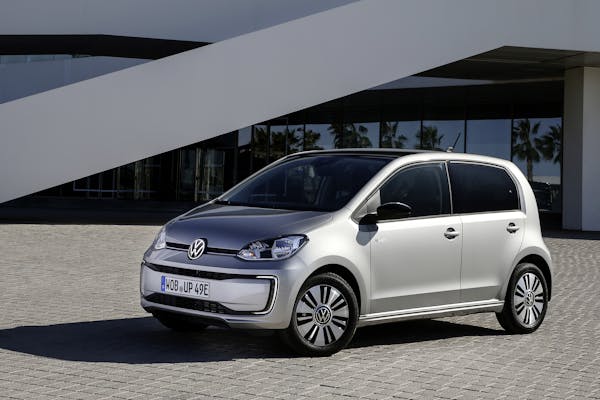 Volkswagen e-Up
Billed as the ultimate city car thanks to its small size, nimble handling and zero emissions, the e-Up is a great option for a Volkswagen lease – whether you're in the city centre or not. With a WLTP range of 160 miles and handy features such as time-delayed charging, the e-Up packs a lot into its modest frame.
There's only one trim level available with the e-Up, so you know you're getting the top spec as standard. This includes features such as lane assist and other driver aids, as well as alloy wheels, a multi-function steering wheel and smartphone connectivity.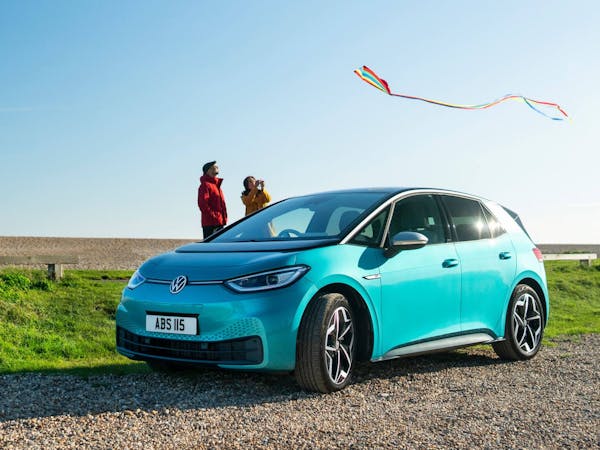 Volkswagen ID.3
The ID.3 was the debut model in the forward-thinking ID range, marking a significant step forward in features, technology and connected services. Replacing the e-Golf, it was VW's first ever net zero CO2 vehicle. Taking out a Volkswagen car lease on this model gives you a choice between the standard and Pro Performance version, with the latter offering faster-charging capabilities.
The ID.3 has a futuristic look and has the features to match, including advanced keyless locking, LED headlights, ambient lighting and ID. Sound – some of which are optional extras. For many people weighing up Volkswagen lease deals on an EV, the ID.3 is the place to start.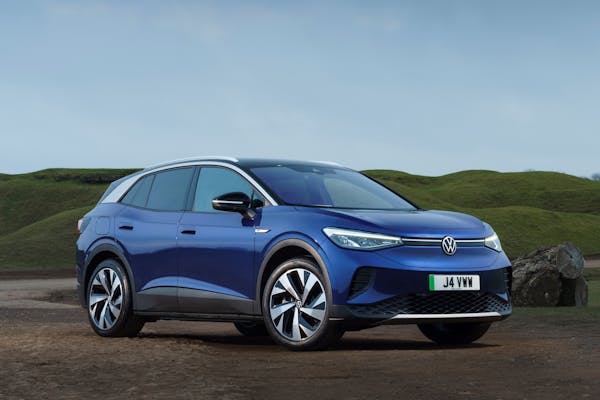 Volkswagen ID.4
Larger than the ID.3, the ID.4 also boasts a carbon-neutral balance sheet right through the supply chain and production, all the way through its use to end-of-life recycling. A mid-sized SUV that combines a spacious and convenient interior with sporty and dynamic looks on the outside, you can choose from a range of trim levels when you take out a VW lease on the ID.4.
Whether you go for the Life Edition or move up to the Style, GTX or GTX Max version, you can also choose between different battery capabilities throughout the range. Whatever you settle on, you can look forward to features including IQ. Drive and ID. Light.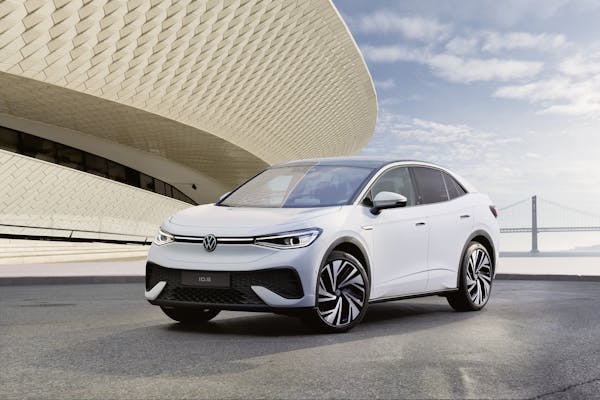 Volkswagen ID.5
On the back of the relatively novel SUV coupe shape gaining in popularity, it's now possible to choose between lease deals on Volkswagen's own offering, the ID.5. Combining the commendable ethos of the ID brand with sporty yet elegant coupe design, this high-quality car is available in two options, the ID.5 and sportier ID.5 GTX.
The GTX model sacrifices a little bit of range to offer higher performance, although it still has a WLTP range of almost 300 miles. Both options are great for VW leasing, delivering a dual motor all-wheel drive platform that can take you off the beaten track if desired. The panoramic sunroof is a particularly impressive feature that goes above and beyond the other ID features available across the range.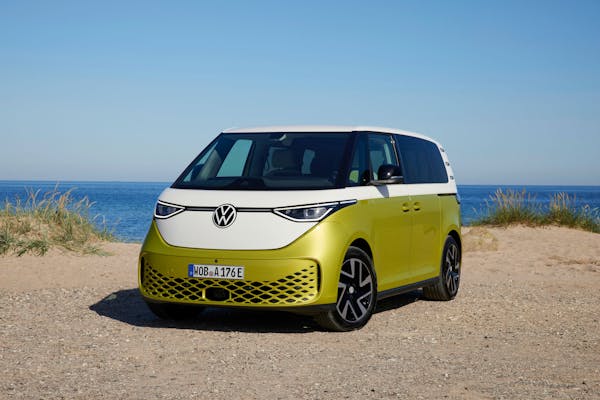 Volkswagen ID.Buzz
When you think of a camper van, it's hard not to think of Volkswagen. The company's iconic campers instantly stir up thoughts of the 1960s and all the flower power that went with it, but the ID. Buzz has breathed new life into the concept in the most spectacular way and opened up a whole new market for VW lease deals.
UK road trippers and those heading further afield will love this futuristic MPV, which offers an all-electric range of around 260 miles, while taking approximately 30 minutes to charge from 5% to 80% battery capacity. Fun, sustainable and packed with modern features, the buzz around this model has had a huge impact on VW lease options.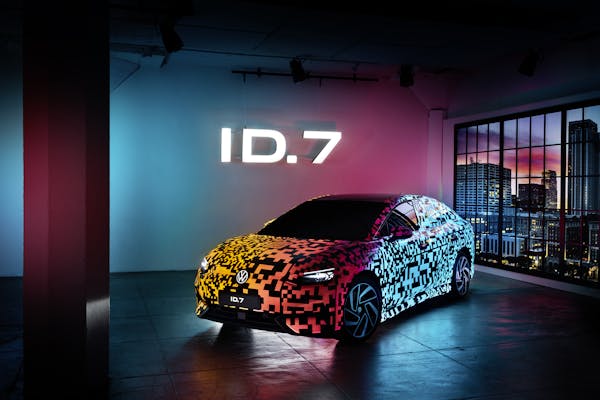 Volkswagen ID.7 - Coming Soon
The new VW ID.7 electric saloon will be here in the UK before the end of 2023. VW is promising an executive cruiser with the ID.7 with a couple of larger battery pack options and plenty of advanced safety systems too. No doubt that the Volkswagen ID.7 is looking at the Tesla Model 3 as its main competition. Volkswagen ID.7 business lease prices are sure to be available soon.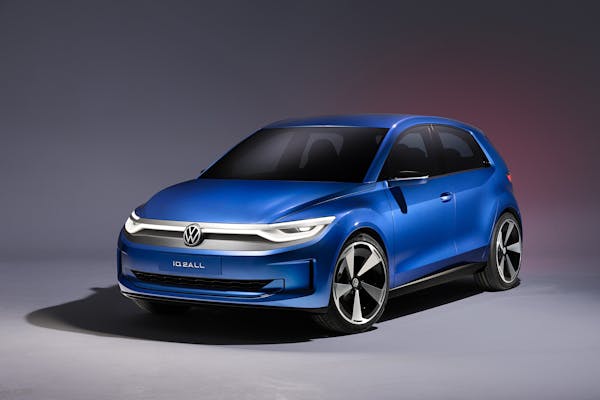 Volkswagen ID.2 - Coming Soon
The Volkswagen ID.2 EV has been revealed but we'll need to wait until 2025 to see if driving on UK roads.
The supermini-sized all-electric model promises to be 'as affordable as a Polo' and will be built on a new MEB Entry platform. This new EV-only vehicle platform will be used across the Volkswagen Group to produce its smaller EVs.
This picture shows the ID.2all concept car but we're not expecting any radical design changes to the finished production model.
Watch this space for Volkswagen ID.2 lease offers!
Benefits of Volkswagen leasing
Easy and convenient

All you need to do is pick the length of your VW lease, mileage and deposit, then wait for delivery of your new car to be confirmed.

Stay ahead of the curve

When your VW car lease ends, you can hand back the car and take out a new contract on another vehicle with the latest cutting-edge technology.

Our VW leasing deals include road tax for your entire contract term, and you'll also be covered by a full manufacturer warranty for added peace of mind.
Volkswagen electric car leasing FAQs