6 Stellantis MPVs Are Now Electric-Only
Stellantis has killed off the internal combustion engine models in six of its multi-purpose vehicle (MPV) ranges. Only electric models are now available for the Citroën Berlingo and SpaceTourer; the PEUGEOT Rifter and Traveller; and the Vauxhall Combo Life and Vivaro Life.
Citroën has also reduced the manufacturer's recommended retail prices of the ë-Berlingo Electric and ë-SpaceTourer Electric ranges, resulting in all Citroën ë-Berlingo Electric and some Citroën ë-SpaceTourer Electric models qualifying for the Government Plug-in Vehicle Grant (PiVG).
'Feel' and 'Flair XTR' ë-Berlingo Electric models continue to attract the Government grant. The range now starts at £30,995 resulting in a price from £29,495 once the PiVG has been applied.
The Citroën ë-SpaceTourer Electric range, with seating for up to nine occupants, has enjoyed a price reduction on the recently introduced 'Business Edition' trim level. With pricing starting from £31,795 (£30,295 after the £1,500 PiVG has been applied) both 'M' and 'XL' lengths will qualify for the grant.
The Citroën ë-Berlingo Electric is available in two lengths for up to seven people. It has a 100kW electric motor with 136hp and a 50kWh lithium-ion battery pack which offers range of up to 174 miles. It can be recharged up to 80% in 30 minutes at a public fast charging station (up to 100kW), and in 7½ hours via a 7.4kW single-phase 32A wallbox.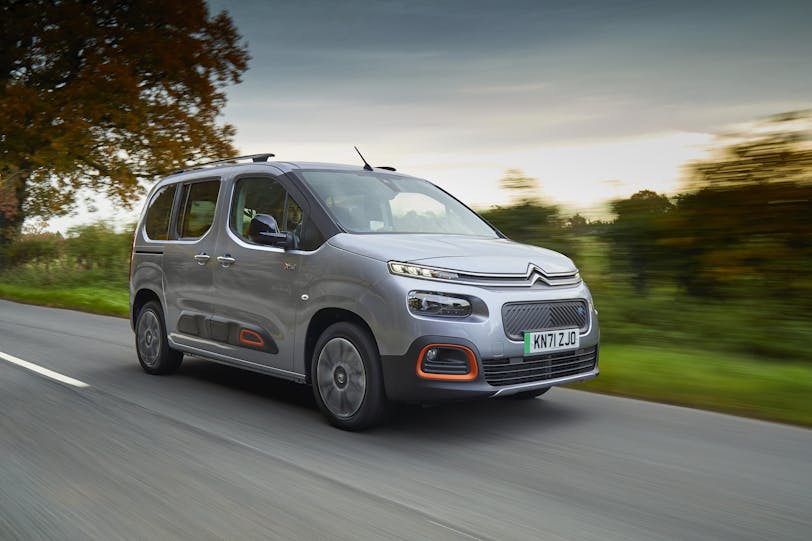 The Citroën ë-SpaceTourer Electric is a large MPV available in two lengths which accommodates up to nine people and has a driving range of up to 143 miles from its 50kWh battery pack.
Vauxhall is offering a reduction of up to £3,000 across its MPV models – the Combo-e Life and Vivaro-e Life Combi versions. This means that the Vauxhall Combo-e Life now starts from £29,610 and the Vivaro-e Life now starts from £30,295, both prices after the PiVG.
PEUGEOT's MPV variants are the e-Rifter – available as a five or seven-seat model – and the e-Traveller – available in both Standard and Long body styles, with both variants capable of carrying up to eight occupants.