The Smart #1 is an all-electric compact SUV
Smart used to be known for being a brand that sold the smart fortwo, a very small city car. Things have now changed.
The new smart - to be known as the smart #1 (pronounced 'Smart Hashtag One') - is described by the company as a 'compact SUV'. To put the new model in perspective, the smart fortwo measures 2,695 mm, whereas the smart #1 is 4270mm long. The #1 also weighs 1,820kg – compared to around 1,100 kg for the fortwo.
The benefit of the larger size is that there's more space – as well as five doors, the smart #1 has a boot with 273-411 litres of 'variable' space thanks to a rear seat that can slide up to 13cm.
Like other smart models, the smart #1 is all-electric. It has a 66kWh Lithium Manganese Cobalt Oxide (NCM) battery with a range of up to 273 miles – which is a significant improvement on the smart fortwo.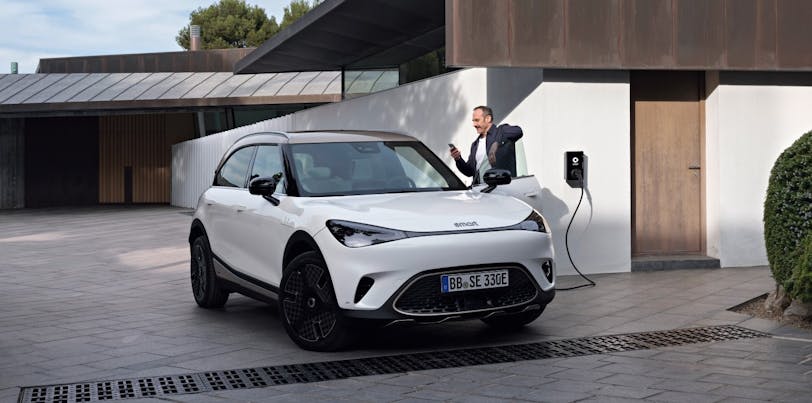 The smart #1 can rapid charge at 150kW DC, which means that a 10-80% charge can take as little as 30 minutes. It can charge from 10-80% at a 22kW AC charge point in three hours.
The electric motor produces power of 200kW (272PS) and torque of 343Nm, with a maximum speed of 112mph. Unusually for an 'urban' vehicle, but like the smart fortwo, the smart #1 is rear-wheel drive.
There's an all-new design style for the exterior, which appears to reflect the styling of parent company Mercedes-Benz more closely, and the interior design is also new, with a floating centre console, a 12.8-inch touchscreen, a panoramic glass roof and ambient lighting with 64 colours and 20 illumination levels. The exterior features concealed electric door handles and a digital key.
The Smart #1 is the brand's first EV developed together with Chinese company Geely, using Geely's EV platform. Production of the smart #1 is planned for late 2022.