Electric Kia EV9 SUV revealed
The Kia EV9 makes its global premiere and paves the way for the future of electric SUV design.
If you want an electric 7-seater SUV, with the Tesla Model X currently unavailable in the UK, you've got a grand total of one option: the Mercedes-Benz EQB. However, that's due to change with the arrival of the Kia EV9.
Kia has recently been on a roll with its new products, with the electric EV6 receiving wide acclaim. So, expectations are high for the EV9, which Kia has revealed images of, and which is due to debut globally later this month. The EV9 is also due to have a 337-mile electric driving range, with an expected battery capacity of around 100kW. Surprisingly for a large SUV, Kia claims that the EV9 has "exceptional aerodynamic efficiency".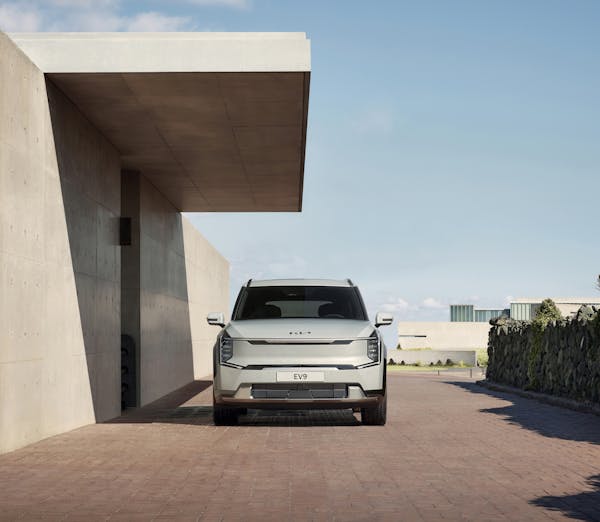 The EV9 will share its 800v platform with the EV6, meaning that it will be capable of rapid charging at 350kW to give 62 miles of range in just six minutes. It will also come with vehicle-to-load functionality, allowing the driver to power electrical equipment from the car.
The EV9 will also be available with the choice of rear and all-wheel drive powertrain options, with a twin-motor GT-Line S variant expected.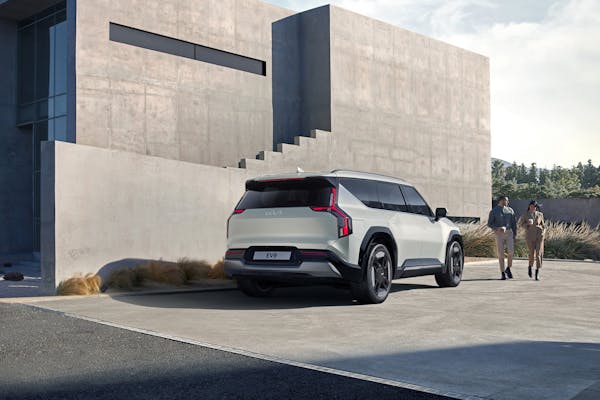 The EV9 has a long wheelbase and a flat floor, allowing three rows of seats, and it's available in both six and seven-seat formats. Occupants sitting in the first and second-row seats can recline their seats when the EV9 is charging. With six-seater models, the seats in the second row have an optional function that allows them to be swiveled 180 degrees so that occupants can chat with passengers sitting in the third row when the car is in motion. The third-row seats also offer cup holders and charging points for mobile devices.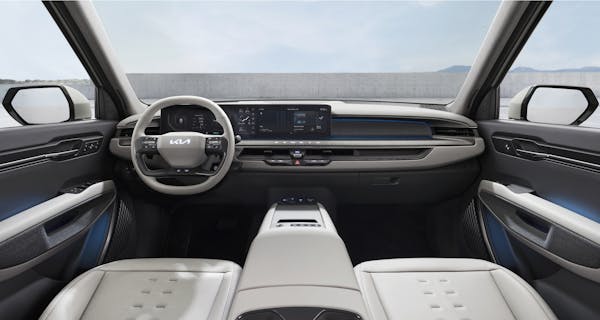 The 'floating panoramic dashboard' features two 12.3-inch touchscreens integrated with a 5-inch 'segment display'. Beneath the screens, buttons provide a start/stop function, controls for the screen, along with heating, ventilation and air conditioning controls. Digital rear-view mirrors will be available as an option in the UK.
The Kia EV9 will make its global premiere in late March with first deliveries expected in late 2023. Prices are expected to be between £60,000 and £80,000 – in other words, Kia's most expensive car to date, as well its largest model in the UK.
Kia is due to bring eight new EVs to the UK in the next three years.
Our electric car lease special offers
£2,524.26 Initial rental (ex. VAT)
£3,029.11 Initial rental (inc. VAT)
48 Month term
5000 Annual mileage
Subject to status and conditions + arrangement fee
£280.

47
Business contract hire per month (ex. VAT)
£336.

57
Personal contract hire per month (inc. VAT)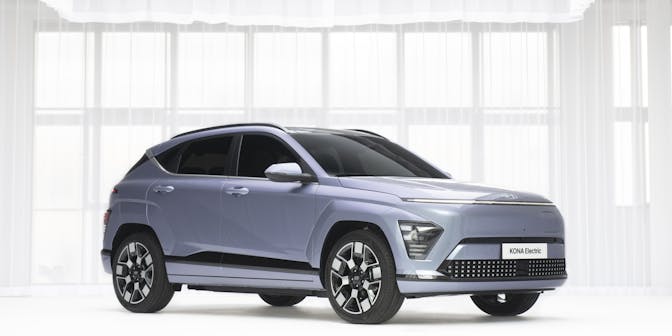 £2,067.67 Initial rental (ex. VAT)
£2,481.20 Initial rental (inc. VAT)
48 Month term
5000 Annual mileage
Subject to status and conditions + arrangement fee
£229.

74
Business contract hire per month (ex. VAT)
£275.

69
Personal contract hire per month (inc. VAT)
£2,676.21 Initial rental (ex. VAT)
£3,211.46 Initial rental (inc. VAT)
48 Month term
5000 Annual mileage
Subject to status and conditions + arrangement fee
£297.

36
Business contract hire per month (ex. VAT)
£356.

83
Personal contract hire per month (inc. VAT)