Hyundai IONIQ electric lease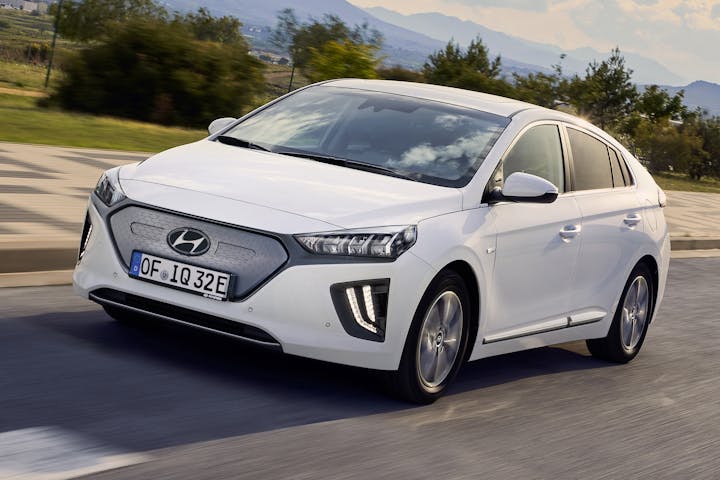 In May 2022, Hyundai confirmed that it was ending production of the original all-electric Ioniq.
We currently do not have any deals available for the Hyundai IONIQ. To discuss alternative EVs call us on: 01628 899727. Monday to Friday 08:30am to 5:30pm.
Sign up to our mailing list and we will send you details of our great electric vehicle leasing deals.
Subscribe
About the Hyundai IONIQ lease deals
The Hyundai IONIQ is all about efficiency and pure design choices. The exterior of the car is incredibly aerodynamic, with a class-leading drag coefficient of 0.24. This basically means the car is using less power to overcome wind resistance, increasing its range and efficiency.
Just because Hyundai has focussed on efficiency doesn't mean there's a sparse interior. The IONIQ is equipped with a heated steering wheel and heated front seats as standard, keeping things nice and toasty in the cabin through those winter months. An infotainment touchscreen sits in the middle of the dashboard, displaying the sat-nav, phone connectivity info and reverse camera - to name a few.
Overall, the car is roomy with seats for 5 passengers and plenty of boot space. If family safety is of top concern (whose isn't?!) then the IONIQ was awarded a 5-star safety rating from NCAP, making it the perfect choice for an electric family car.
Charging the Hyundai IONIQ
The Hyundai IONIQ is offered in a single 38Kwh battery configuration.
With an official WLTP range of 193 miles, the IONIQ is perfect for city driving as well as longer journeys. It's important to note that at DriveElectric we offer customers a 'real world' range too, which is what we believe a vehicle is more likely to get day-to-day. As such, we recommend that the IONIQ is likely to achieve around 165 miles from a single charge. Still plenty.
Charging wise, the IONIQ uses both Type 2 and CCS connectors when charging up. Using a standard 7kW domestic charger at home, the 38kWh battery will be fully charged within 6 hours 15 minutes. Use a 50kW+ rapid charger out on the road however, and the IONIQ can be charged from 10-80% in just 45 minutes.