The Cupra brand began life as Seat's motorsport division. Much like Mercedes-Benz has AMG, Seat has Cupra. As such, you can look forward to driving a high-performance vehicle with racing heritage when you take out a Cupra car lease.
All electric cars from Cupra
Hatchback
Up to 320 miles range
£2,871.48 Initial rental (ex. VAT)
£3,445.78 Initial rental (inc. VAT)
48 Month term
5000 Annual mileage
Subject to status and conditions + arrangement fee
From
£319.

05
per month (ex. VAT)
From
£382.

86
per month (inc. VAT)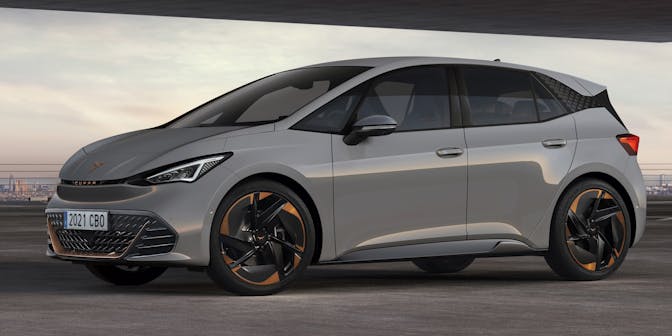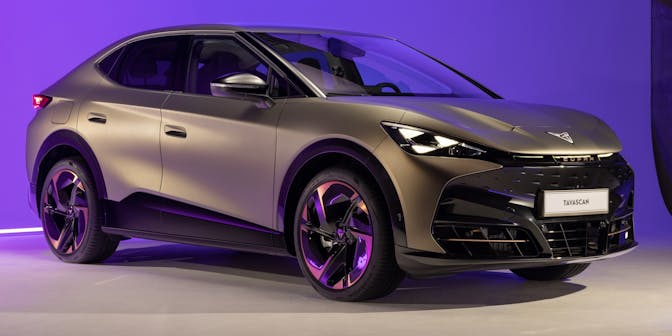 Each performance model of a mass-production Seat was moulded by Cupra, and then badged to mark its motorsport pedigree. Perhaps the most famous of these models was the Seat Leon Cupra, the Spanish hot-hatch to rival the Ford Focus RS and Volkswagen Golf GTI.
Then in 2019, the Spanish manufacturer decided to split Cupra into a completely independent, performance-focussed sub-brand. Several Cupra-badged models have since arrived, including performance versions of Seat staples, the Leon and Ateca.
It was only a matter of time before Cupra would turn its attention to the world of EVs. As part of the Volkswagen Group, the Spanish brand has been able to take the bones of the Volkswagen ID.3 EV and turn it into the Cupra Born. This has opened up a whole new world of Cupra leasing options to check out.
Lease a Cupra
When you lease a Cupra with us, you'll join us on our journey towards a fully-electric motoring future. Our competitive Cupra lease deals provide the perfect way to discover this brand if you're new to it. Or to immerse yourself further into the world of Cupra if you've already dipped your toes in.
Whether you're looking to lease an electric car for the very first time or you've already had a number of EVs sitting proudly outside your home, Seat Cupra leasing puts you right at the forefront of cleaner, greener, electric motoring. So take a look at our latest Cupra leasing deals, and pick out your next car today.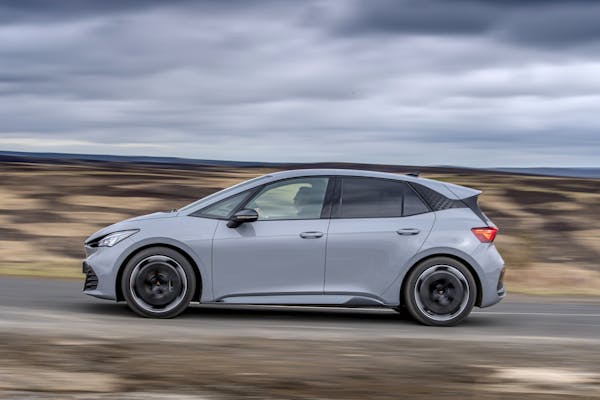 Cupra Born
The Cupra Born is a small, fully-electric family hatchback that went into production in 2021. Based on the Volkswagen Group's MEB platform, which is a modular EV platform that also underpins cars from Audi's e-tron range, the Skoda Enyaq and the extensive Volkswagen ID family.
Giving off more than a slight impression of a souped-up version of the Volkswagen ID.3, taking out a Cupra lease on the Born is a great way to blend sporty looks and performance with high levels of practicality. The functional hatchback boot and solid load space means it's great for everyday life, while there's also plenty of fun to be had behind the wheel.
Agile and responsive to drive, the Born is available in a number of different options to suit your needs. There's a choice between the V1, V2 and V3 models and a 58 kWh or 77 kWh battery pack, while you can also select the e-Boost spec for an extra injection of oomph.
This all translates into a maximum range of up to 343 miles and a 0-62mph from 6.6 seconds. Sporty touches permeate both the inside and outside of the Born, along with advanced technological features including intelligent park assist, pre-crash assist and an exit warning system to keep you safe even when you're climbing out of the car.
Capable of boosting the battery from 5% to 80% in little over half an hour, a standard EV home charger will take the power pack from zero to full in just six hours and 15 minutes. The Born is a car for the future, but you can check out our Seat Cupra lease deals to make it a part of your present right now.
Benefits of Cupra leasing
Easy and convenient

Simply choose the length of your Cupra lease, mileage and deposit, and wait for your new EV to be delivered.

Stay ahead of the curve

When your contract ends, you can hand back your car and choose one of our current Cupra lease deals to receive a brand new model with the latest tech.

Road tax and warranty included

Our Cupra lease cars include road tax for the full duration of your contract, while you'll also receive a full manufacturer warranty for complete peace of mind.
You can browse all of the best Cupra lease deals available right now at DriveElectric. Simply give us a call to discuss our latest Cupra offers or fill in our quick form to get an online quote in an instant.