Peugeot E-3008 electric lease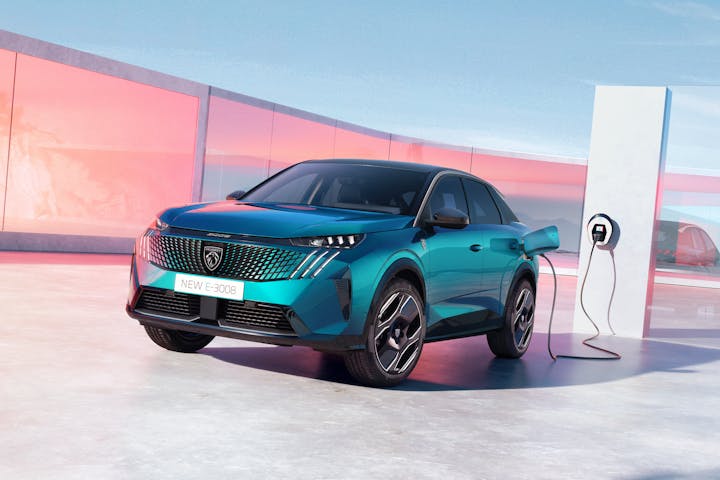 The latest Peugeot EV is also the vanguard to a new generation of electric cars from parent company Stellantis. It's a more practical, larger SUV compared to the E-2008. Coming early 2024.
We currently do not have any deals available for the Peugeot E-3008. To discuss alternative EVs call us on: 01628 899727. Monday to Friday 08:30am to 5:30pm.
Sign up to our mailing list and we will send you details of our great electric vehicle leasing deals.
Subscribe
Peugeot is calling the new E-3008 a Fastback SUV and while we're not sure what a Fastback is, the new model does feature a sporty silhouette and some desirable styling, in keeping with the brand's current uptick in style.
The sleek features also enable the new EV to slice through the air effectively which improves efficiency and adds to the vehicle range.
The 1st of a new generation of EVs
Another impressive feature of the Peugeot E-3008 is that it's built on new architecture, called STLA Medium. This new platform is the latest development from Stellantis and provides a more efficient base compared to older Stellantis EVs.
So what's new in the E-3008?
One of the big new developments is that the EV is capable of V2L, a feature which will become ever more important over the coming months and years, this means the car can supply up to 3kW of power to an electrical device.
Then there's the charging capability on the model too - with DC ultra-rapid recharging available of up to 160kW, which means a public network charge from 20% to 80% can take under 30 minutes.
The Peugeot E-3008 will come in two trim levels, Allure and GT, and a choice of three powertrains.
Look out for personal and business contract hire rates on the Peugeot E-3008 coming soon, with first UK deliveries expected from Spring 2024.