Tesla Model X electric lease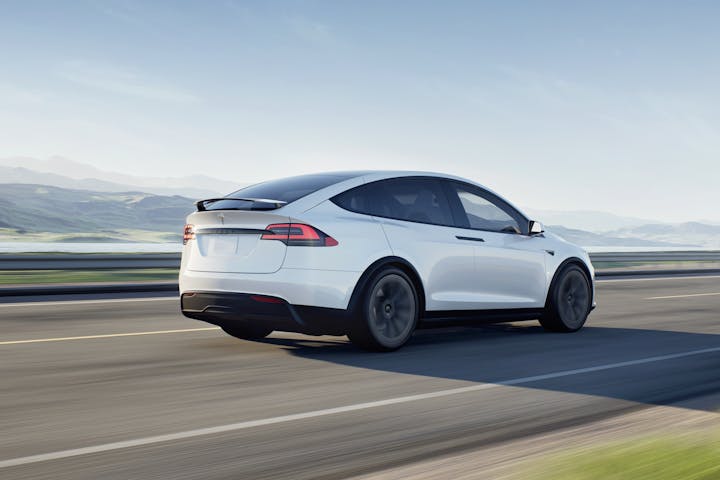 We currently do not have any deals available for the Tesla Model X. To discuss alternative EVs call us on: 01628 899727. Monday to Friday 08:30am to 5:30pm.
Sign up to our mailing list and we will send you details of our great electric vehicle leasing deals.
Subscribe
The original luxury e-SUV has received a makeover, and it's a mighty fine one. The Tesla Model X has represented the cream of the crop when it comes to driving the type of car that used to be regarded as a gas-guzzling destroyer of the planet. This SUV changed all of that. Tesla Model X leasing is perfect for getting all the space, safety and practicality you need, not to mention the prestige, driving experience and eco-friendly motoring you'll enjoy at the same time. Whether you're looking for a new family car or a Tesla Model X business lease, this is a spectacular vehicle to own and drive.
Charging the Tesla Model X
The Tesla Model X is available to lease in 2 different models, the long range and the performance, both of which house a 100kWh battery. Weighing nearly 2.5 tonnes, this is a big, heavy car. SUVs usually deliver poor economy, but not the Model X.
Typically, you'll probably do most of your charging at home when you take out a Tesla Model X lease. With 95kWh of useable battery, your car will take around 15 hours to fully charge from zero to full using a standard 7kW home charger.
If you need to replenish your battery on the road, you won't need to spend very long at a Tesla Supercharger before you're ready to continue your journey. Tesla's fast charging technology is capable of adding 175 miles of range to your car in just 15 minutes. With more than 500 Tesla Superchargers across the UK and Ireland and over 20,000 around the world, you can easily programme your charge through an app or the car itself.
| Model | Battery size | Usable battery size | Real world range | WLTP range |
| --- | --- | --- | --- | --- |
| Tesla Model X Long Range | 100 kWh | 95 kWh | 300 miles | 360 mles |
| Tesla Model X Plaid | 100 kWh | 95 kWh | 290 miles | 340 miles |
Tesla Model X top features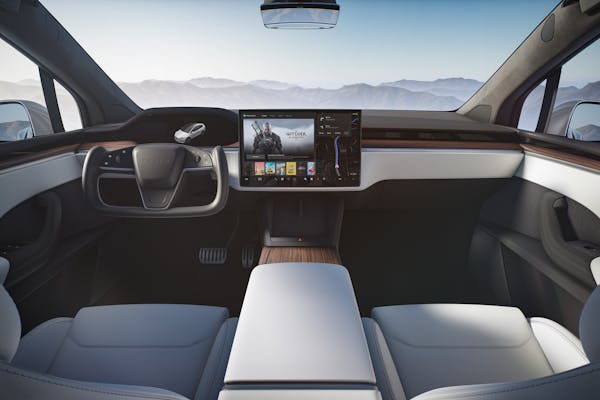 Top Tech
Teslas are well known for their clean, minimalist cabins, and the latest Model X has refined this even further. The stalkless yoke steering wheel is a lovely, futuristic touch, while the 17" central cinematic display is a thing of beauty. Responsive, 2200x1300 resolution, ultra-bright and colourful, the control centre of your car is both pretty and practical. Whether you're controlling your satellite navigation, multi-device Bluetooth functionality, music, media streaming or internet browsing, the display is also the place to keep an eye on the overall health of your vehicle.
It's also the place where you can play games, with a handy rear screen and the ability to connect wireless controllers allowing the whole gang to get involved. Everyone can keep their devices charged up thanks to wireless and USB-C charging ports for each passenger and listen to their favourite tunes through the 22-speaker, 960-watt sound system with active noise cancelling. Tri-zone air conditioning is ideal for keeping the whole family happy, while the 12-way power-adjustable heated seats with added ventilation and individual driver presets are great.
The tech which keeps you safe on the road is one of the key benefits when you lease a Tesla Model X. Forward, side and rear-facing cameras give you a 360º view of the road, while a radar system keeps an eye on what's happening 160m further ahead. There are plenty of driver aids constantly working to keep you out of trouble, with the Model X able to steer, brake and accelerate automatically if there's a danger of a collision. Twelve ultrasonic sensors detect nearby cars and can even assist with parking, which is perfect if you're not too confident with this.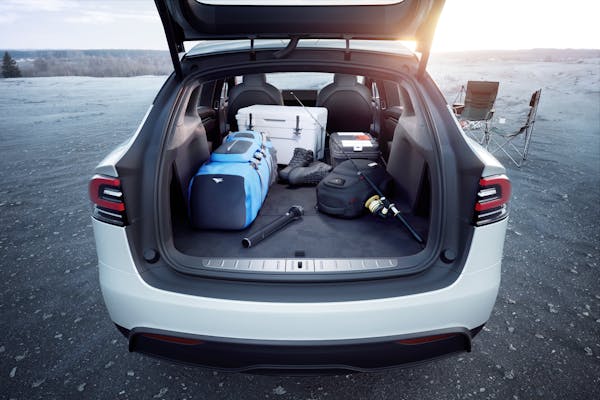 Safe and Practical
As well as those driver aids, the Model X is built from the ground up as an EV. The battery placement and high-strength architecture keeps everyone inside extra safe. There's front and side-impact protection, as well as a very low rollover risk. The exterior has seen subtle upgrades with a fresh font bumper, redesigned diffuser and the option for a new set of 22-inch alloy wheels.
Over 5 metres long, there's lots of space inside the cabin, which you climb through the eternally cool falcon-wing doors. The front doors even open and close automatically, while the boot is powered too. Storage capacity is 2,577 litres, while you can configure the Model X to have 5, 6 or 7 seats according to your needs. If you need to tow something, the maximum you can pull is 2,268kg.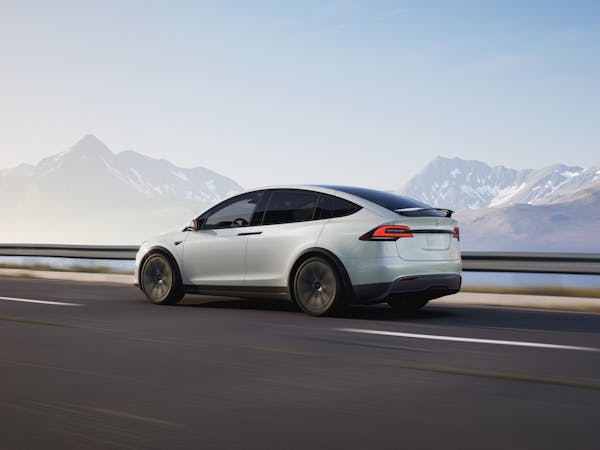 Compellingly Quick
Tesla has been working hard on aerodynamics in recent years, and the result is that the Model X has the lowest drag coefficient of any production SUV on the planet. This helps with efficiency, as well as performance. The single-speed Long Range zips from 0-60 in just 3.8 seconds, hitting a top speed of 155mph. It's quick for any kind of car, never mind a luxury SUV. If you need something even quicker, however, the Tesla Model X Plaid could be for you.
Here at DriveElectric, we're the number one choice for a Tesla Model X lease in the UK. We love Tesla and we love talking about their cars, so we're always happy to answer any questions you have about one of the true motoring pioneers. You can also check out our Tesla FAQ page for lots more useful info.