Citroen AMI electric lease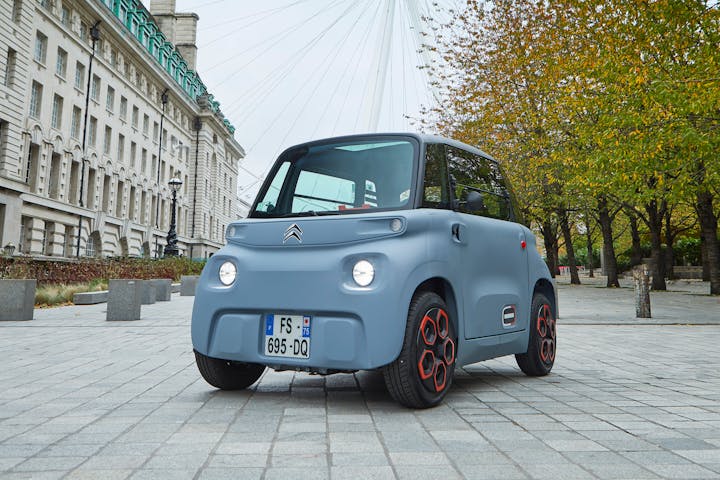 Choose your AMI car lease
£1,153.61 Initial rental (ex. VAT)
£1,384.33 Initial rental (inc. VAT)
48 Month term
5000 Annual mileage
Subject to status and conditions + arrangement fee
£128.

18
Business contract hire per month (ex. VAT)
£153.

81
Personal contract hire per month (inc. VAT)
£1,244.81 Initial rental (ex. VAT)
£1,493.77 Initial rental (inc. VAT)
48 Month term
5000 Annual mileage
Subject to status and conditions + arrangement fee
£138.

31
Business contract hire per month (ex. VAT)
£165.

98
Personal contract hire per month (inc. VAT)
£1,267.47 Initial rental (ex. VAT)
£1,520.97 Initial rental (inc. VAT)
48 Month term
5000 Annual mileage
Subject to status and conditions + arrangement fee
£140.

83
Business contract hire per month (ex. VAT)
£169.

00
Personal contract hire per month (inc. VAT)
Strictly speaking the AMI isn't a car but it's 100% battery powered and should prove to be a popular city centre people mover.
Technically a quadricycle, the AMI is a two-seat city commuter powered by a compact 5.5 kWh battery. Speed tops out at 28 mph and with a range of just over 40 miles, the AMI isn't designed to be run up and down A-roads (and can't legally travel on a motorway). Rather the Citroen AMI should be consider for what it is, a compact, affordable, zero tailpipe emission vehicle designed to get one or two people from suburbia into a city and back out again with the minimum of fuss or emissions.
When is the Citroen AMI coming to the UK?
We're not sure. Citroen is currently accepting £250 reservation fees but as yet there's no official launch date.