Renault Megane E-Tech electric lease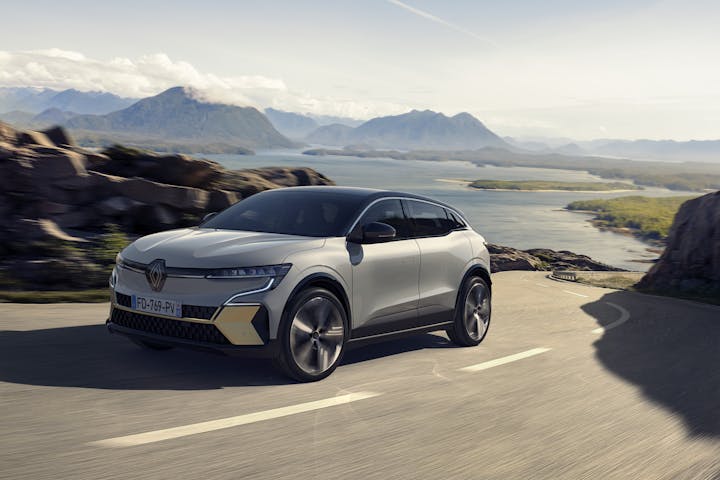 A large departure from the Renault Zoe, the Megane E-Tech is a speedy SUV that offers good performance in a practical SUV body.
Choose your Megane E-Tech car lease
About the Renault Megane E-Tech
The Renault Megane E-Tech houses a lot of innovation into the increasingly popular 'crossover' body style. It's pretty, French and futuristic.
Up until now, the only mainstream electric offering from Renault was the Zoe. It's a great starting point for getting your foot onto the all-electric ladder. However, the limited space meant families often opted for bigger, more substantial counterparts from Renault's competitors.
The Megane E-Tech is set to address that. Created for eco-conscious drivers that don't want to compromise on looks or performance, this EV from the French diamond is anything but rough.
Battery and range of the Renault Megane E-Tech
Regardless of trim level, the Megane E-Tech comes fitted with a 60kWh battery pack, granting an official WLTP range of 280 miles. However, we'd expect to see an average 'real world' range of 225 miles.
Recharging couldn't be simpler. Via a domestic 7.4kW home charger, a full recharge takes around 9 hours and 45 minutes. Out on the road, utilise one of the 130kW rapid chargers and top up from 23 miles of WLTP range to 180 miles in just 29 minutes.
Performance wise, the Megane E-Tech is no slouch. 0-62mph takes just 7.5s with the electric motors providing a total of 215hp.
Renault Megane E-Tech features
As you'd expect from a brand new electric vehicle, the Renault is dripping with fancy tech. A 9-inch openR link screen adorns the dashboard, where full Google built-in functionality is accessible.
Built upon the fully electric dedicated CMF-EV platform, the Megane benefits from optimised weight distribution and maximised interior space. There's also a clever regulatory system that maximises driving range regardless of external temperature. The driver and passenger can regulate their temperature too, with heated seats as standard.
Quality of life and safety features include cruise control, automatic braking, hill start assist, heated steering wheel and rear view camera to name a few. The overall package is great value, and a perfect family car.