Hyundai IONIQ 5 electric lease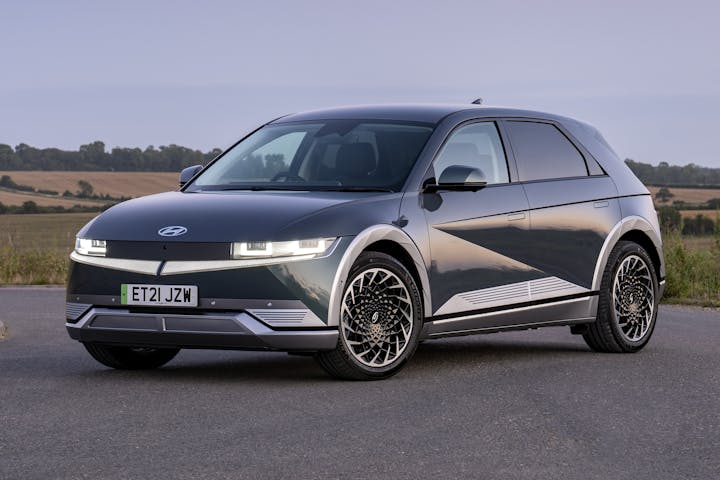 Unique looks... check. Cutting edge EV technology... check. That'll be the Hyundai IONIQ 5 electric car.
£3,781.85 Initial rental (ex. VAT)
£4,538.22 Initial rental (inc. VAT)
48 Month term
5000 Annual mileage
Offer expiry Monday, 18 December 2023
Subject to status and conditions + arrangement fee
£420.

21
Business contract hire per month (ex. VAT)
£504.

25
Personal contract hire per month (inc. VAT)
Special Offer
Choose your IONIQ 5 car lease
About the Hyundai IONIQ 5
Considering taking out a lease on a Hyundai IONIQ5? This is what you need to know.
Hyundai has positioned itself as one of the key electric vehicle manufacturers in the marketplace today. With award-winning vehicles under their belt - such as the Kona EV - it's clear that the South Korean maker is dedicating a huge amount of resources to secure their spot at the top of the electric vehicle food-chain.
They're so dedicated in fact, that they've created an entire sub-brand purely for their EV offerings - IONIQ. The IONIQ 5 is their latest electric vehicle, and comes in the form of a spacious, futuristic hatchback. The bespoke design incorporates a standout array of rear lights, love-or-hate-'em wheels and class-leading sustainability.
The green credentials of the IONIQ 5 don't simply stem from its eco-friendly drivetrain. Materials used throughout the vehicle are sustainably sourced. Yarn used in the stitching - from the carpet to the roof liner - is produced from recycled PET bottles, with other raw materials extracted from sugar cane.
If you're in the market for one of the most distinctive electric vehicles on British roads, with industry-leading reliability and eco-credentials throughout - the Hyundai IONIQ 5 could be the perfect lease. And when it comes to Hyundai IONIQ lease deals in the UK, DriveElectric is the perfect place.
Charging the Hyundai IONIQ 5
In terms of battery options, there are two available: 58kWh or 73kWh.
Opt for the 58kWh battery, and the IONIQ 5 will comfortably cover 195 miles on a single charge. The official WLTP range is 249 miles, however at DriveElectric we run our own tests to determine a 'real world' mileage. 195 miles is still a very impressive range and will be more than enough to cover the average journey.
Going for the 73kWh option with your Hyundai IONIQ 5 lease boosts the IONIQ 5's range up to a 'real world' range of 220 miles, which puts the IONIQ 5 in the upper echelons of high-range EVs.
Both models utilise the connector type: Type 2/CCS connector, which is a standard fitment for most electric vehicles. The connector type allows for home charging and workplace charging, as well as being able to take advantage of high power public charging hubs. The smaller of the battery packs can accept up to 175kW of power which means that it is possible to get the battery from 10% to 80% in only 17 minutes. One of the quickest fastcharge times on the market.
The larger of the battery packs is even better - one of the few models to really take advantage of the new generation 350kW ultra-rapid charging units - capable of accepting up to 233kW DC power. This can take the Hyundai IONIQ 5 battery from 10% to 80% in as little as 16 minutes - adding around 160 miles or so to the vehicle's range. All in the time it takes to wolf down a sandwich.
Whether you're looking for a personal or business lease for the brilliant Hyundai IONIQ 5 electric car, our dedicated team at DriveElectric can help you. We have a range of Hyundai IONIQ 5 lease deals to choose from – simply get in touch or fill out our online form for an instant quote.
Hyundai IONIQ 5 video review
Hyundai IONIQ 5 UK lease deals from DriveElectric
Ready to lease a Hyundai IONIQ 5? At DriveElectric, we have a wide range of Hyundai IONIQ 5 UK lease deals, whether for your personal car or for a business lease. If you want to learn more about leasing a Hyundai IONIQ 5 from us, you can see all our available deals and options on our website.
Or you can get in touch with our friendly and helpful team to discuss your options – they are electric vehicle experts and will assist you with finding the right car for you. And once you're ready to make your decision on your lease, you can simply fill out our quick online form for an instant quote right now. Now could be the time to increase your green credentials and lease a Hyundai IONIQ 5 from DriveElectric.
Browse all of the best Hyundai IONIQ 5 UK lease deals right now at DriveElectric. Give us a call to discuss our latest IONIQ 5 leases or fill in our quick form to get an online quote in an instant.