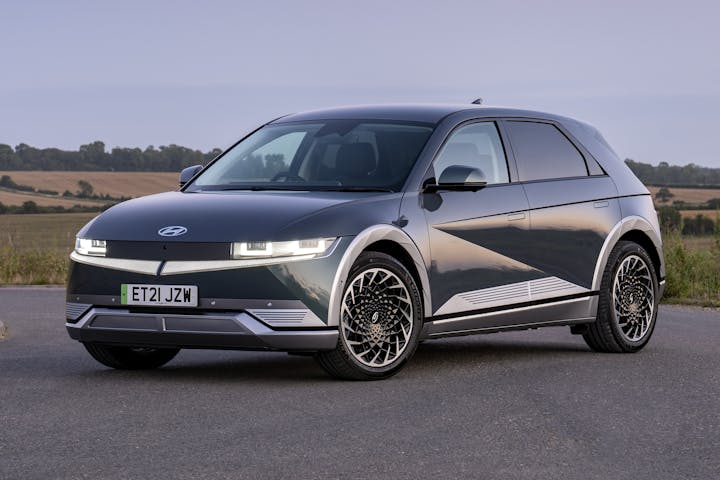 Choose your IONIQ 5 car lease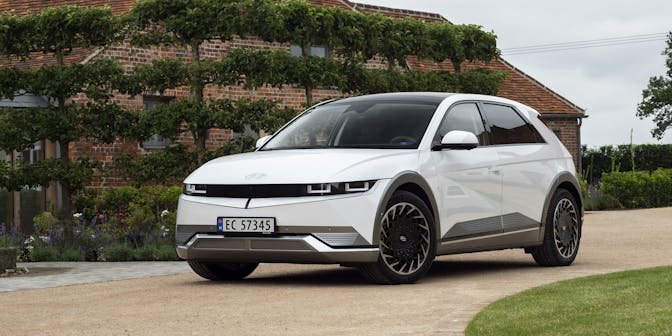 £5,929 Initial rental (inc. VAT)
48 Month term
5000 Annual mileage
Subject to status and conditions + arrangement fee
£4,941 Initial rental (ex. VAT)
48 Month term
5000 Annual mileage
Subject to status and conditions + arrangement fee
£659
Personal contract hire per month (inc. VAT)
£549
Business contract hire per month (ex. VAT)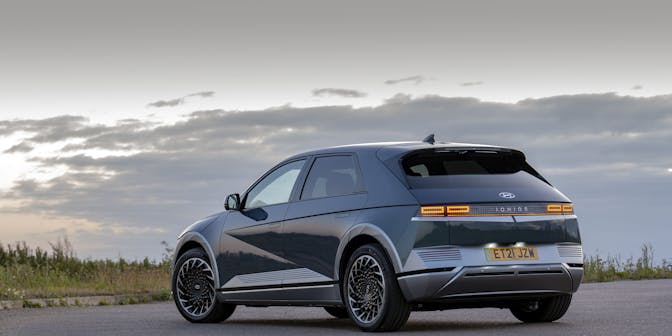 £5,346 Initial rental (inc. VAT)
48 Month term
5000 Annual mileage
Subject to status and conditions + arrangement fee
£4,455 Initial rental (ex. VAT)
48 Month term
5000 Annual mileage
Subject to status and conditions + arrangement fee
£594
Personal contract hire per month (inc. VAT)
£495
Business contract hire per month (ex. VAT)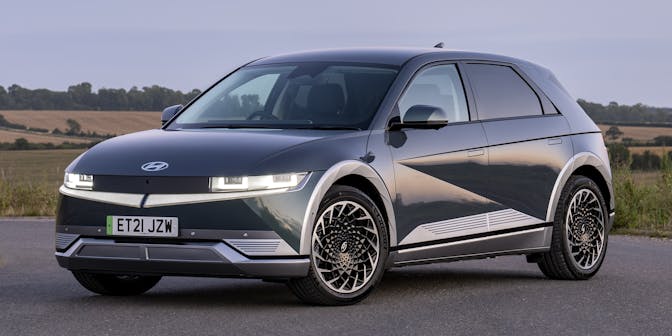 About the Hyundai IONIQ 5
Hyundai has positioned itself as one of the key electric vehicle manufacturers in the marketplace today. With award-winning vehicles under their belt - such as the Kona EV - it's clear that the Korean maker is dedicating a huge amount of resources to secure their spot at the top of the electric vehicle food-chain.
They're so dedicated in fact, that they've created an entire sub-brand purely for their EV offerings - IONIQ. The IONIQ 5 is their latest electric vehicle, and comes in the form of a spacious hatchback. The bespoke design incorporates a standout array of rear lights, love-or-hate-'em wheels and class-leading sustainability.
The green credentials of the IONIQ 5 don't simply stem from its eco-friendly drivetrain. Materials used throughout the vehicle are sustainably sourced. Yarn used in the stitching - from the carpet to the roof liner - is produced from recycled PET bottles, with other raw materials extracted from sugar cane.
If you're in the market for one of the most distinctive electric vehicles on British roads, with industry-leading reliability and eco-credentials throughout - the IONIQ 5 could be the perfect lease.
Charging the Hyundai IONIQ 5
In terms of battery options, there are two available: 58kWh or 73kWh.
Opt for the 58kWh battery, and the IONIQ 5 will comfortably cover 195 miles on a single charge. The official WLTP range is 249 miles, however at DriveElectric we run our own tests to determine a 'real world' mileage. 195 miles is still a very impressive range and will be more than enough to cover the average journey.
Going for the 73kWh option boosts the IONIQ 5's range up to a 'real world' range of 220 miles, which puts the IONIQ 5 in the upper echelons of high-range EVs.
Both models utilise the connector type: Type 2/CCS connector, which is a standard fitment for most electric vehicles.
Looking for a different manufacturer?