All electric cars from Skoda
Coupe
Up to 320 miles range
£3,114.61 Initial rental (ex. VAT)
£3,737.54 Initial rental (inc. VAT)
24 Month term
5000 Annual mileage
Subject to status and conditions + arrangement fee
From
£346.

07
per month (ex. VAT)
From
£415.

28
per month (inc. VAT)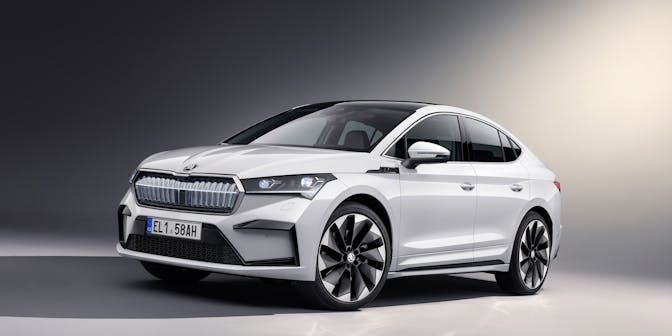 £3,424.66 Initial rental (ex. VAT)
£4,109.59 Initial rental (inc. VAT)
48 Month term
5000 Annual mileage
Subject to status and conditions + arrangement fee
From
£380.

52
per month (ex. VAT)
From
£456.

62
per month (inc. VAT)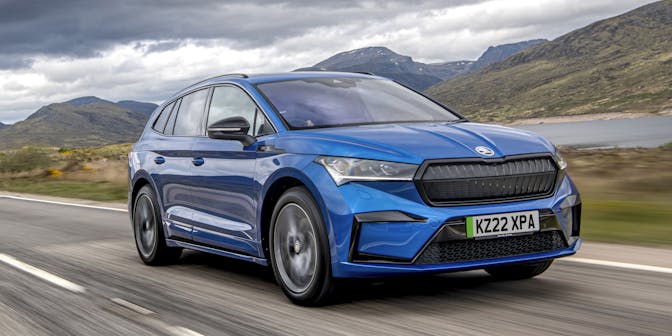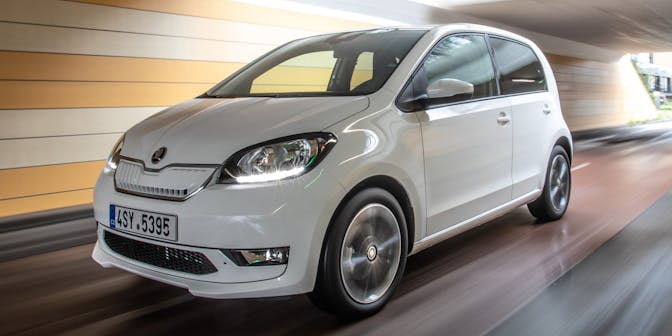 Czech manufacturer Skoda has established itself as a cornerstone of the electric vehicle market, going from strength to strength and making Skoda leasing better than ever. After being bought by the Volkswagen Group back in 1991, the carmaker has since transformed itself from a budget brand into a mass-market powerhouse.
Skoda's electrification strategy aims to capitalise on its recent success, building on the universal praise its debut EV - the Enyaq iV - has afforded the brand. The company now has a reputation for being an excellent cost-effective alternative to more premium brands, with Skoda lease deals sacrificing little in terms of build quality and finish.
Whether you're looking for a Skoda personal lease or a business contract hire, we've got a great range of offers for you to browse. No matter if it's your first EV or the latest in a long line, take a look around and choose between the best of our Skoda lease deals. UK infrastructure has never been better for electric motoring, and now is the time for fully-electric cars to truly take over.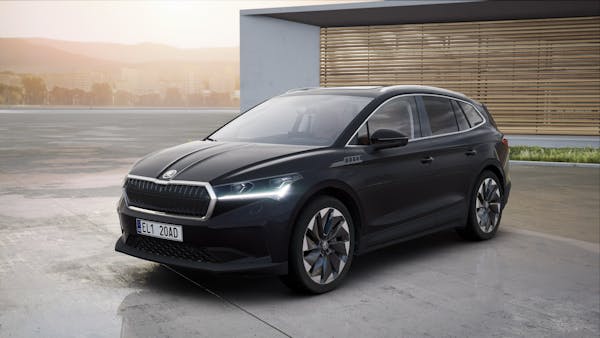 Skoda Enyaq iV
Implementing a fresh new take on the latest technology, performance and environmental considerations, Skoda leasing deals on the Enyaq iV serve up a striking EV packed with great features.
Technically a compact crossover SUV, there's plenty of space in this car, making it great for a range of drivers. It's also a fantastic model for choosing your spec, as there are a number of different trim levels to explore. Starting with the Enyaq iV 60 with a 62kWh battery, you can also choose to lease a Skoda with a larger power unit when moving up to the Enyaq iV 80 with its 82kWh pack.
If you want to go for a sportier trim then there's the Enyaq iV 80 SportLine Plus to check out, while the Enyaq iV 80x SportLine Plus is the way to go if you're after peak performance levels from your Skoda electric SUV lease.
Whichever option you select, this is a practical, robust car with a good calibre of kit even at the entry level. The standard interior is the Loft option, while you can choose to move up through the Lounge, Suite and ecoSuite options, before arriving at the SportLine which comes as standard in that trim.
In terms of range, the larger battery naturally delivers the highest mileage on a single charge. The Enyaq iV 80 has an WLTP range of up to 338 miles, which comes down slightly if you go with an electric Skoda lease on the SportLine Plus models. The Enyaq iV 60, meanwhile, is capable of up to 246 miles on a single charge.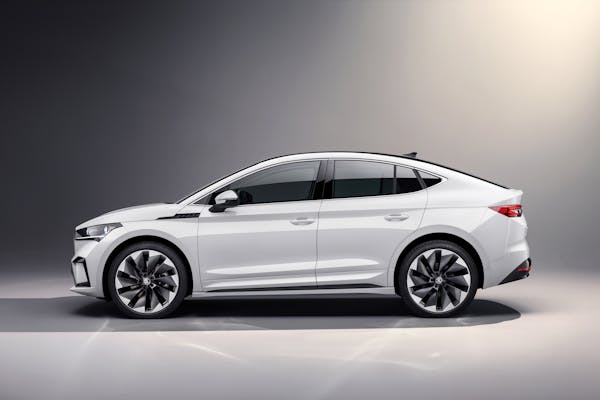 Skoda Enyaq Coupe iV
If you're looking for something sportier in appearance for your next car lease, Skoda has the answer for you in the shape of the Enyaq Coupe iV vRS. The coupe styling adds a real sense of dynamism to this car, which has the same 82kWh battery pack as its siblings.
Like the Enyaq iV 80x SportLine Plus, the coupe version is all-wheel drive and really pushes the boundaries of fully-electric performance. The Enyaq Coupe iV vRS produces 299 PS and can go from 0-60mph in 6.2 seconds, before reaching a top speed of 111mph. You'll need to take it easy to achieve the upper mileage range though, which is listed at 323 miles.
When you take out a Skoda electric lease on the Enyaq Coupe iV, it'll take around 13 hours to charge the battery from zero to full using a 7kW wall charger. Using a 135kW rapid charger, it only takes around half an hour to boost the battery from 0-80%.
Whichever model you decide to go with, Skoda car leasing is a great option for both business and personal users. You can give DriveElectric a call today to discuss your needs and we can help you work out what sort of contract is best for you and point you in the direction of the right car for your preferences.
Benefits of Skoda leasing
Easy and convenient
After choosing the length of your Skoda lease, mileage and deposit, there's little more to do while you wait for your new car to arrive.
Stay ahead of the curve
When your contract finishes, simply hand back the car with no further obligation and select one of our latest Skoda lease deals to get a brand new model with updated tech.
Road tax and warranty included
Our Skoda lease cars include road tax for the entirety of your deal, while you'll also benefit from being covered by a full manufacturer warranty.
Discover the full range of Skoda lease deals available at DriveElectric. You can give us a call to discuss our latest Skoda offers, or you can fill in a quick form to get an online quote right now.