Subaru Solterra electric lease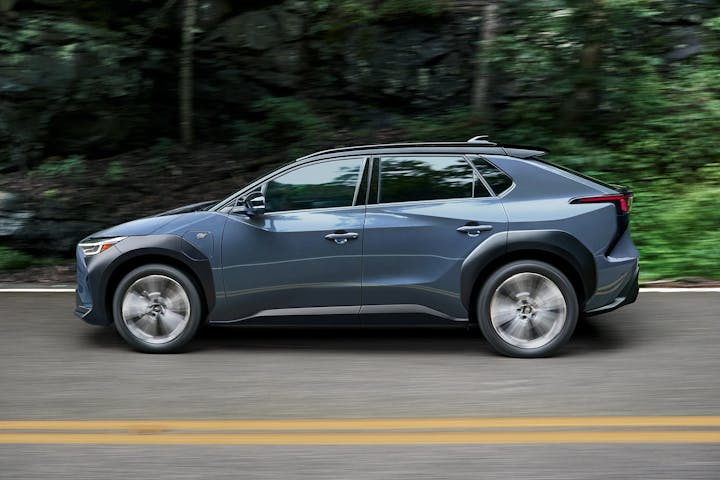 £2,827.52 Initial rental (ex. VAT)
£3,393.03 Initial rental (inc. VAT)
24 Month term
5000 Annual mileage
Offer expiry Monday, 18 December 2023
Subject to status and conditions + arrangement fee
£314.

17
Business contract hire per month (ex. VAT)
£377.

00
Personal contract hire per month (inc. VAT)
Special Offer
Choose your Solterra car lease
£2,636.60 Initial rental (ex. VAT)
£3,163.91 Initial rental (inc. VAT)
24 Month term
5000 Annual mileage
Subject to status and conditions + arrangement fee
£292.

96
Business contract hire per month (ex. VAT)
£351.

55
Personal contract hire per month (inc. VAT)
£2,728.44 Initial rental (ex. VAT)
£3,274.13 Initial rental (inc. VAT)
24 Month term
5000 Annual mileage
Subject to status and conditions + arrangement fee
£303.

16
Business contract hire per month (ex. VAT)
£363.

79
Personal contract hire per month (inc. VAT)
About the Subaru Solterra
This is Subaru's first mass-market electric vehicle - and what a way to make a first impression. Sticking closely to the brand's commitment to rugged and reliable vehicles, the Solterra is offered solely with all-wheel drive. Typically, a commitment to AWD means a vehicle has some off-road pedigree and doesn't just have an SUV body for show.
Sharing the same dedicated platform as the Toyota bZ4x (the last time the companies shared a platform resulted in two incredible sportscars - the Toyota GT86 and Subaru BRZ), the Solterra encapsulates Subaru's dedication to advanced technology and versatility. The exterior is recognisably Subaru, with clever aerodynamic design cues to improve overall efficiency. The interior provides ample amount of space for passengers and luggage. Clever tech is littered throughout the cabin; a 360-degree camera system, blind-spot detection and a 12" touchscreen - to name a few.
With 8.3 inches of ground clearance and the manufacturer's signature 'X-MODE', this EV isn't just built to look good in leafy suburbs. Subaru are a brand that prides itself on reliability, or to quote their website: "96% of Subaru vehicles sold in the last 10 years are still on the road today, more than any other brand in the industry."
Charging the Subaru Solterra
The Subaru Solterra is offered in a single 71.4kWh battery configuration.
This grants the EV an official WLTP range of 249 miles. At DriveElectric however, we recommend a 'real world' driving range for all of our lease vehicles - just so there are no surprises when your new car arrives. As such, we suggest the Solterra is more likely to get around 230 miles on a single charge.
Once the Solterra has conquered the journey off the beaten track, charging it back up is simple. It uses the European standard connectors of Type 2 and CCS, which allows domestic charging and rapid charging. Using a 7kW wall-box at home will get the battery back to 100% in around 12 hours 45 minutes. A 150kW rapid charger will get the battery from 10-80% in just 32 minutes.