Mazda MX-30 electric lease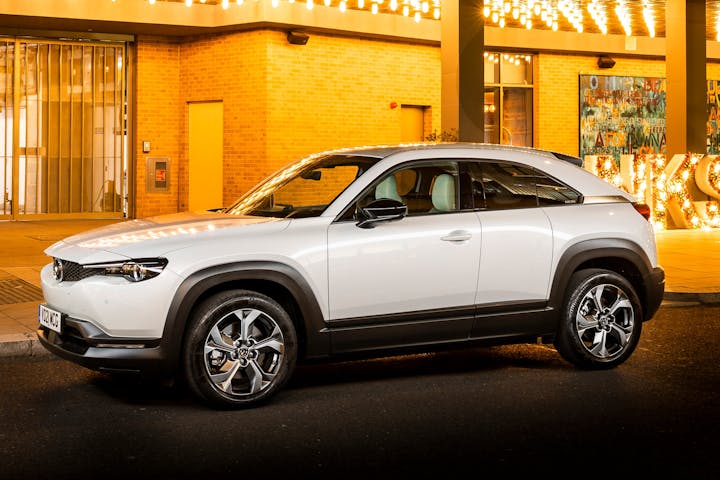 Mazda knows a thing or two about making mass-appeal vehicles. The MX-5 roadster is one of the best selling cars ever made, sharing its namesake with the new Mazda MX-30 (MX stands for 'Mazda Experiment' - you can thank us at your next pub quiz!).
We currently do not have any deals available for the Mazda MX-30. To discuss alternative EVs call us on: 01628 899727. Monday to Friday 08:30am to 5:30pm.
Sign up to our mailing list and we will send you details of our great electric vehicle leasing deals.
Subscribe
With the MX-30 being Mazda's first all-electric offering then, is it Mazda's next big hit? Well, the MX-30 is certainly a great family car. Without a pillar between the front and rear doors, fitting child seats and getting toddlers strapped in is made a lot easier. It's roomy inside, with an aesthetically pleasing exterior.
The MX-30 is a very stylish car and, as would be expect from the Japanese automaker, incredibly refined. It may be their first all-electric vehicle for the mass market, but Mazda has done very well to create a great family car with the MX-30.
The Mazda MX-30 is offered with a single 30kWh battery option.
This grants the MX-30 with an official WLTP range of 124 miles. At DriveElectric, we offer a 'real world' range for all of our vehicles, so there's no surprises for our customers once they hit the road. As such, we found that the MX-30 had a more realistic range of 105 miles per charge. If you live in a city, want a demanding road presence for your family and an SUV body shape - then the MX-30 is perfect.
As per European standard, then Mazda uses both Type 2 and CCS connectors. Utilising a domestic 7kW wall-box charger will charge the battery from flat-to-full in 5 hours 30 minutes. If you're out on the road, then a 50kW rapid charger will charge the battery from 10-80% in just under 40 minutes.