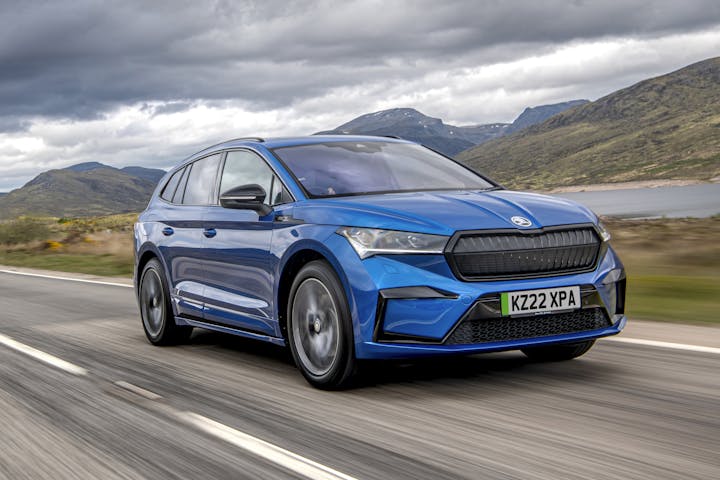 Choose your Enyaq iV car lease
£3,748 Initial rental (inc. VAT)
48 Month term
5000 Annual mileage
Subject to status and conditions + arrangement fee
£3,123 Initial rental (ex. VAT)
48 Month term
5000 Annual mileage
Subject to status and conditions + arrangement fee
£416
Personal contract hire per month (inc. VAT)
£347
Business contract hire per month (ex. VAT)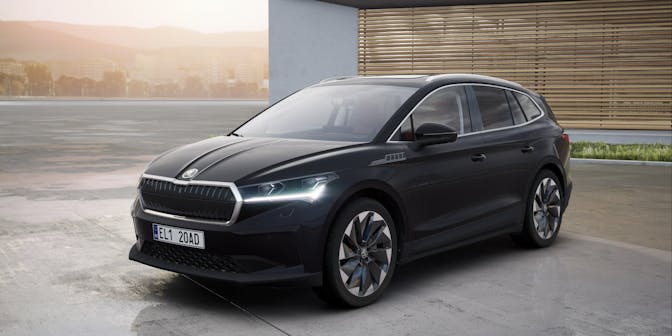 £4,126 Initial rental (inc. VAT)
48 Month term
5000 Annual mileage
Subject to status and conditions + arrangement fee
£3,438 Initial rental (ex. VAT)
48 Month term
5000 Annual mileage
Subject to status and conditions + arrangement fee
£458
Personal contract hire per month (inc. VAT)
£382
Business contract hire per month (ex. VAT)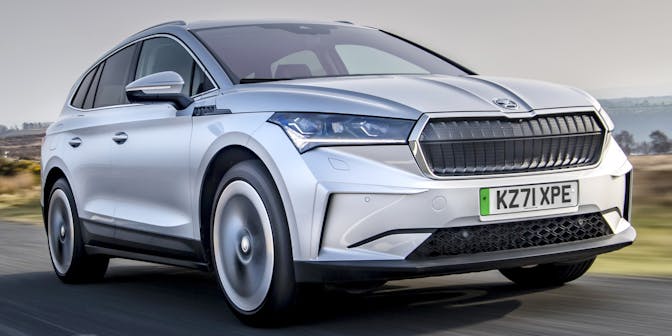 £5,227 Initial rental (inc. VAT)
48 Month term
5000 Annual mileage
Subject to status and conditions + arrangement fee
£4,356 Initial rental (ex. VAT)
48 Month term
5000 Annual mileage
Subject to status and conditions + arrangement fee
£581
Personal contract hire per month (inc. VAT)
£484
Business contract hire per month (ex. VAT)
The Enyaq iV is Skoda's answer to an all-electric SUV. And what an answer it is. Taking home the award for 'Best Large Electric SUV' at the WhatCar? of the Year Awards in 2021 is well-warranted recognition of the vehicle's family friendly layout and overall value.
The exterior is an attractive design, albeit not the most ground-breaking or radically designed SUV. But Skoda aren't setting out to revolutionise the electric vehicle market, but rather perfect the current formula into a solid all-round package. Nonetheless, the Enyaq does have good road presence and the raised ride height offers good visibility.
With superb space within the cabin, high specification as standard and a long range - the Enyaq iV is a very attractive leasing option.
Charging the Skoda ENYAQ iV
Charging the Enyaq iV is straightforward! Lots of DriveElectric customers also get a charge point installed at home. This allows drivers to plug in when they arrive home, and simply top up the battery overnight. A full charge takes around 9 hours when using a 7kW wall-box charger at home.
If you're on the go and need to top up the battery in a hurry, the Enyaq iV is capable of rapid charging - recharging up to 80% in just over 30 minutes. The 100kW rapid public chargers required for a quick top-up are commonplace up and down Britain's roads; service stations, car parks and shopping centres to name a few.
Looking for a different manufacturer?