Skoda Enyaq iV electric lease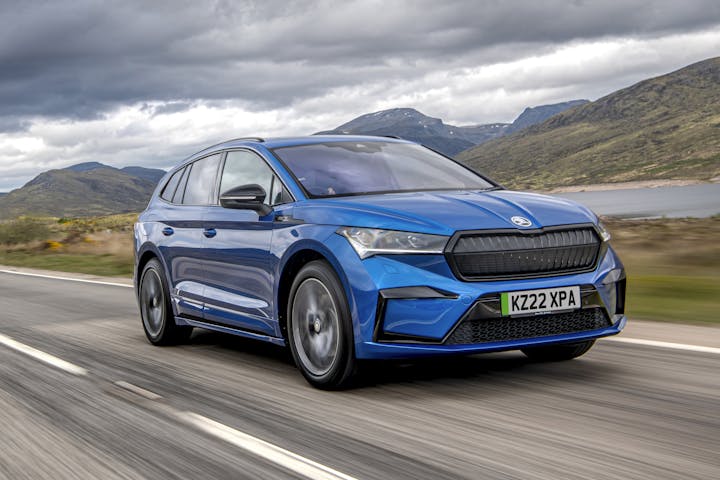 Choose your Enyaq iV car lease
£3,424.66 Initial rental (ex. VAT)
£4,109.59 Initial rental (inc. VAT)
48 Month term
5000 Annual mileage
Subject to status and conditions + arrangement fee
£380.

52
Business contract hire per month (ex. VAT)
£456.

62
Personal contract hire per month (inc. VAT)
£4,197.54 Initial rental (ex. VAT)
£5,037.04 Initial rental (inc. VAT)
48 Month term
5000 Annual mileage
Subject to status and conditions + arrangement fee
£466.

39
Business contract hire per month (ex. VAT)
£559.

67
Personal contract hire per month (inc. VAT)
The Enyaq iV is Skoda's answer to an all-electric SUV. And what an answer it is. Being awarded the crown for 'Best Large Electric SUV' at the WhatCar? of the Year Awards in 2021 was well-warranted recognition of the vehicle's family-friendly layout and overall value. You'll soon find out all about this when you take out a Skoda Enyaq iV lease.
This car has caused quite the stir since its release in 2020. Building on the success of the Citigo city car, the Czech manufacturer has scaled things up in style. And this is reflected in our Skoda Enyaq lease offers. Simply choose your mileage and contract length, and look forward to receiving a brand new car with the latest tech.
Whether you're taking your very first step into the exciting world of fully-electric motoring, or this will be the latest in a long line of EVs charging up outside your home, you can pick from our wide range of Skoda Enyaq lease deals. UK roads are better suited than ever for EVs, so now is the time to go all-electric and move forward towards a cleaner, greener future.
When you're picking a Skoda Enyaq lease, the first choice you need to make is on the battery you want. The Enyaq iV 60 has a 62kWh pack with a WLTP range of up to 246 miles. The Enyaq iV 80, meanwhile, has an 82kWh battery and is capable of up to 338 miles on a single charge, making it more suitable for drivers who often need to undertake longer journeys.
If you want to go for the larger battery, then you can also choose to move up to the SportLine Plus trim. This gives you a range of extra options including an upgraded interior, as well as enhanced performance figures. The Enyaq iV 80x SportLine Plus tops the charts in terms of power and acceleration, although the Enyaq iV 80 SportLine Plus boasts an extra 14 miles in range.
Whichever model you decide to go for, don't miss our latest Skoda Enyaq lease deals - and don't hesitate to get in touch if you have any questions about this car or leasing in general.
Charging the Skoda ENYAQ iV
Charging the Enyaq iV is straightforward, whether at home or in public. Plenty of DriveElectric customers choose to get a charge point installed at home, which is usually the cheapest way to replenish your battery. It also allows you to plug in when you arrive home and simply top up the battery overnight, when electricity normally costs less.
When using a 7kW wall-box charger at home, it takes around nine hours 30 minutes to fully charge the Enyaq iV 60 from zero to 100%. If you go for any of the models with the 82kWh battery, a full charge takes approximately 13 hours.
It's also possible to boost either battery from empty to 80% in around half an hour using a rapid charger. You'll find 100kW rapid chargers at public stations which can be used for a quick top-up on the go. These are now commonplace up and down Britain's roads, including at service stations, shopping centres and in car parks, to name a few.
With superb space within the cabin, high specification as standard and a long range, Skoda Enyaq leasing is a very attractive option for a wide range of users. It may not be the most ground-breaking or radically designed SUV you'll ever see, but the Enyaq's exterior is attractive, nonetheless. Skoda isn't setting out to revolutionise the electric vehicle market, but rather perfect the current formula into a solid all-round package.
That said, the Enyaq does have good road presence and the raised ride height offers strong visibility. There are pleasing lines to admire and when you move up through the trim levels to the SportLine Plus models, there are sleeker, sportier design touches that bring an added element of dynamism and sharpness to the look.
When you climb inside the cabin, there's a nice finish that you'll notice straightaway. Whether you stick with the standard Loft interior or go for the optional Lounge, Suite, ecoSuite or SportLine interior, you'll enjoy a comfortable, modern cockpit, with clean lines that draw your eyes to the smart 13-inch infotainment display.
From the front and rear parking sensors and rear-view camera that come as standard, to the light and rain sensors and dual-zone climate control, the entry level trim is high spec. This includes driver aids such as lane assist and other safety features, while you can upgrade to your heart's content to add further flourishes to your Skoda Enyaq electric lease.
Whatever you decide on spec-wise, don't miss our range of Skoda Enyaq iV lease deals for the latest offers on this great car.
Discover the full range of Skoda Enyaq lease offers available at DriveElectric. You can give us a call to discuss our latest Skoda deals, or you can fill in a quick form to get an online quote right now.