Citroen e-C4 electric lease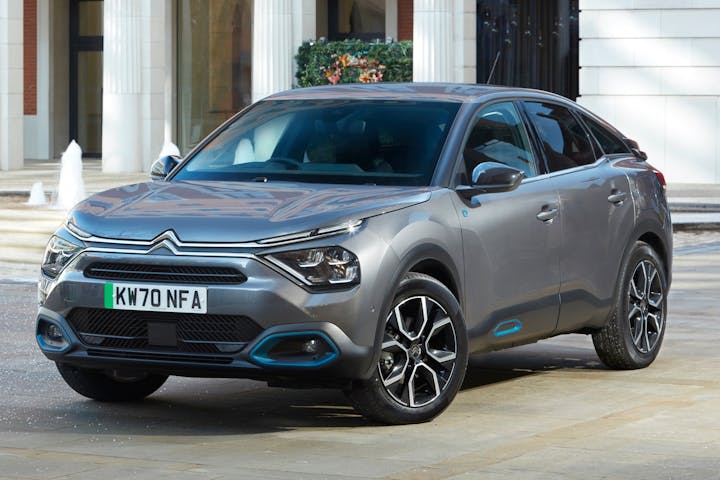 Choose your e-C4 car lease
About the Citroen e-C4 lease deals
The Citroen e-C4 ushers the French automaker into a new era of electrification. An all-electric, five-seat, five-door family crossover with unique exterior styling that actually gives the e-C4 a lot of character.
Handling wise, the e-C4 demands little to provide easy steering and feedback from the road. Thanks to a low centre of gravity and relatively light kerb-weight of only 1.5 tonnes, it has good road manners and is nippy around town.
Overall, the e-C4 is designed to make motoring easy and comfortable for the whole family. Ride quality is excellent, granting every passenger a smooth journey from beginning to end, only stumbling on the poorest of road surfaces. It's the perfect family car for the eco-conscious.
Charging the Citroen e-C4
The Citroen e-C4 is offered with one battery option: a 50kWh power pack.
This 50kWh battery grants an official WLTP range of 217 from a single charge. At DriveElectric, we carry out our own range testing to gather a more realistic figure of what customers can expect to get from an EV. Through our test, we'd recommend a more realistic 'real world' range of 160 miles per charge. And as with all electric cars the range of a vehicle depends on a number of factors - the biggest two being the outside temperature and the speed of the vehicle.
Utilising the European standard connectors of Type 2 and CCS means the Citroen e-C4 will be able to charge pretty much anywhere.
Using a standard 7kW wall box charger at home, a full charge will take around 7 hours 30 minutes. If charging overnight, most energy providers offer cheaper rates at off-peak times, reducing the cost to charge substantially.
If out on the open road, then using a public charger is just as easy, but takes a lot less time. Using a 100kW rapid charger will get the e-C4 from a flat battery to 80% full in just 30 minutes.