Skoda Enyaq Coupe iV electric lease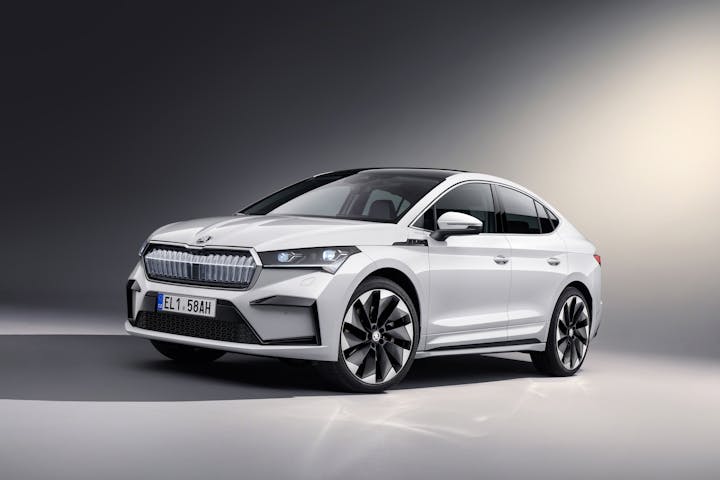 £3,114.61 Initial rental (ex. VAT)
£3,737.54 Initial rental (inc. VAT)
24 Month term
5000 Annual mileage
Offer expiry Monday, 18 December 2023
Subject to status and conditions + arrangement fee
£346.

07
Business contract hire per month (ex. VAT)
£415.

28
Personal contract hire per month (inc. VAT)
Special Offer
Choose your Enyaq Coupe iV car lease
£4,740.91 Initial rental (ex. VAT)
£5,689.09 Initial rental (inc. VAT)
48 Month term
5000 Annual mileage
Subject to status and conditions + arrangement fee
£526.

77
Business contract hire per month (ex. VAT)
£632.

12
Personal contract hire per month (inc. VAT)
About the Skoda Enyaq Coupe iV
Hot off the heels of its namesake's success, the Enyaq Coupe iV takes an already brilliant car and gives it a sleeker exterior with a few welcome upgrades.
The Coupe retains all of the best features of the standard Enyaq iV, but the sloping roofline allows the new model to eek out a few extra miles of range thanks to better aerodynamics. It's comfortable, soaking up the bumps and potholes that litter every British road. The combination of sportier exterior and continued practicality make the Enyaq Coupe iV a great choice for a more engaging family car.
The Enyaq Coupe iV vRS variant is a different beast altogether. Skoda takes the base model and fits it with a whopping great powertrain, turning the performance up to 11.