Mercedes-Benz EQA electric lease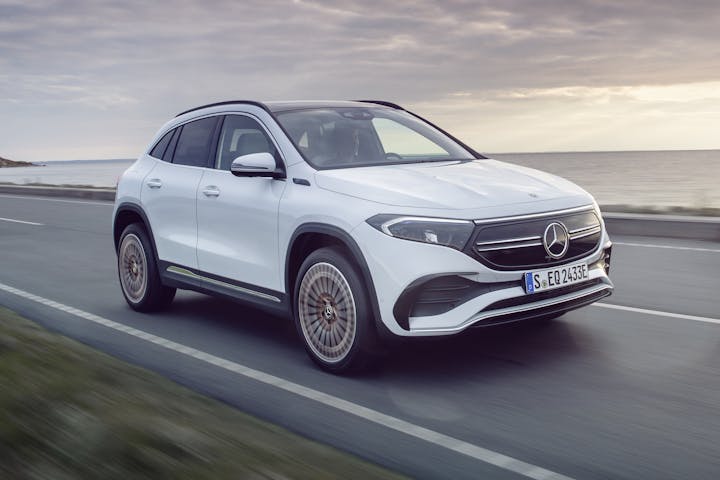 Choose your EQA car lease
About the Mercedes-Benz EQA
Serving as the entry point to Mercedes-Benz' electrified SUV options, the EQA still offers plenty of luxury and a great range. Based on the petrol/diesel powered GLA, the EQA benefits hugely from the all-electric powertrain. It's of course quieter, hugely refined and offers far smoother acceleration than its ICE counterpart.
With the battery spread across the floor, there's minimal body roll in spite of the high-riding cabin. Inside there's all of the modern tech you'd expect from a premium SUV from the German automaker.
Three driving modes: Eco, Comfort and Sport change the behaviour of the vehicle as their namesake suggests. If a premium SUV from one of Germany's big three is high on the priority list, then the Mercedes-Benz is a great entry point.
Charging the Mercedes-Benz EQA
The Mercedes-Benz EQA is offered with one battery size: a 66kWh pack.
The EQA is available in three different trim levels: the 250, 300 4MATIC, and 350 4MATIC - which all utilise the same battery. The WLTP ranges for each variant differ ever so slightly, with the EQA 250 having the longest of 267 miles, with the 300 4MATIC and 350 4MATIC both predicted a 272 mile WLTP range.
At DriveElectric we offer a 'real world' range for all of our lease vehicles so there are no surprises for our customers. With that in mind, expect the EQA 250 to go 220 miles before needing a charge, with the 300 4MATIC and 350 4MATIC getting 215 miles from a single charge.
Refilling the 66kWh battery with electricity is an easy process. Using a typical 7kW domestic wall-box charger, the Mercedes-Benz EQA will recharge from flat-to-full in 10 hours 45 minutes. If you're out on the road however, utilise a 100kW+ rapid charger and the battery can go from 0-80% charge in less than 30 minutes.